a new star is coming to hollywood 
following the completion of its first US project, MAD architects has shared that it will be returning to california with the 'star', a biomorphic office tower located in the heart of hollywood. the newly unveiled proposal showcases an unusual shape, integrating tree-filled gardens and terraces throughout its 22 floors. expected to open sometime in 2026, the 'star' will serve as a new iconic landmark that enhances pedestrian experience along the sunset boulevard while nourishing the crowd's inspiration and creativity.
rendering of 'the star' office high-rise in hollywood, california
all images courtesy of MAD architects, via the star on sunset
a glass tower like no other
during the design process of this creative office development, MAD architects drew influence from the curvilinear forms of the griffith observatory, capitol records building, the hollywood bowl, and the cinerama dome, with the resulting proposal emerging as a shimmering addition to the city's architecture. still, the 500,000 sqft (46451.52 sqm) high-rise looks nothing like its low-slung neighbors. 
the volumetry of the 'star' is comprised of three glassy pipes enclosed in a giant glass dome and marked by a band superstructure that replicates the silhouette of an egg. this thin band that runs across the sculptural structure serves a practical purpose, acting as a funicular track that will easily transport passengers to the enclosed rooftop restaurant, event space, and the 360-degree observation deck.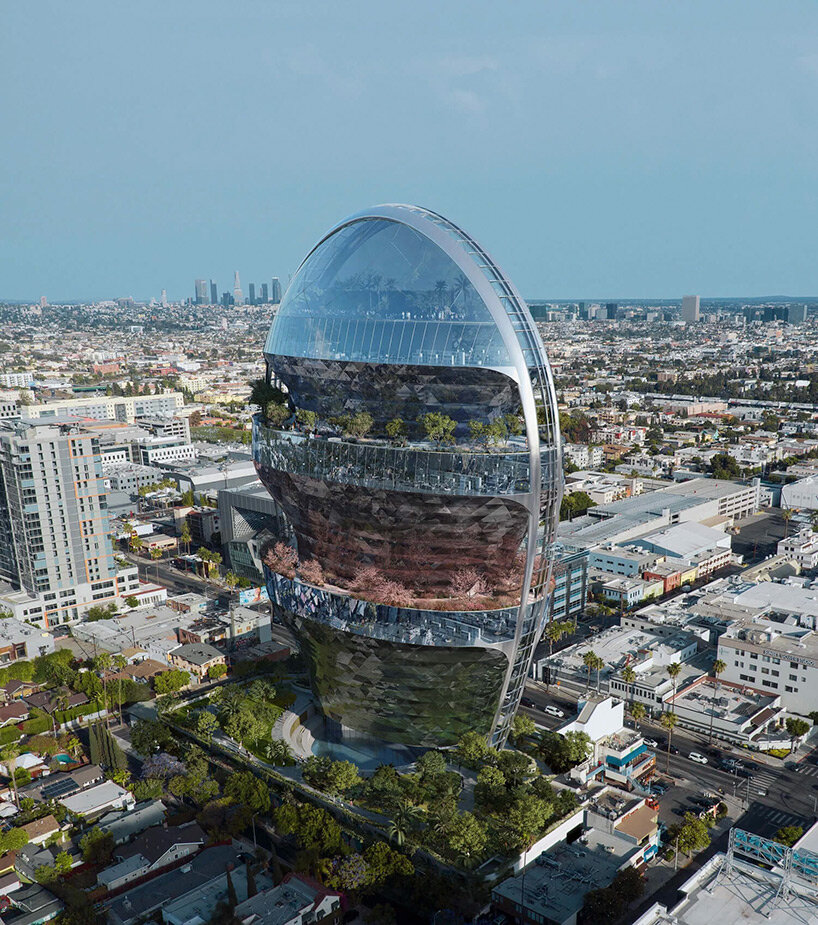 the funicular tracks will facilitate workers' transportation throughout the tower
engineered by MAD for the post-pandemic reality
the 'star' is specifically engineered for the post-covid reality, focusing on improving employees' physical, emotional, and mental well-being. the architects have put great emphasis on light and air requirements, while they're also aiming for WELL and LEED certification. moreover, the design incorporates ample outdoor space, as well as planted terraces for workers to enjoy. 
the extensive landscape design by local design studio SALT landscape architects is accentuated by a series of sky gardens and lush vegetation throughout the building. meanwhile, the upper portion will feature a garden as well, providing the topper of the structure with a terrarium-like atmosphere.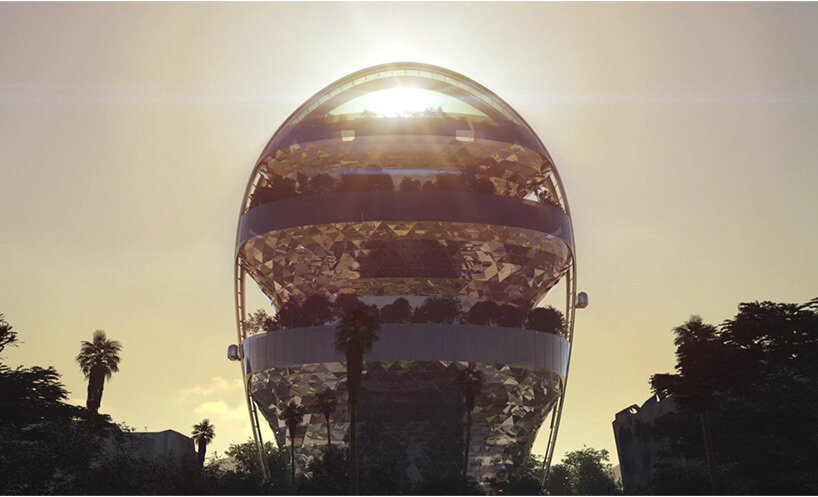 the sun shines through the textured glass facade of the 'star'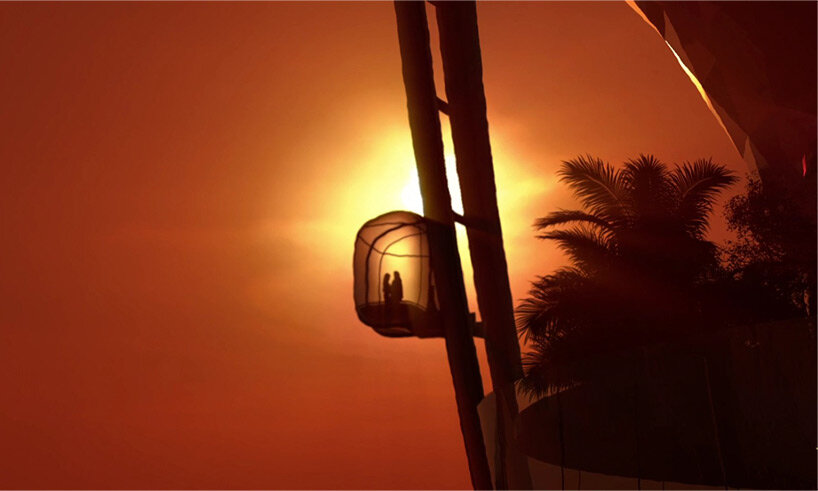 view of the exterior elevators
project info:
name: the star
architects: MAD architects 
location: 6061 sunset blvd, los angeles, CA 90028
area: 500,000 sqft (46451.52 sqm)
myrto katsikopoulou I designboom
sep 17, 2021