at the 2021 venice architecture biennale, taiwan's collateral event explores the effects of human and nature interaction and the role of architecture between the civilized world and environment. the national taiwan museum of fine arts (NTMoFA) has collaborated with curatorial teams divooe zein architects and double-grass international co. to organize an immersive exhibition named 'primitive migration from/to taiwan,' challenging the question by the biennale's curator hashim sarkis 'how will we live together?' which drew from the outbreak of the pandemic situation.image courtesy of jetso yu
siu siu – lab of primitive sense by divooe zein architects, taipei 2014
the architectural presentation seeks to question how taiwan will continue developing with its unique architectural culture, while is enclosed by mountains, forests, and oceans, and the population exceeds 23 million. in an attempt to examine the outcomes of human and natural interplay, the exhibition is revealed through five existing architectural projects: siu siu – lab of primitive sense, lab of primitive perspection, semi-ecosphere glass house, the forest big, and nature monastery. the particular projects were not selected accidentally; they were formed under the same concept while were performed in different areas with different climate conditions.
'under the title primitive migration from/to taiwan, the exhibition seeks to explore how architecture responds to our environment, senses, feelings, experiences, and more, and the role of architecture between the civilized world and nature, ultimately foregrounding the interdisciplinary interaction of architectures in taiwan,' notes divooe zein, director of divooe zein architects.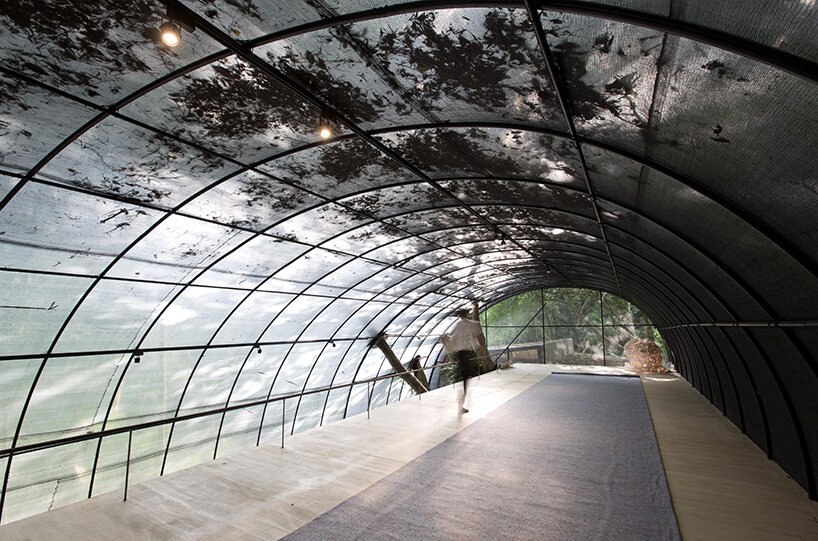 image courtesy of jetso yu
siu siu – lab of primitive sense by divooe zein architects, taipei 2014
'siu siu – lab of primitive senses' serves as researching project that has organized among an interdisciplinary collaboration. botanists, traditional medicine researchers, aborigines, climate change scientists, perfumers, spiritualists, and yoga teachers were successfully participated in this project and the outcomes are shared with the public through this experimental research base. the second project, 'lab of primitive perspection' takes shape as an experimental site in which people can explore the beauty of forest life within the natural context. visitors can discover a temporary escape from the hectic pace of civilized life while initiating a series of mental and perceptual exploration of living in nature.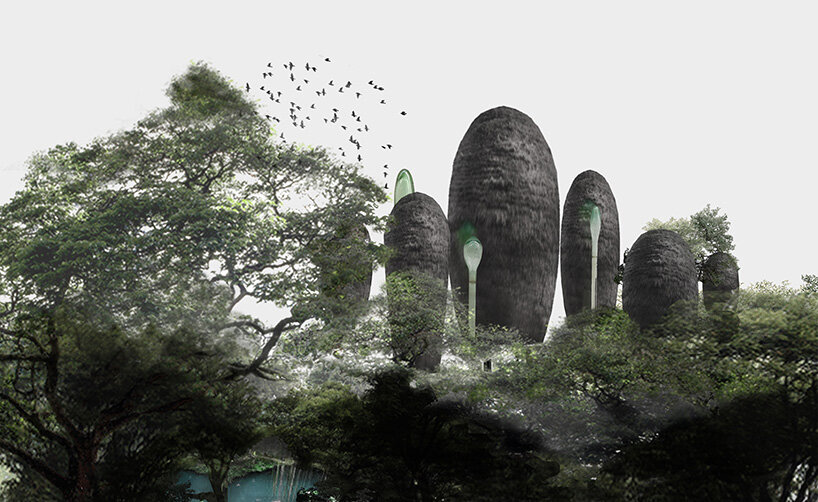 image courtesy of divooe zein architects
concept drawing of nature monastery in bail by divooe zein architects
the next one, 'semi-ecosphere glass house' has built in 2017 together with spring pool, a glass recycling factory in hsinchu. the project takes form as a house for isolation and meditation, encouraging viewers to think about possible inhabitation alternatives in a decade. the cave-like structure stimulates viewers' primal senses and provides them a refuge from the highly digitalized world full of rapid movements.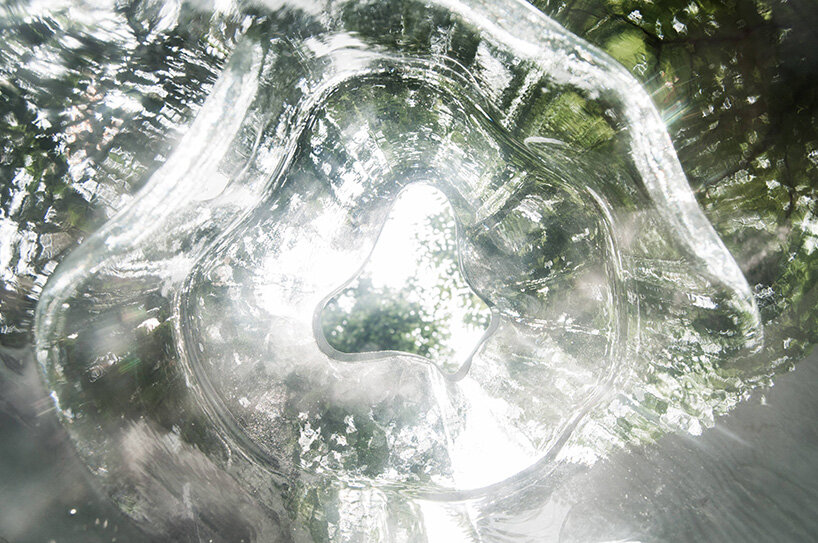 image courtesy of divooe zein architects
semi – ecosphere glass house for meditation, the conceptual model made from recycled glass
'forest big ', the fourth project, is located on the south side of the shangri-la paradise theme park in miaoli, and takes shape as an experimental community. the side features a taiwan pine forest, a manmade forest, an aquatic ecosystem, and abandoned recreational facilities. through the forest big initiative, the area is transformed into a forest serving as a model intersecting both human and natural experiences and the gathering of knowledge. last, 'nature monastery' is a project in a forest in ubud, bali island, that invites visitors to explore the chance between free lifestyle and maintenance of nature.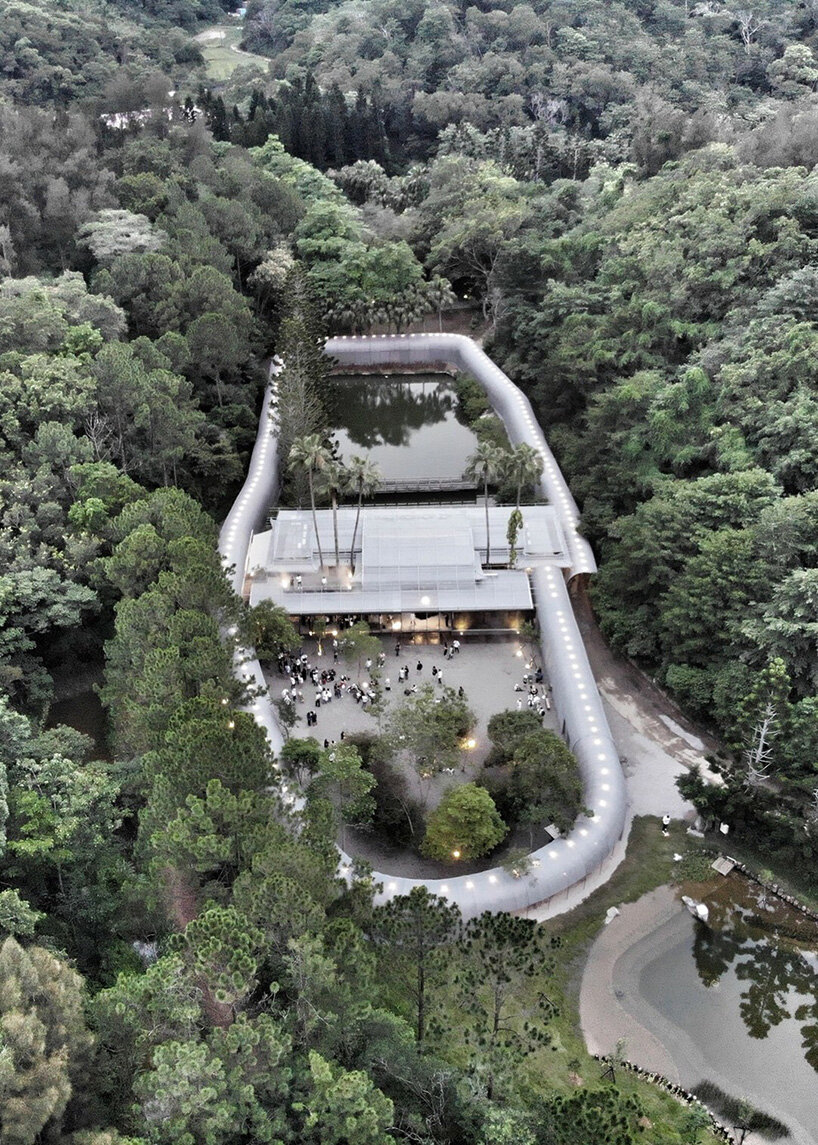 image courtesy of yule space
the forest big by divooe zein architects, miaoli, 2018
further, the exhibition fuses audiovisual and olfaction intentions stimulating visitors' primal senses. conceptual images were generated in collaborating with peruvian director mauricio freyre, while äi äi illum lab has curated interactive elements with natural scents.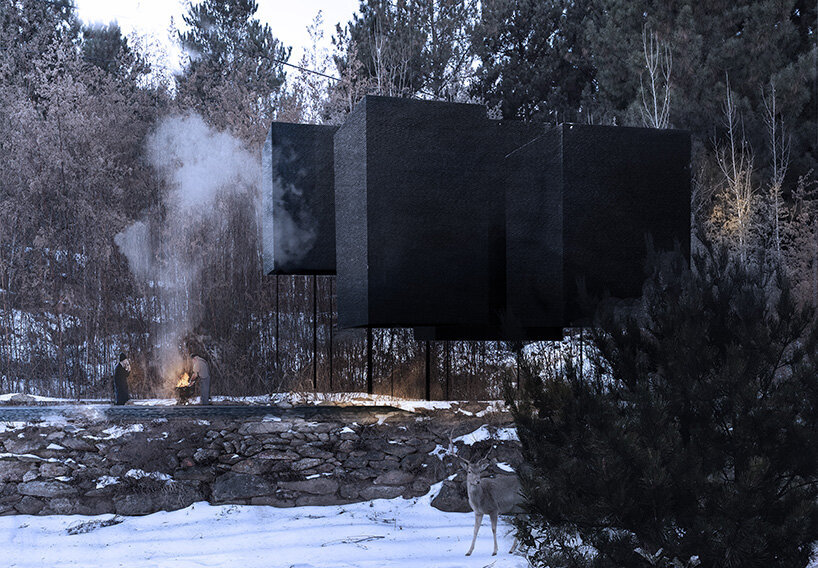 image courtesy of divooe zein architects
lab of primitive perception mock-up of siu siu-lab of primitive senses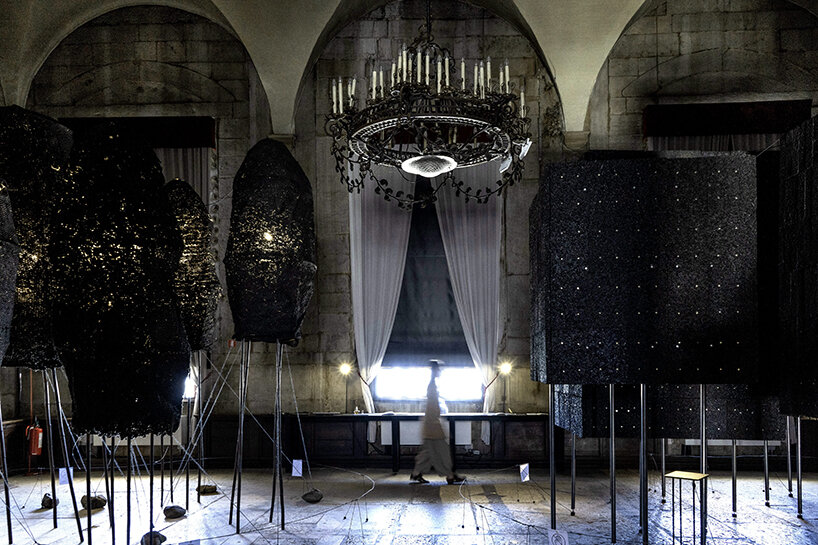 image © NTMoFA 
mock-up of nature monastery on the left and lab of primitive senses on the right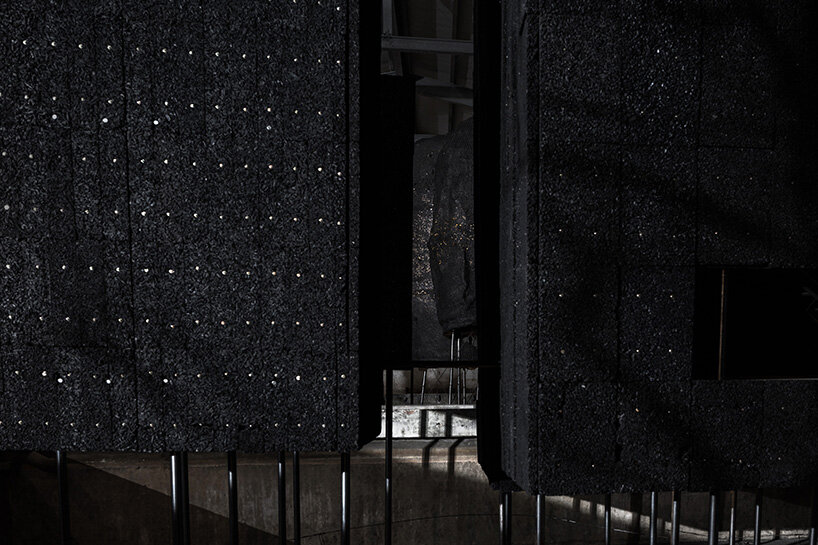 image courtesy of justin kao
mock-up of siu siu – lab of primitive senses and lab of primitive perceptions (detail)