studio animal shares its eye-popping retail design for sports brand, munich sports, in malaga, spain. occupying a space of 78 sqm (839.59 sqft) within a designer outlet, the clothing store utilizes geometry and color to meet the requirements of the client while providing a memorable experience for shoppers.
images by josé hevia
studio animal collaborated with munich sports to develop a simple yet effective interior design. they resolved to use just one color — yellow — and one single gesture — steps — to meet the programmatic and functional requirements as well as the aesthetic ones. the two side walls are sloped and stepped, forming the perfect place to display shoes and hang bags that are for sale. the inclination of the 10-meter long side walls also leaves behind a generous space to keep extra stock.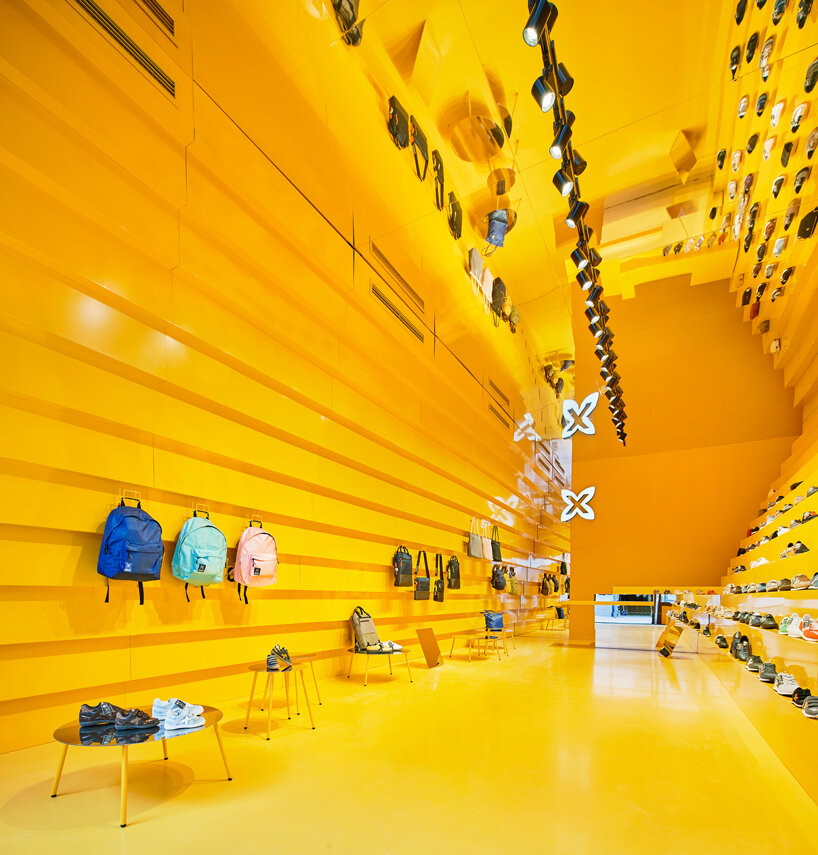 aside from the geometry, the store is characterized by its brilliant color, which is RAL 1006 corn yellow to be exact. the monochrome interior embraces shoppers in a bright and cheerful atmosphere. it also serves to entice passersby inside with its sun-like hue. there's a mirror on the ceiling that makes the modest space feel double the size while simultaneously echoing the brand's logo, the X. finally, the shop is complete with furniture pieces made from mirrored surfaces, which reflect the sunny corn yellow back again.