based on a survey of 32,000 people, steelcase's latest study – the 'work better report' – discovers what workers expect and require from their post-pandemic working environment…
steelcase always does its homework. developed with post-pandemic research, the brand's flex active frames change the way we create, communicate and collaborate in a new kind of workplace
empires fall and empires rise. modern companies are no different, shrinking one moment, experiencing explosive growth, the next. to meet such shifting demands, modern office space has undergone a lot of change. since the open-plan model came into existence, we've had standard personal desks with shared meeting rooms, and then, as shared space and home-working became hot-topics, hot-desks and breakout areas for informal meetings were created.
this new age of open-plan was more flexible, more collaborative and more productive, yes, but it lacked the comfort and privacy of personal space, aspects of working life we now understand to be crucial to workplace wellbeing. today, modern offices need to be communicative, collaborative and connected, but also quiet, private and calm.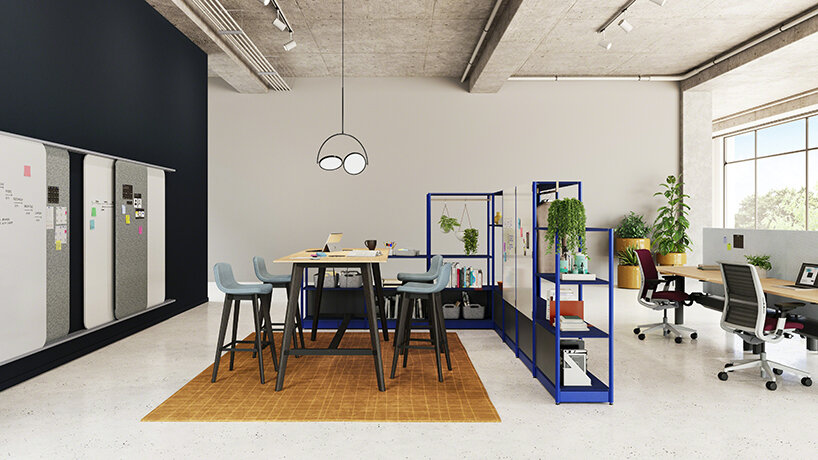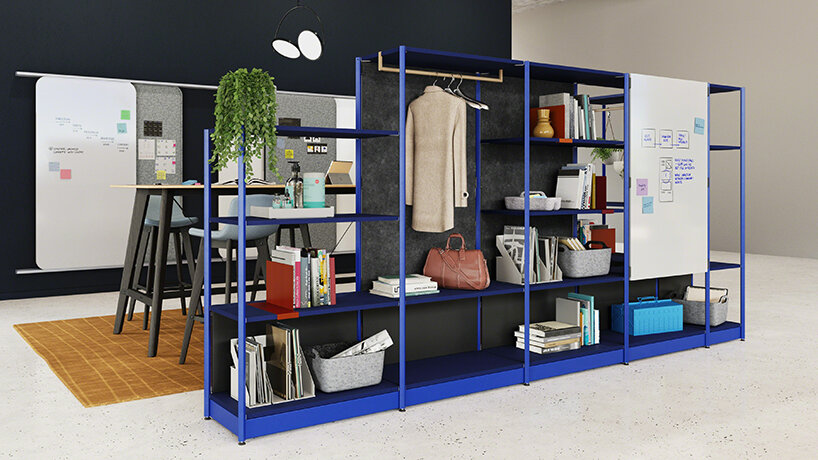 the flex active frames house more than just reference materials; with moveable boards for project updates and micro-meetings as well as coat rails, everything is close to hand
this flexible environment is more important now than ever before, to serve a workforce that, over the past 12 months, has also learnt to be more flexible. as a modern, data-driven manufacturer of workplace furniture, steelcase has been researching how we can build back better. the company's most recent research, the work better report, surveyed 32,000 employees across ten countries, for an accurate view of what people want from a post-pandemic workplace.
feedback from the survey found that teams feel safer and prefer to work in more flexible, open settings, rather than enclosed spaces like conference rooms. they'd like to be able to perform more activities in more personal, adjustable environments. in order to meet these changing demands and expectations, and adapt to this new, flexible floor plan, we need more adaptable, flexible and multi-functional furniture.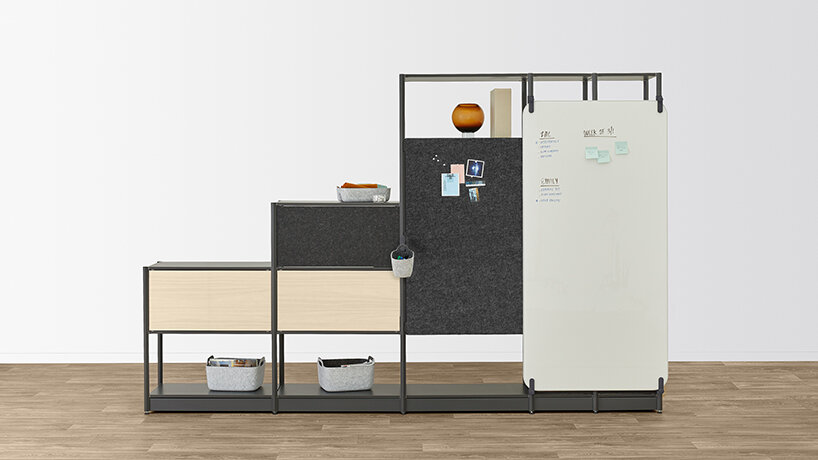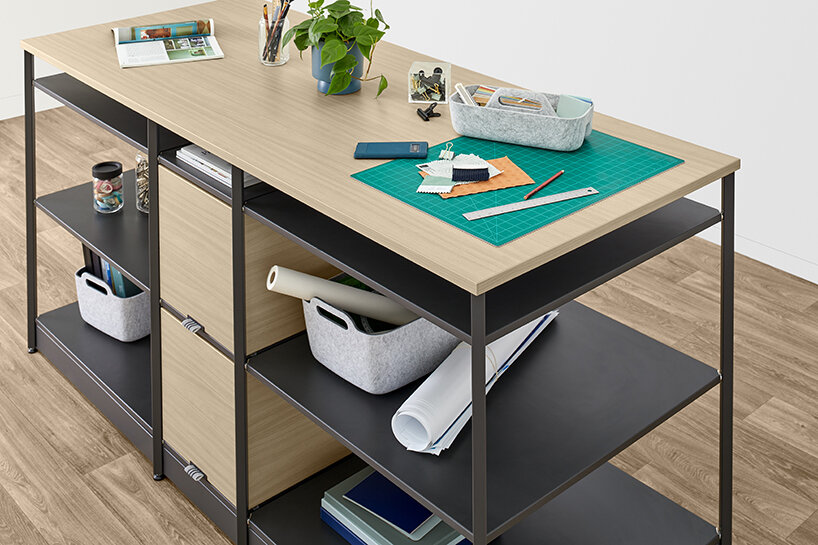 work islands (pictured) and work bridges can be added to blueprints as central areas where teams converge for informal meetings, or where more physical creative tasks can be performed
instead of forcing teams into a small, claustrophobic conference room to stare at a graph they were just sent by email, or to sit in a cacophonous canteen, struggling for focus while a creative spark slowly dies, steelcase's flex collection of light and easily manoeuvrable desks and screens transforms the space around them instead.
flex turns quiet, private and focused spaces into ones for creative collaboration, and back again. as the latest part of the collection, active frames are adaptable, personalized structures that bring a sense of community and a customizable level of privacy to team spaces, creating and framing storage and vertical surfaces for dynamic work, improving both the collaboration and productivity of the team.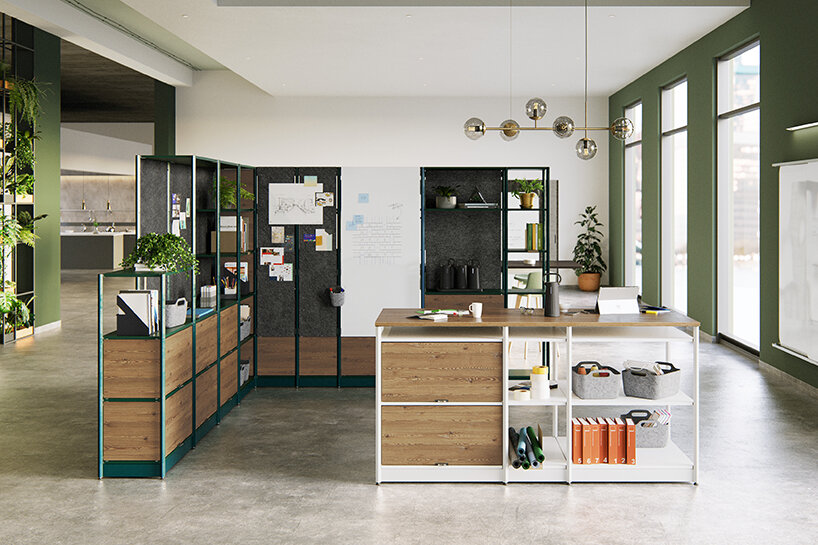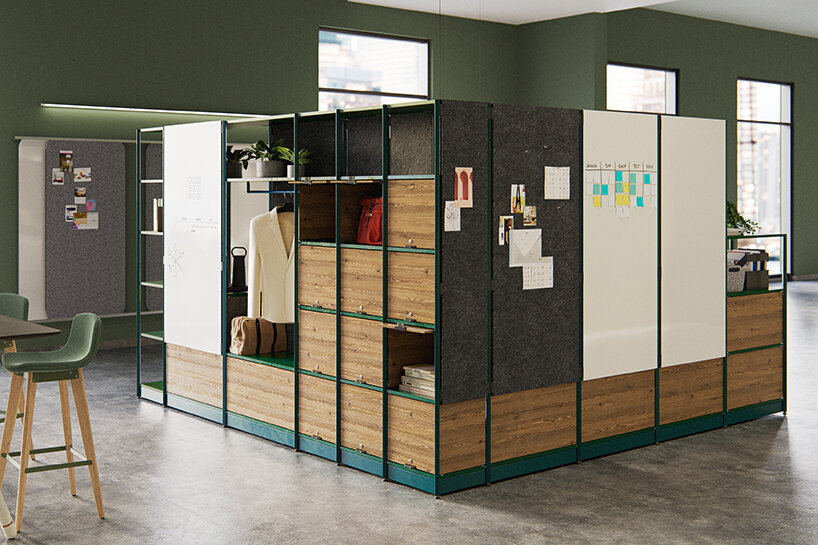 with the addition of either fabric-pulled or lockable doors, single shelves can play home to personal items or sensitive files, both freeing up desk space and creating a more informal social area
the frames go from a minimum of two to a possible five high. by adding frames together, L-shapes and staircase patterns can be created to balance privacy with communication, depending on the customers' needs. inside these figuratively gated communities, a balanced frame can be a metaphorical garden fence, encouraging relaxed communication with the neighbours. a more visually and acoustically private arrangement, however, gives teams a comfortable place to feel at ease. with a modular grid of various utilities, the inherently flexible nature of the frame can change a communal space into whatever it needs to be, with storage solutions for everything a team needs close at hand for high functionality.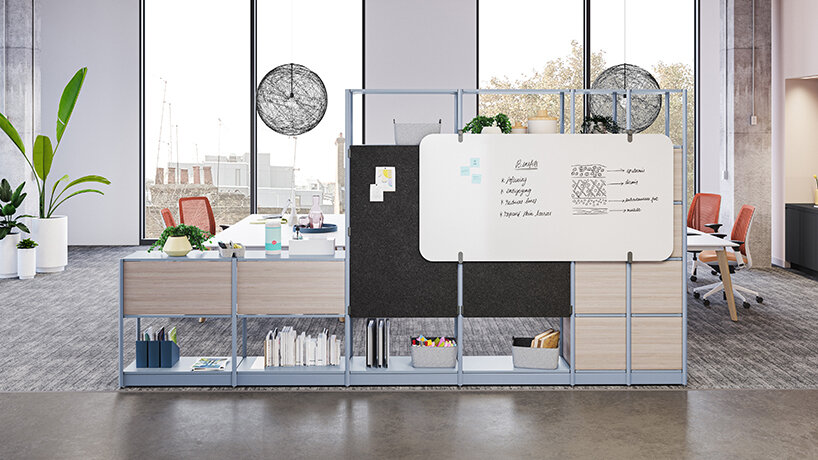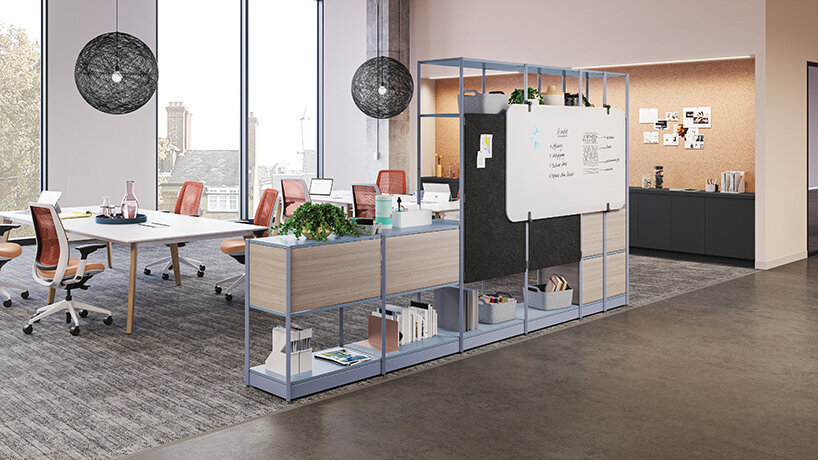 when utilized with project-based seating plans, the flex system provides a framework that helps teams identify with the spaces they share
inside, the frames give a permanent residence to communal items such as tools, plants, books or files. with the frame open on both sides, these items can be shared with neighbors or, with the addition of backs, sides and lockable doors, the sections become private spaces to secure more personal items. the innovative addition of simple, sliding clips, meanwhile, allows two-sided whiteboards or pinboards to be positioned anywhere along the frame wall, transforming the multi-functional space yet again, into one for quick meetings or even video calls.
along with these high boundary frames, work islands and work bridges can also be created from low, double-depth gathering frames. these more physical workspaces form integral, informal meeting points in the neighbourhood, allowing leaders to transform the dimension of a meeting from vertical to horizontal. sometimes it's easier to show than it is to tell.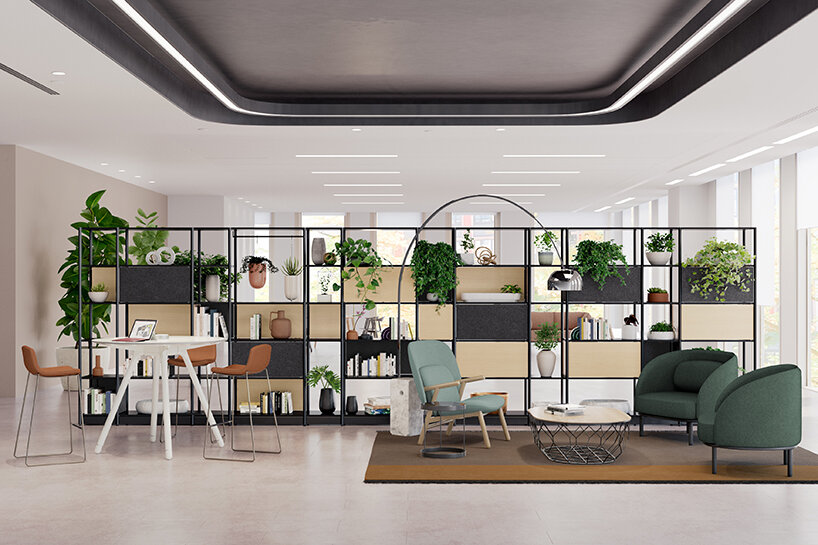 the adaptable flex active frames allow creative changes to a workplace's interior architecture, providing acoustic and visual privacy with custom combinations of greenery and office foliage
the gathering frames are like a house's kitchen table, where the family comes together for engaging stand-up meetings around a collaborative waist-height workspace. the combined working/standing position allows groups of two to 10 people to move freely around a project, allowing any family member to give unrestricted opinions or suggestions, without sharpening their elbows.
the steelcase active frames allow teams to mold their own unique work environment to suit them, filled with whatever tools and requirements they need. flexing between creative, collaborative and private setups, these adaptive neighborhoods redefine the open plan.
guest feature by james wormald / architonic