architecture firm sergey makhno unveils its proposal for 'viter house', a concrete residence for a family of seven in kyiv, ukraine. deeply influenced by natural elements —especially the wind—  the dwelling adopts a fluid character where curved forms and sharp lines coexist. meanwhile, a series of large openings connect occupants to the outside and the mesmerizing views towards the nearby lake. 
all images courtesy of sergey makhno architects
in 'viter house', the architecture draws reference from the wind and the delicate forms it carves in rocks, dunes, and waves, thus creating the 'perfect geometry of amorphousness' as sergey makhno architects mention. with this concept in mind, the studio has combined the regular sharp lines of the concrete blocks on the first floor with the soft wavy shapes on the second one. within the interior, organic forms create an environment with maximum spatial freedom, no straight angles, and ethereal airiness.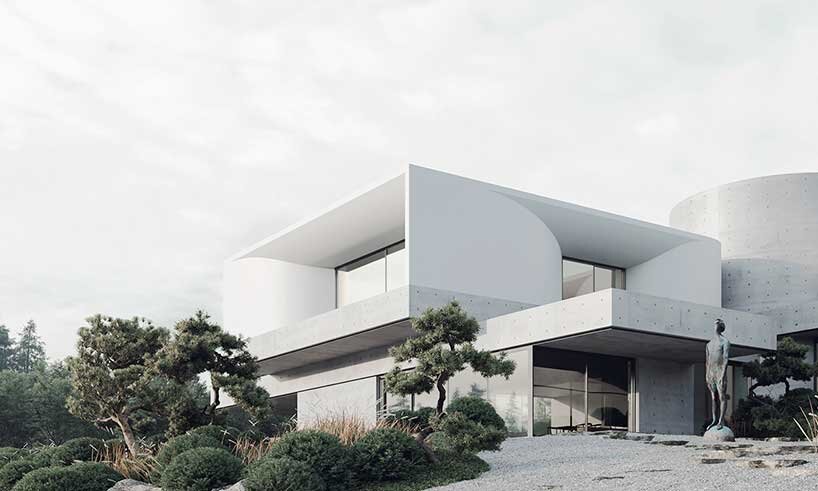 all common and technical areas are found on the first floor, including a dining room, a kitchen, a living room, a dressing room, a gym, a spa, and a garage. the second floor accommodates the bedrooms, an office, and a bar with access to the terrace. in its entirety, the residence features a set of terraces and large windows that allow the family to navigate seamlessly between the lush outdoors and the minimal interiors. 'its graceful monolith stands firmly on the ground, stretches to the sky, breathes along with the winds, and reminds us that the true essence is in harmony, and harmony is where the house is' the studio shares.