carpenters workshop gallery in new york presents an exhibition by vincenzo de cotiis, dedicated to a body of work that embodies his evolution towards a contemporary art practice, featuring sculptural works that seemingly forget functionality. éternel draws from de cotiis' long interest in japanese culture and aesthetics, looking towards traditional japanese temples, architecture, gardens, bonsais, and the color of blossoming cherry trees as sources of inspiration. 'this body of work was born from emotions that I've felt there,' de cotiis tells designboom about his visits to japan, 'and my memories of lanterns and minimal forms of architecture that I've sought to transcribe in contemporary works.'
deeply interested in the weathering effect of time, éternel also demonstrates de cotiis' layering of experimental materials to form organic geometries inspired by japanese folding fans. 'what's constant in my research is that there's always [the passage of] time underneath these materials,' he adds. 'it's like a wrinkle on the face — I've always been more attracted to a lined face than a completely unlined one.'
éternel exhibition view, courtesy of carpenters workshop gallery
on view at carpenters workshop gallery, new york from now through september 15, 2021, éternel presents de cotiis' experiments with iridescent cast aluminum for the first time. here, de cotiis uses a sand-cast technique to create textured surfaces that change in color and appearance when viewed from different perspectives. 'the ethereal luminescence and transparency of the materials used, such as murano glass and iridescent metals, alter perception while the sutures attempt the impossible: patching time…,' the designer says. guided by research, abstraction and nature, de cotiis also developed a new technique using hand-blown murano glass, which mimics the effects of water by adding an iridescent element to the material while the glass is hot. de cotiis continues to work with salvaged fibreglass, but for this collection, he has included a patina with colored stucco, creating a rich shade similar to ink in calligraphy. 'for this series, vincenzo had blurred the boundaries between art and design creating a singular vernacular that marks an important evolution in his practice,' shares julien lombrail, director and co-founder of carpenters workshop gallery.
designboom spoke with vincenzo de cotiis, who discussed the body of work, the techniques developed in its making, and his thinking about time passing through materials.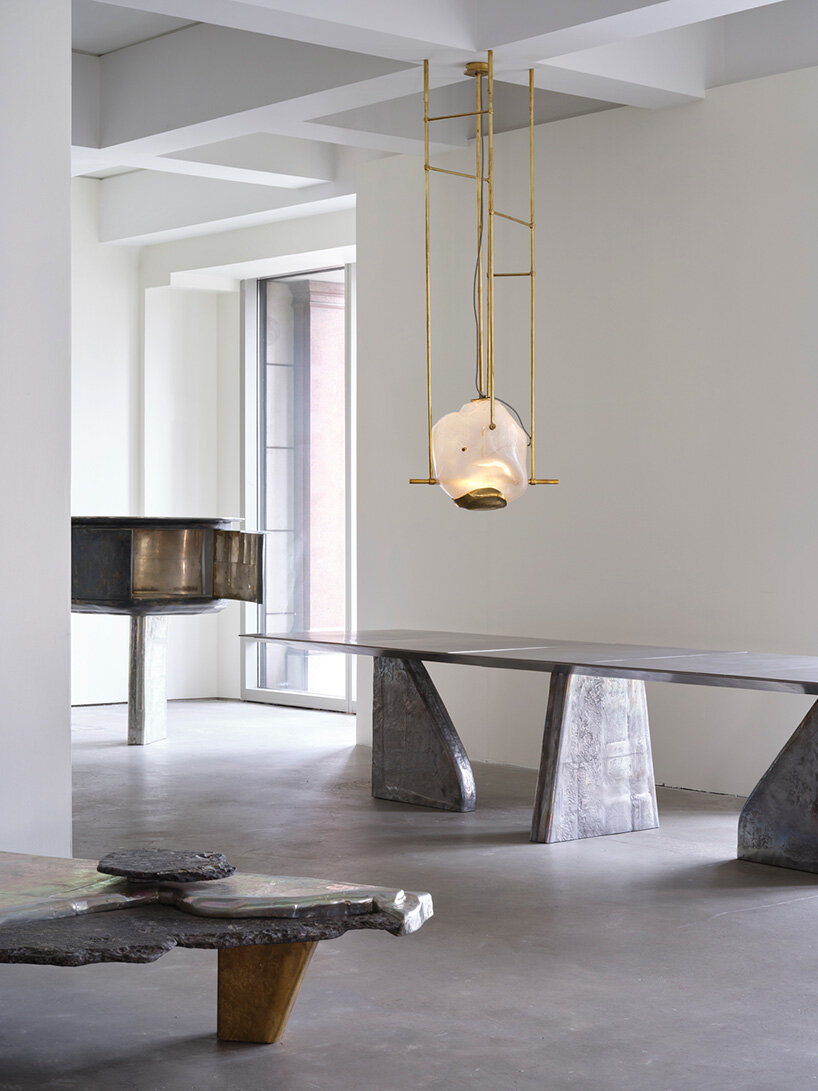 éternel exhibition view, courtesy of carpenters workshop gallery
designboom (DB): what has led to your interest in the weathering effect of time, and how has your material experimentation and research in this theme led to the development of these works?
vincenzo de cotiis (VDC): combining different materials, and smooth surfaces with rough surfaces, is something I love doing because they have different tensions, structures and materiality. recycled fibreglass has been important in my work since I started using it 30 years ago. what's constant in my research is that there's always [the passage of] time underneath these materials. it's like a wrinkle on the face — I've always been more attracted to a lined face than a completely unlined one.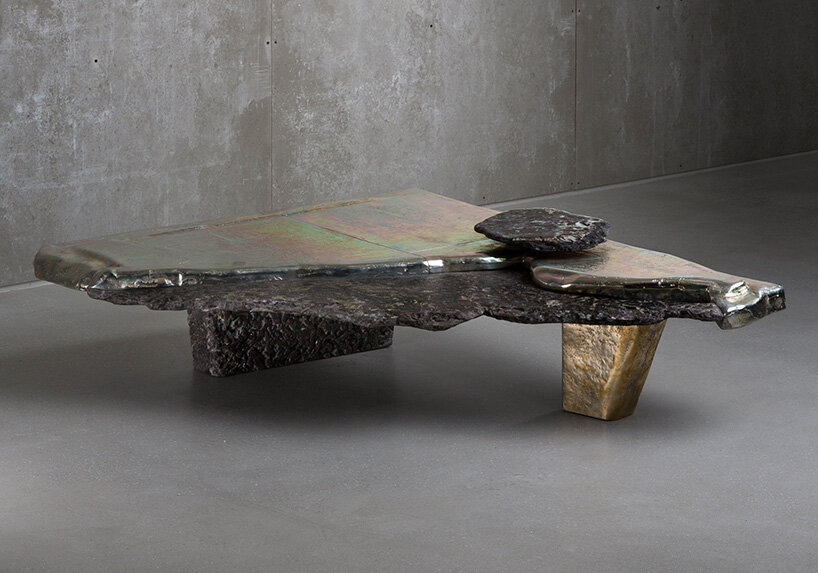 DC1914 (coffee table)
VDC (continued): thinking about how time has passed through materials informs my initial design idea. then comes the more experimental side about combining materials – like in the sinuously formed cabinet that we call the 'dragon cabinet'. the front is treated like a japanese cherry blossom with layers of hand-painted colours. but inside, it's almost like a timeless oriental, minimal architecture that is luxurious, more precise and detailed.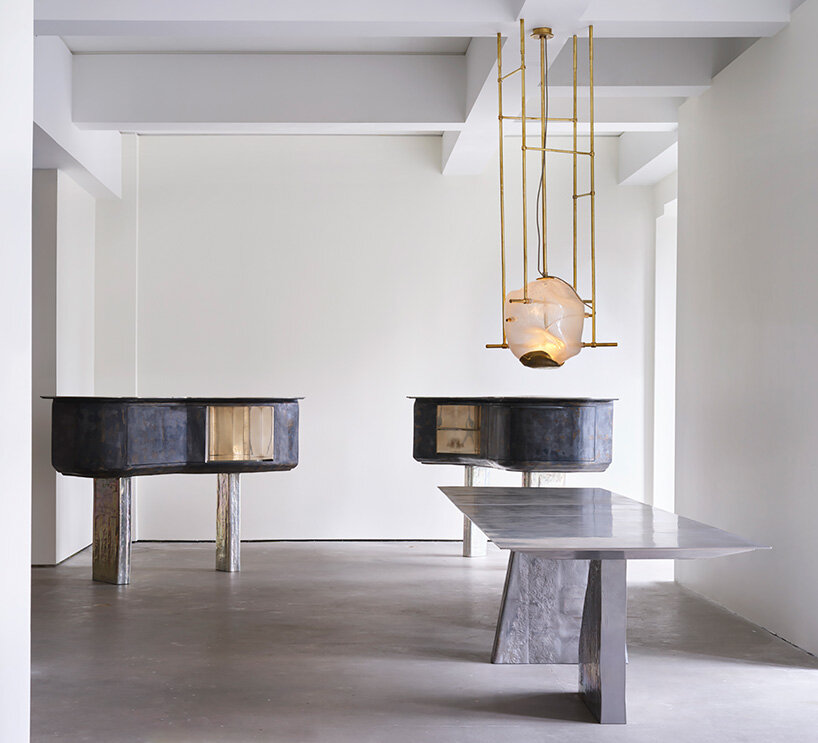 éternel exhibition view, courtesy of carpenters workshop gallery
DB: what aspects of japanese culture and aesthetics have informed this collection?
VDC: I visited japan many times. this body of work was born from emotions that I've felt there, and my memories of lanterns and minimal forms of architecture that I've sought to transcribe in contemporary works. I wanted to convey the iridescent landscape of japanese cherry blossoms, how the colour isn't unique but moves from blue to pink and green. reflections are another important element as I saw many reflections, not just in the landscape, but in the cities where one has constant reflections from technology. and I tried to represent japanese ceramics by manually colouring recycled fibreglass with those nuances, and depicting it like japanese painting.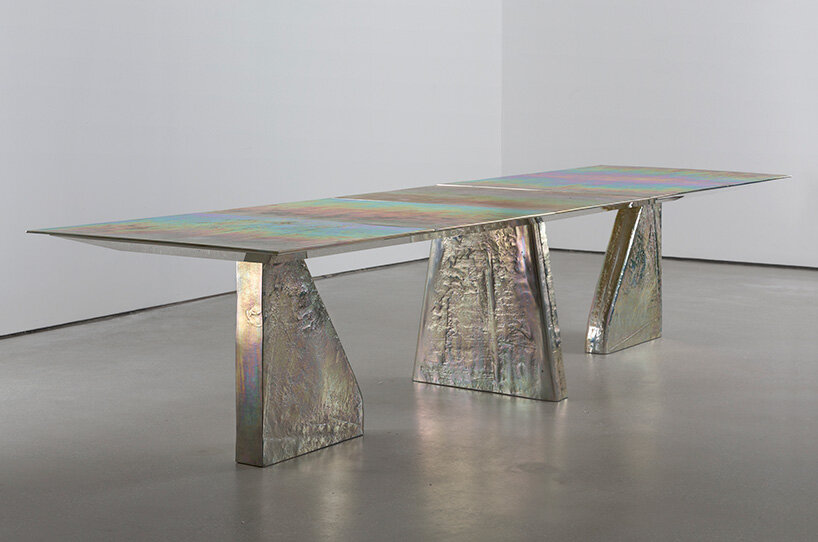 DC1908 (dining table)
DB: can you briefly introduce your development of a new technique, which uses hand-blown murano glass to mimic the effects of water? what have been the primary challenges in executing this method?
VDC: murano glass represents water and its seamless join to the solid metal emphasises its fluidity. in éternel, the glass is shaped into roundels, symbolic of the still pools of japanese garden ponds. the iridescent element is added while the glass is still hot, only made possible by the artist's symbiotic work with the venetian artisans.