nestled in the rural surrounds of bruny island, tasmania, the FMD architects-designed 'coopworth' is a contemporary interpretation of a country farmhouse. the coopworth sheep which occupy the site, the endless views sweeping out to the water and mountain ranges beyond, as well as the weathering red lead shacks dotted over the island provide an ever-changing landscape. the design team realizes the project as a dialogue between the residential architecture and the natural context.
images by dianna snape
FMD architects consciously constrains the footprint of 'coopworth' to maximize arable land while maintaining a generous and open interior organization. while designed to accommodate two occupants, the house can be opened up to host family and friends through creative interpretations of australian verandah sleepouts and caravan bunk beds. the northern elevation establishes a rhythm of window niches, capturing the view as frameless windows are pushed to the edge of the floorplate to embrace wild winds and rains — at once immersed in the beauty and brutality of the weather and well protected from it. an attic-like mezzanine serves as study space and guest bedroom, while an additional plywood-lined bed is discreetly integrated amongst a wall of joinery.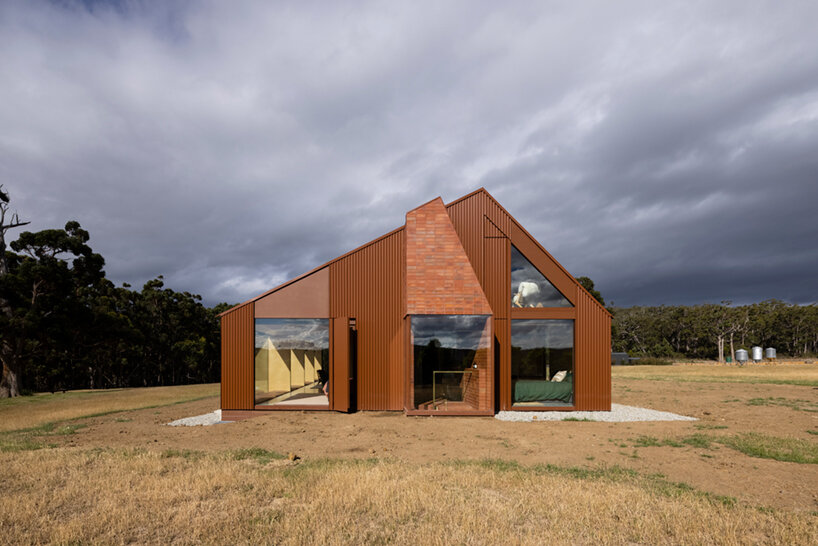 the western elevation of FMD architects' 'coopworth' is marked by a distinctive chimney stack. while this element recalls that of the historic shacks that speckle the region, it is repurposed as a sunken bath. opening outward with a large pane of glass, the chimney stack-turned-bathing niche serves to connect the bather to the surrounding field and its sheep, as well as the distant views to the bay beyond. the house's lightweight construction eased transportation of building supplies to the remote site, while local trades were called upon to reduce travel and build ties with the community. natural and locally sourced products were favored, including plywood and recycled timber.