dazzled in eye-popping hues of pink and blue, dubai becomes xavier portela's muse for his upgraded 'glow' series. initially set in taipei, followed by busan and seoul, the series is characterized by the distinct, accentuated strokes of light that scrape through the streets, noise, and people of each city. as if out of a sci-fi film, the photographer captures dubai's rapid and rigorous rhythm in ways that seem orchestrated yet spontaneous. from burj khalifa to the gleaming waters of the marina, the megalopolis exuberates energy.
all images courtesy of xavier portela
it was the xposure international photography festival in 2019 that brought xavier portela to dubai. with a few days to spare, the man behind the lens takes upon the opportunity to squeeze time and recreate the local urban choreography. despite the capital's immense humidity and rising temperatures all through the night, the photographer manages to transfer through his work feelings and notions that are anything but static.
'glow is a collection of cities captured by night where the colors try to activate the brain in order to reproduce the variables you don't have on a photo, such as temperature, noise, motion. simply said: glow is what you remember instead of what you've seen,' says xavier as he explains the concept behind the series.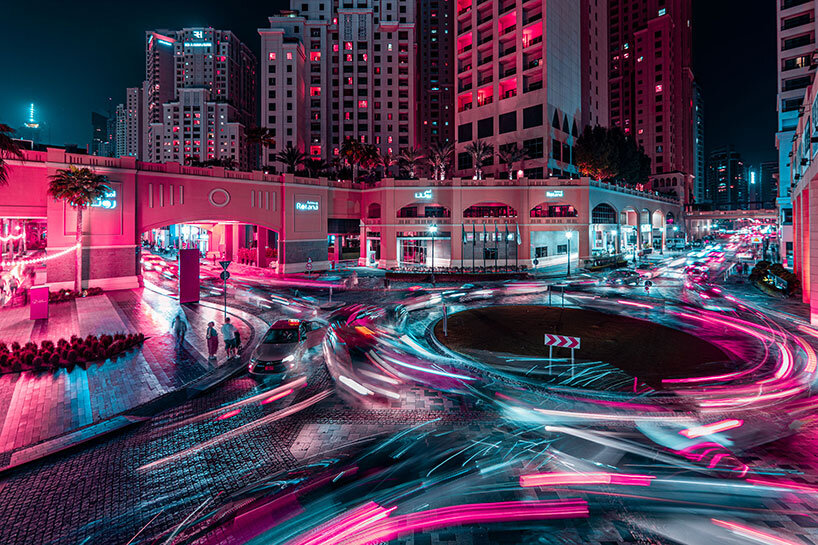 the photographer continues to evolve the growing series as he progresses from using the tripod to combining multiple frames. by composing and blending various moments,  the constant movements of the city merge into single shots. in essence, diverse motions are all put together letting artificial light paint its own vibrant infinite loops. as a result, emerge glowing futuristic works that capture anyone's attention at a glance.