studio malka architecture shares an eye-popping residential project envisioned for a former NBA basketball player in manhattan beach, california. conceived as a fusion of basketball and architecture, the aptly titled 'dunk house' features a huge cantilevered volume at the front that extends into a basketball court.
images courtesy of studio malka architecture
dunk house is composed of the main two-story residence, a smaller guest house, and an idyllic pool and garden area separating the two. the massing of the main residence is articulated by simple stacked blocks. on the front elevation, the protruding basketball court volume opens out to the street in homage to los angeles' streetball tradition. in contrast to the solid street-facing façade, the garden elevation at the rear includes large elements of glazing, connecting residents to the pool and letting gorgeous natural light bathe the interiors.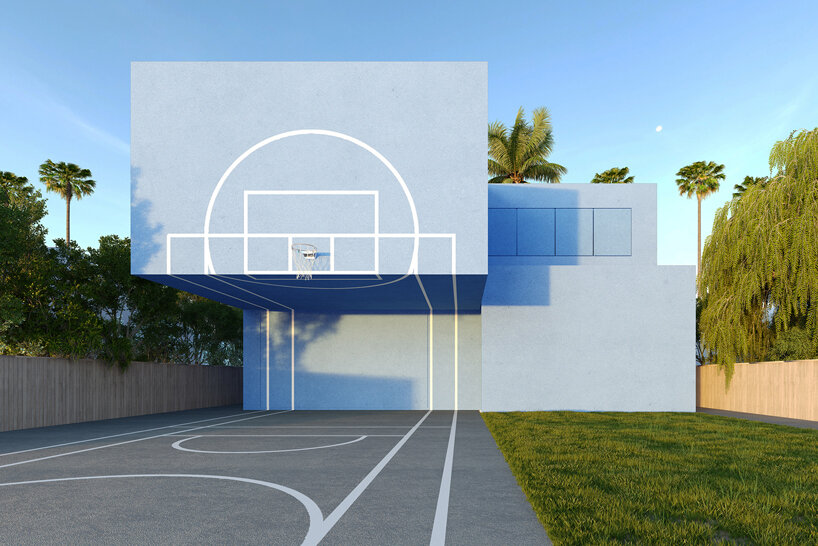 alongside the basketball-inspired architecture, the other distinguishing feature of dunk house is its color. studio malka architecture has created and applied a polarized paint called los angeles blue (LAB), which the architect says can automatically adjust its color to match the azure californian skies, blending the home into its environment like camouflage.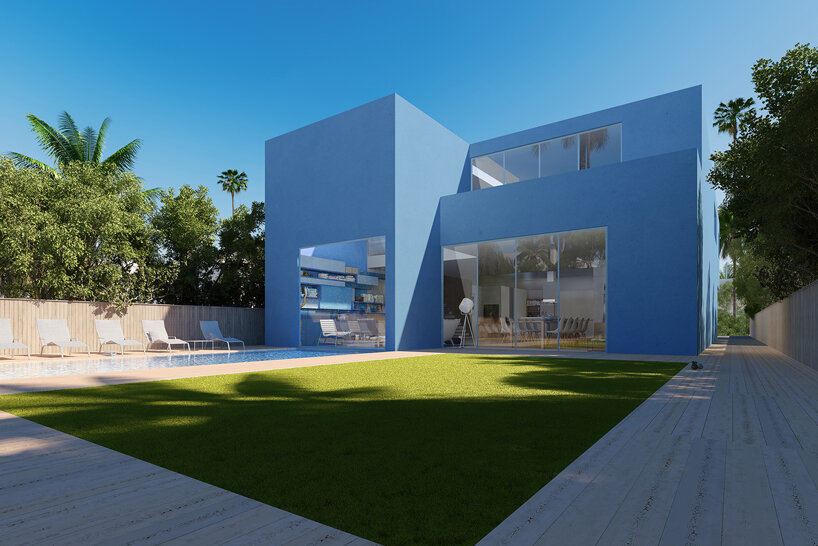 continuing studio malka's camouflage approach is the mirrored guest house, which reflects the green palm trees and blue skies above. this is a deliberate strategy employed by the design team to make the guest house essentially disappear and reflect the architecture of the main house. 'the result is a contextual alliance between the very materiality of the villa it's surrounding, proactively interacting towards the streets of LA, the beach community, the sun's latitude and the sky intensity,'  says studio malka architecture.