with a compact design and hybrid timber and steel structure, schemata architects
 has completed a two-story chalet in utah's powder mountain ski resort. perched on top of a gentle hill, the cabin adopts a flipped program with social functions on the upper level, allowing guests to enjoy stunning mountain views in front of a cozy fire after a long day on the slopes. 
images © melissa kelsey
'chalet on powder mountain' is positioned at the northern end of a cluster of cabins that spread out to the south. the location offers convenient access to the town and ski resort. there are entrances to the cabin on both levels but after skiing or snowboarding, guests can enter from the south side into the mud room on the first floor. here they can take off their gear and then have a hot shower before getting dressed in one of four bedrooms.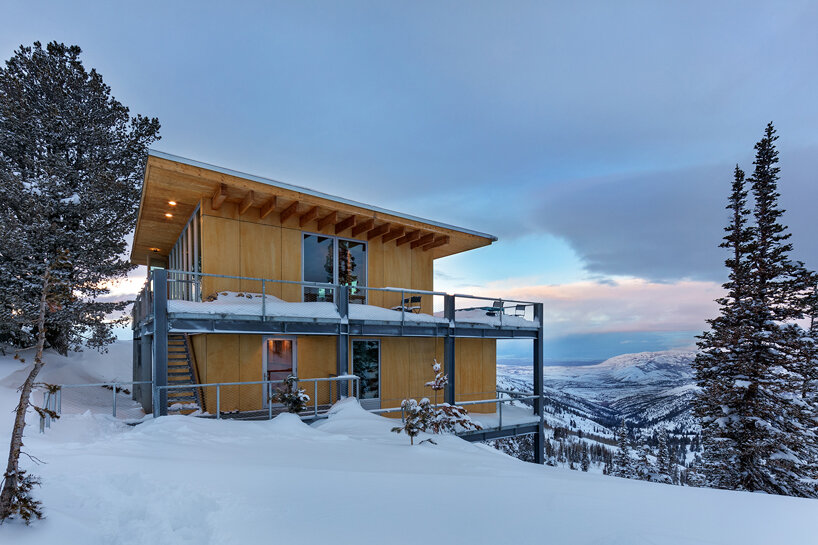 a steel spiral staircase leads to the second floor, where a completely open-plan kitchen, dining and living area awaits. there's also a generous balcony that's been generated due to strict building and setback rules, which controlled the buildable area. given these regulations, schemata architects
 designed the chalet to be as compact as possible while occupying the maximum allowable volume. the result is a cozy dwelling that lets guests feel like they're nestled into nature.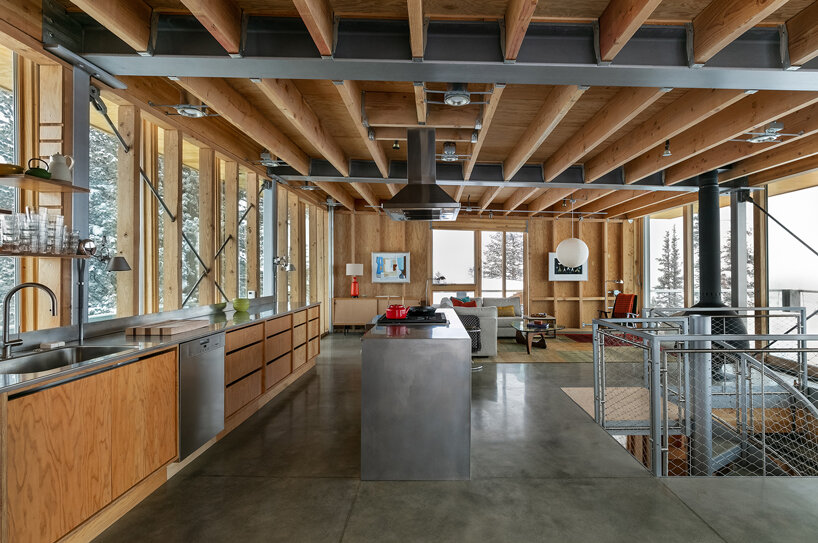 for its construction, the cabin employs steel frames on the lower floor and a highly insulated wooden structure placed on top. the steel elevates the building from the sloping site while the timber creates a warm indoor environment. the dual structural system is left exposed both inside and out, creating a satisfyingly honest architectural expression that stands out against the white snowy slope.