DB: how did you plan the configuration of each piece?
PP: it is like a drawing/composition accurately made by me using the chairs I have available, the vitra collection changes every now and then. I started making these artworks a few years ago, the first was 'nice ball' in 2010 for the show 'WYSTAWA' at museum of modern art, warsaw, 2010, curated by susanne pfeffer.
DB: your work often revolves around miniaturized objects, as in the case of the vitra chair sculptures or the baby polar bear gang, or around oversized ones, like the technicolor ladder at palazzo strozzi. how has your personal narrative informed this play with scale?
PP: the planet is small.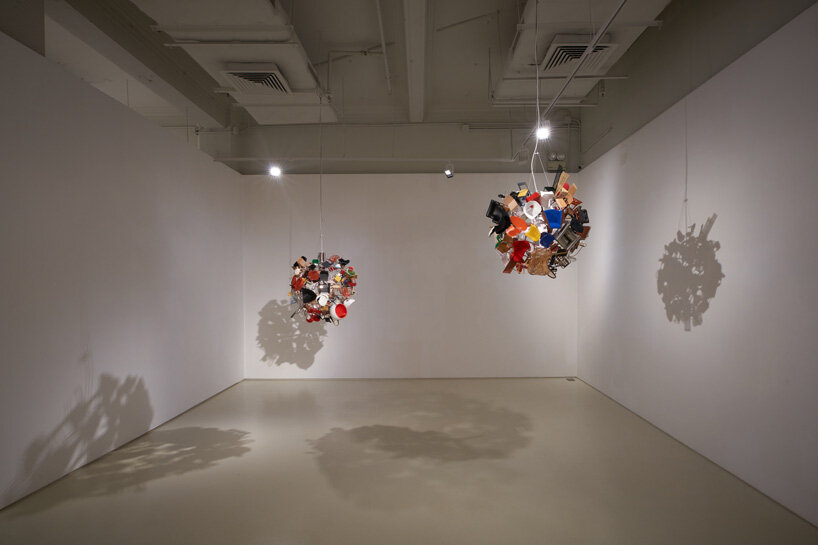 DB: your work conveys a sense of optimism to us.
PP: very good.
DB: during the ongoing pandemic, did you change your approach to reality? a slightly different view through 'a different lens' that adapts to new scenarios?
PP: yes, I lost hope in human kind. now I know why we have so many wars, disparities, lack of food/waste of food…in my opinion, with this COVID, human beings and countries demonstrated that they cannot cooperate, function and approach a common problem effectively. in this mess I was lucky to be able to carve for myself a way to make a good enough use of the new, hopefully temporary, system, so I myself am suffering less than many others probably. but the system in itself –at least perceiving it from where I am spending these COVID times, in italy, and looking mainly at the western world– appears messed up (besides the highly praised fast result of the vaccines achieved, which seem to be only motivated by business).
it looks like most business owners / business leaders could manage to organize themselves and survive or even thrive (like it happened for the vaccine or those COVID test facilities which seem to be working like a clockwork). except of course for those businesses lynched by the system, like for example skiing resorts or restaurants or spectacle workers in italy, to whom oxygen was closed, no life support was given, they are in apnea. all the rest of the society (organization, planning, helping, sorting, health, school, survival of society, prevention, transportation, instructions, even 'what to do if you have COVID') seems to me to be in a mess, proceeding slower than what must be possible.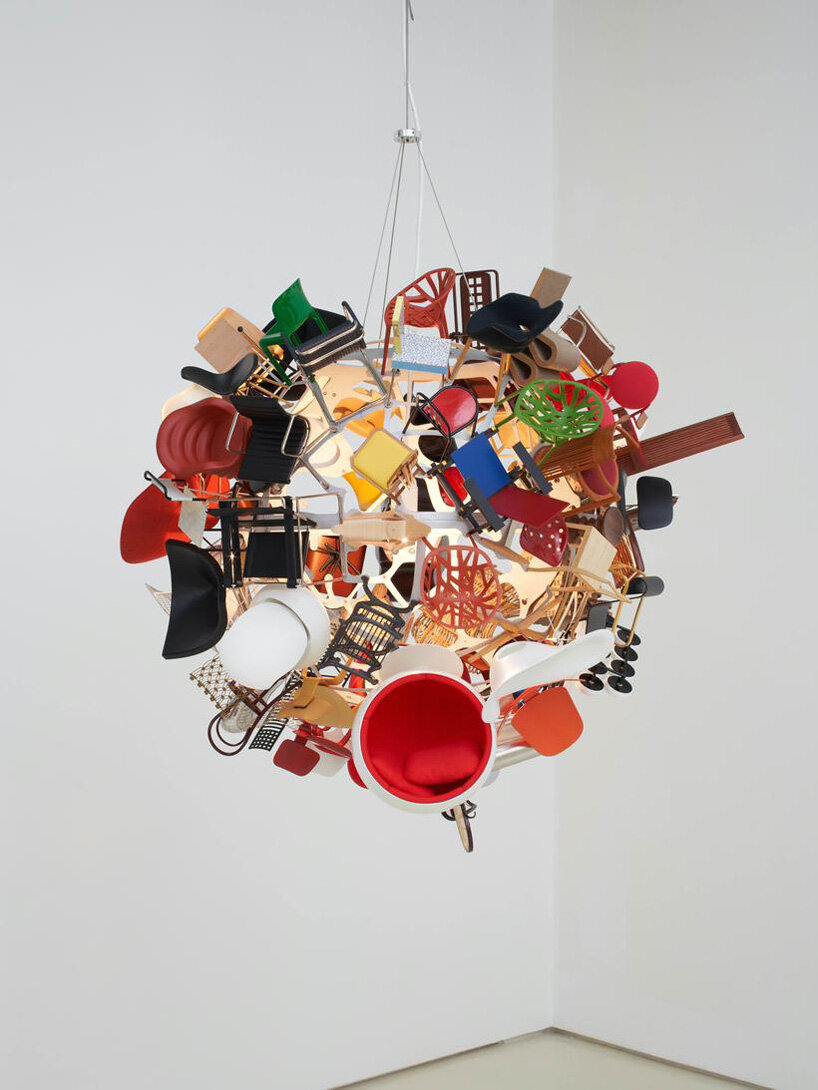 paola pivi, 'lightening ball', 2021, aluminium, mini chairs vitra, light bulb, electric cable, ø 92 cm / diameter (36 1/4 inches) irregular ball shape
PP (continued): the situation of COVID sheds light on other situations of society which are also in a mess, but it has been so for so long that we do not bother investigating into them, we just accept them. I am not saying that all is in a mess in every society everywhere, certain things in certain places work well, often what works here does not work there, but not all things are well arranged. can you imagine the mess if aliens were to come to the planet?
more than a slightly different view, a really strong light lit onto society.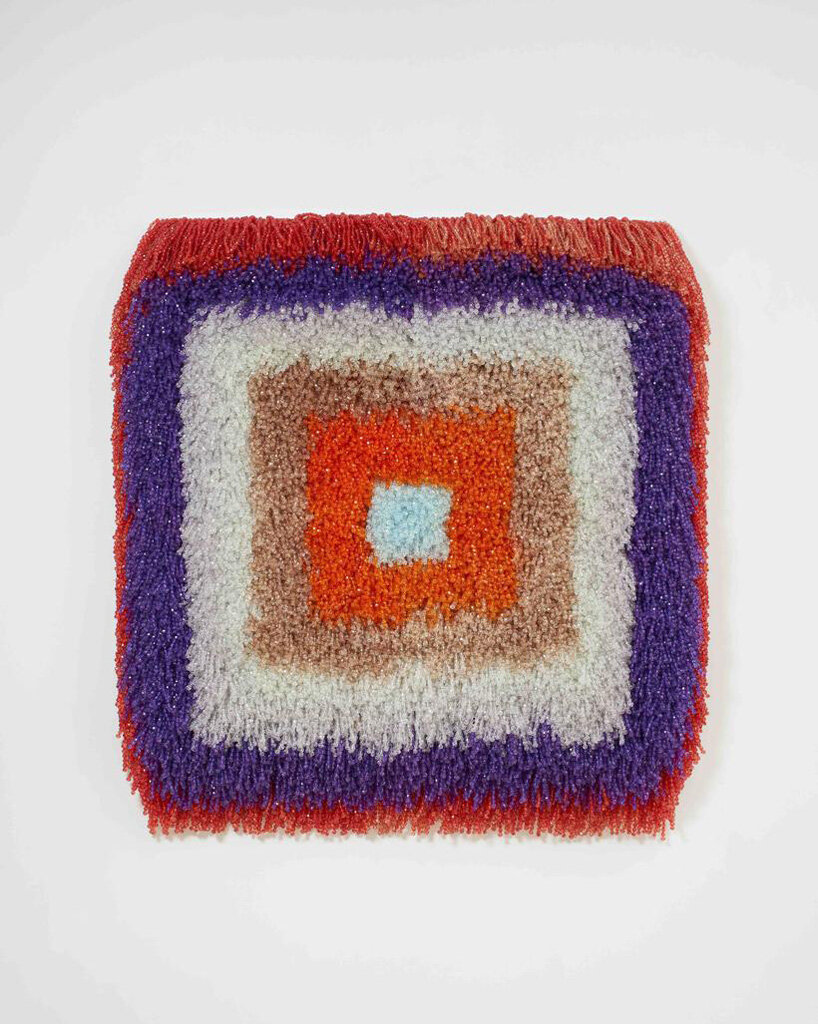 paola pivi, 'I don't need a title', 2008, clear and cut plexiglas pearls, 110 × 110 × 25 cm / 43 1/4 × 43 1/4 × 9 3/4 inches approx. overall dimensions: 130 x 123 x 25 cm (51 1/4 × 48 3/8 × 9 3/4 inches)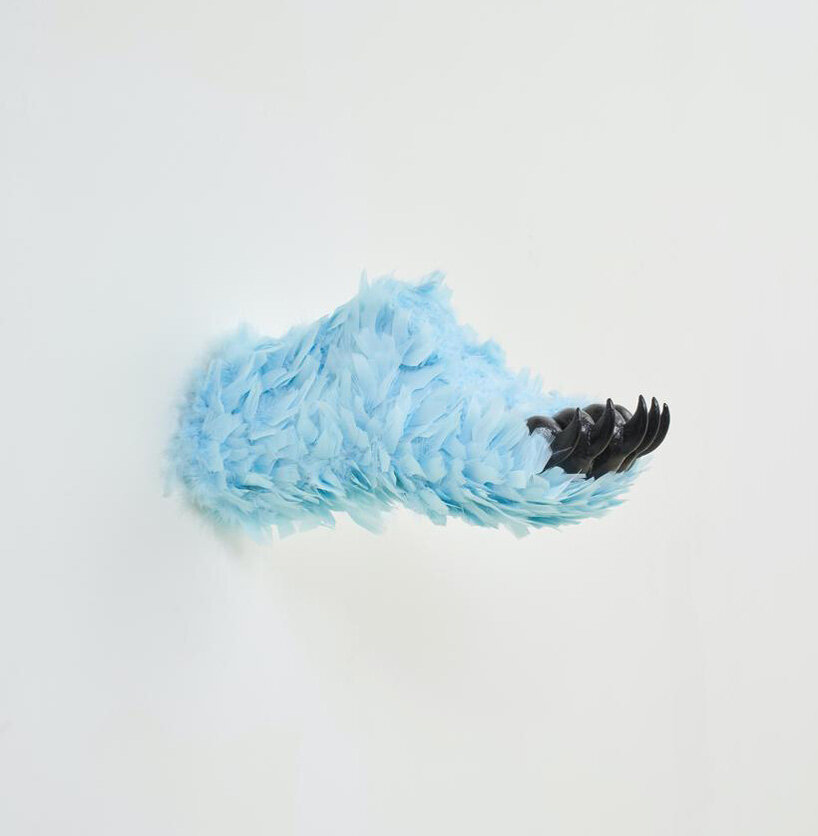 paola pivi, 'bear foot', 2021, urethane foam, plastic, feathers, 25 × 49 × 20 cm (9 3/4 × 19 1/4 × 8 inches)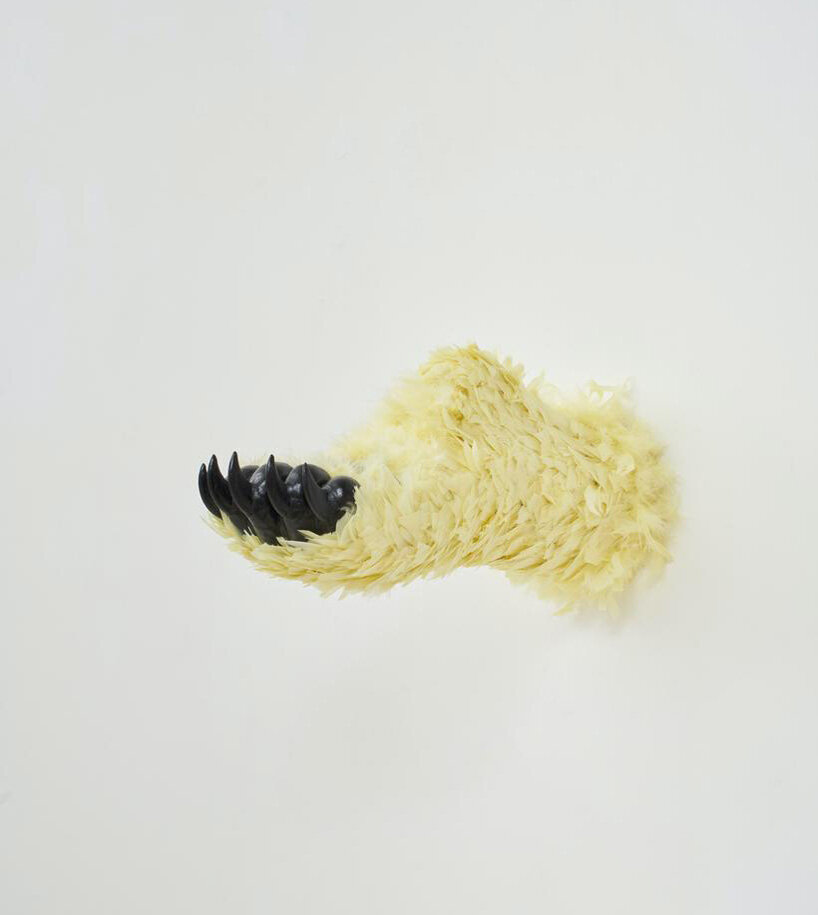 paola pivi, 'bear foot', 2021, urethane foam, plastic, feathers, 25 × 49 × 20 cm (9 3/4 × 19 1/4 × 8 inches)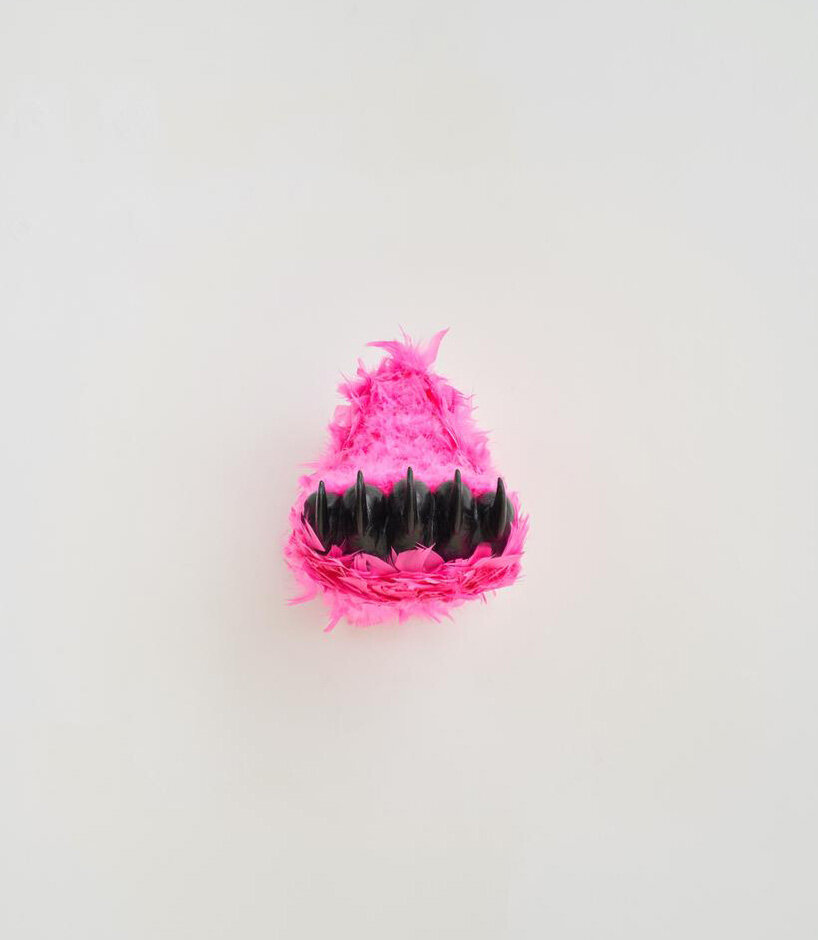 paola pivi, 'bear foot', 2021, urethane foam, plastic, feathers, 25 × 49 × 20 cm (9 3/4 × 19 1/4 × 8 inches)
exhibition info:
name: why not?
artist: paola pivi
gallery: massimo de carlo hong kong
duration: march 25 – may 7, 2021
location: 12 pedder street – 3F pedder building central, hong kong
sofia lekka angelopoulou I designboom
apr 24, 2021