DB: what new features can users expect?
BE: it's all geared towards working, communicating, sharing and distributing in the cloud. the new twinmotion 'presenter cloud' feature is the beginning of a new set of services which make sharing and receiving design data and feedback a super easy, and even fun, thing to do. this feature allows you to upload your client presentations and share them via URL. no need to download anything, learn the software, be tech-savvy or have a powerful workstation at hand — all you need is a browser.
BE (continued): another feature which connects the dots is the twinmotion to unreal engine bridge, via which twinmotion projects can be taken to the next level in unreal, for even more refined visualisations with advanced behaviors, animations, rendering features and so on. twinmotion is best for those who want to take the first step into real-time visualisation and may decide later to tap into the potential of unreal engine.
we've also integrated the entire quixel megascan asset library into twinmotion so that users can start populating their scenes with scanned 3D and 2D assets without leaving the interface. it's going to be a very dynamic library, continuously growing and evolving over time.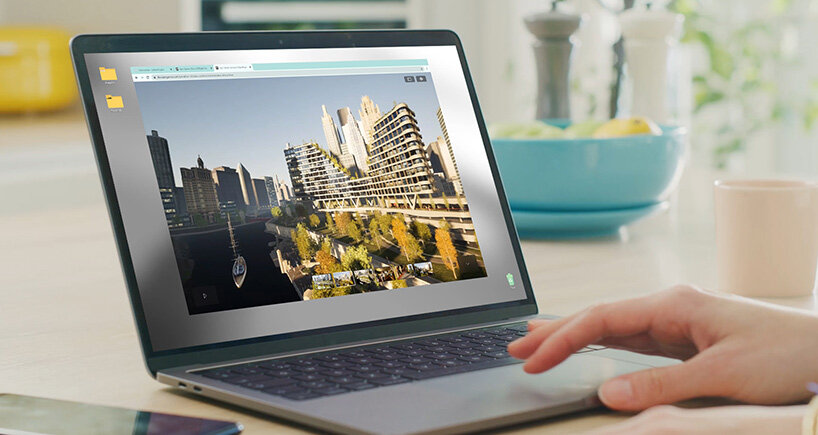 DB: can you talk about the universal appeal of twinmotion, and how it has been designed for both professionals and students?
BE: one thing I've observed in the last decade of arch-viz and architectural design is the emerging phenomenon of convergence. seemingly disparate features, processes and software tools are coming together behind one common idea. so what's happening now is that the gamer becomes the programmer, the student becomes the teacher, the architect becomes the visualiser and so on — it's a convergence that I think will shape the landscape of tomorrow. it's happening thanks to the simplification of design tools which used to be extremely complex, making them accessible even to beginners. twinmotion is a great example of a highly complex design tool that has been reworked in a simplified form, enabling users to focus more on the creative element than the technical element. game engines are absolutely ideal for creating hyper-real experiences, and twinmotion's interface links directly to one of the most powerful game engines around. whether it's for professional use, students' work, or even for hobbyists — it's an all-in-one-tool box.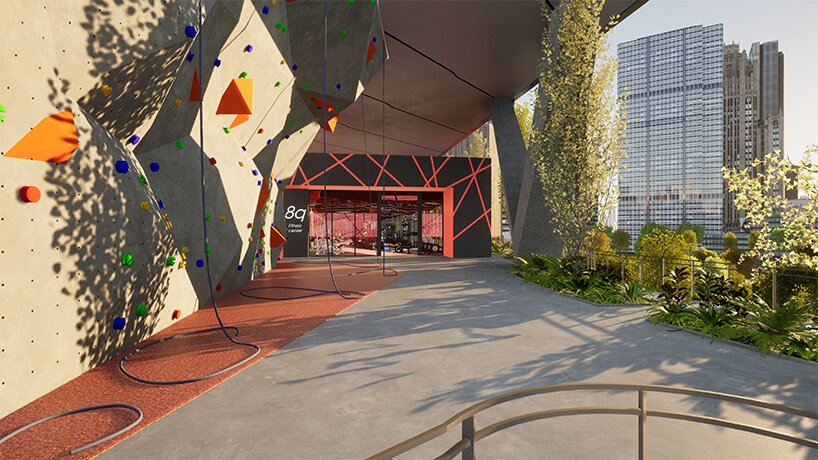 DB: how important is it to allow users to easily create their own 3D images themselves rather than outsourcing?
BE: it depends: big firms usually have specialists or an entire team dedicated to design visualisation. in this scenario, interoperability between their software tools is crucial — exchanging data between sender and receiver should be a friction-free process. for this workflow, twinmotion seeks to fit into their already established software pipelines by serving as this aggregator of data, streamlining the exchange, import and export process between visualisation software platforms. when we talk about outsourcing, it's not always about delegating visualisation tasks externally, but also about being able to outsource internally within the company.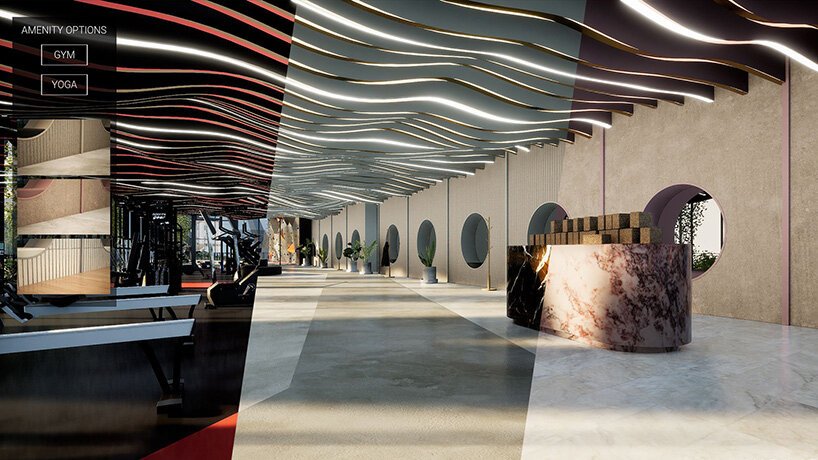 BE (continued): on the other hand, smaller offices are often completely on their own, also relying on the exchange of data between software tools, but not on such a big scale. here, because the teams are smaller, the time factor is crucial. in this scenario, the tool's simplicity and ease-of-use in designing in real-time makes the role of the specialist accessible to everyone. also, it's not only about creating their own 3D images; it's about being able to experience entire workflows, processes and ways of creating that are usually the preserve of specialists.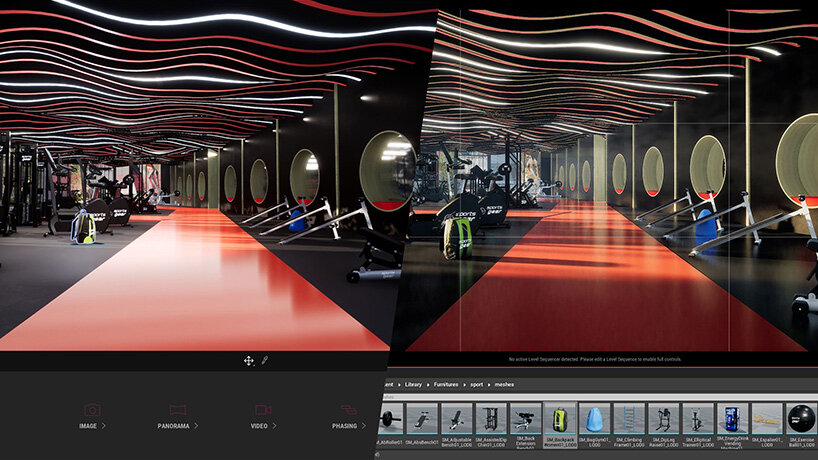 DB: as storytelling is such an important part of design, how does twinmotion allow users to quickly communicate ideas with the public, planners, or potential clients?
BE: twinmotion has a synchronisation plugin which connects seamlessly to all major BIM and CAD tools with one click, and keeps changes in sync with the twinmotion model. the interface enables instant visual quality feedback given in real-time as the user designs, edits and refines. the user interface is super simple — you can learn as you go, and the extensive and continuously evolving 3D scanned asset library makes the process even easier. a key part of effective and convincing storytelling is the level of immersion that can be achieved. twinmotion offers all sorts of images, animations and VR videos that help the designer to better imagine the space they're in. so for quick communication, sharing and receiving data, accessibility and immersion, twinmotion is growing into an all-in-one-platform for weaving design data into dynamic real-time stories.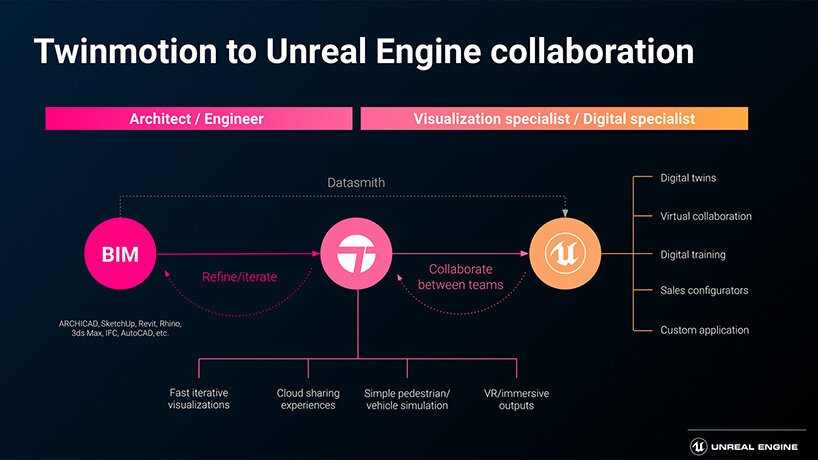 DB: how does the new version of twinmotion act as a gateway to unreal engine?
BE: within the vast landscape of software tools used by AEC professionals, it really comes down to how effectively the tools are able to speak to each other. twinmotion as a standalone tool is rich in itself and offers a variety of things to get the best out of your design, especially for beginners and those who want to use twinmotion early in the design phase for iterating and prototyping. but once you or the teams you are working with are ready to take the project one step further, twinmotion has been designed as an open-ended data entry and exit point, through which design data can flow.
with the twinmotion importer to unreal engine, you have the freedom to pass your twinmotion project over to unreal engine for further refinement with features such as virtual collaborative platforms, XR experiences, immersive simulations, sales configurators and much more. most visualisation tools are effectively closed boxes which don't allow the project data to grow beyond the limits of the tool. that not only limits functionality, but creativity as a whole. that's where we want to build bridges.
philip stevens I designboom
apr 19, 2021