new york sunshine — the ever-evolving art and design project shaped by the vision of multidisciplinary artist john margaritis — has set a '1 ton flower' within the window display at eric emanuel's new retail space in soho, new york. the 19 foot tall, site-specific artwork takes shape as an oversized bouquet of faceted basketball hoops, with five pink-hued hoops growing from a weathered steel stem. set within a mirrored, jewel-box-like vitrine designed by japanese architects wonderwall in 2004, the 3,000+ pound piece was no easy feat to install — 'it was like building a ship in a glass bottle,' margaritis told designboom at an advance viewing of the space. all elements were cut into individual pieces in order to fit through the enclosed display's crawl space entrance, which is only about 2 x 2 feet.
all images courtesy of new york sunshine and eric emanuel
both inspired and challenged by the boundaries of the narrow and extremely delicate window display case (10 x 10 x 20 feet), the new york sunshine team developed 52 individually handmade pieces using steel, aluminum, and high gloss body paint that carefully fit together once inside. the angular floral shape that the basketball backboards playfully take on came as a result of the extremely small dimensions that the pieces had to fit through — a happy accident that the artist drew aesthetic influence from.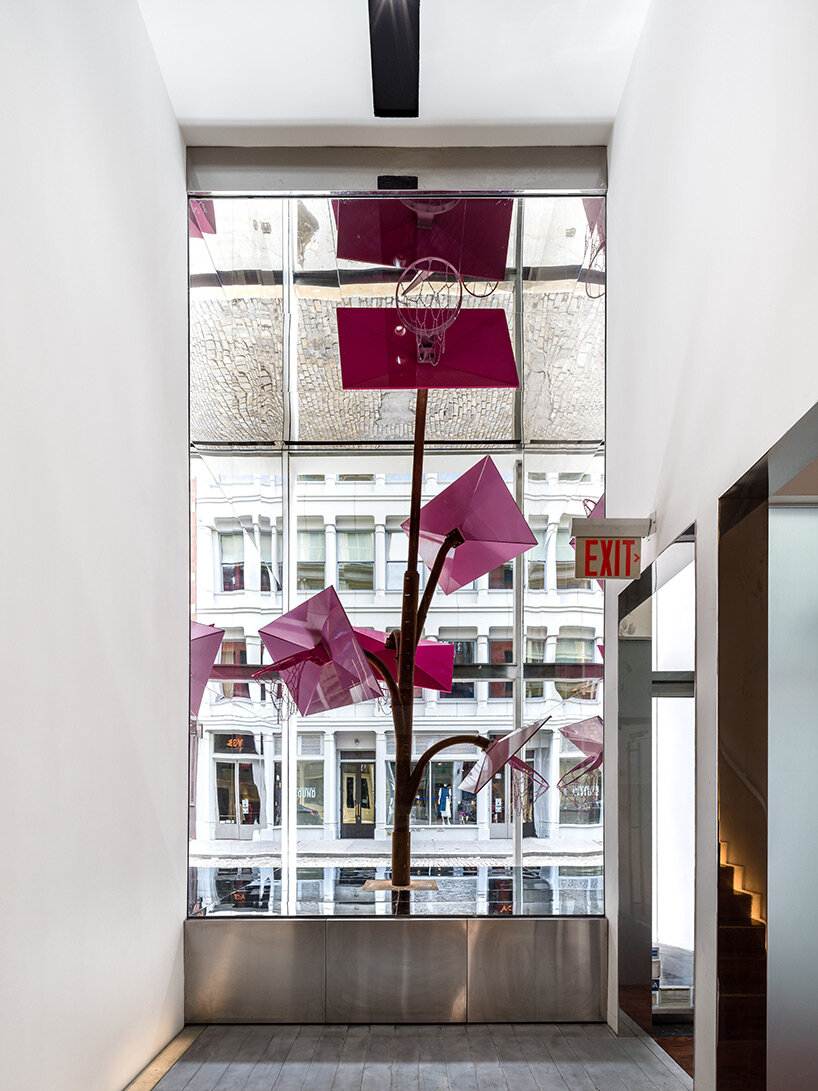 'we assembled a fake stick building in my studio in southampton, just to give us a reference for the walls,' margaritis continued. 'even if the backboard itself was one piece, it wouldn't fit through the crawl space. so that's kind of what gave me the idea for different pieces cut on angles and tipped, so they became a flower-like shape. it was like a blessing, because otherwise they would have been flat.' in concepting, producing, preparing and building the final product for eric emanuel's retail space at 91 greene street, margaritis also worked closely with his father to overcome the challenging technical demands of the site. margaritis spent his youth working in his father's cabinet shop, where watching his father's craft instilled in him the value of working with one's hands.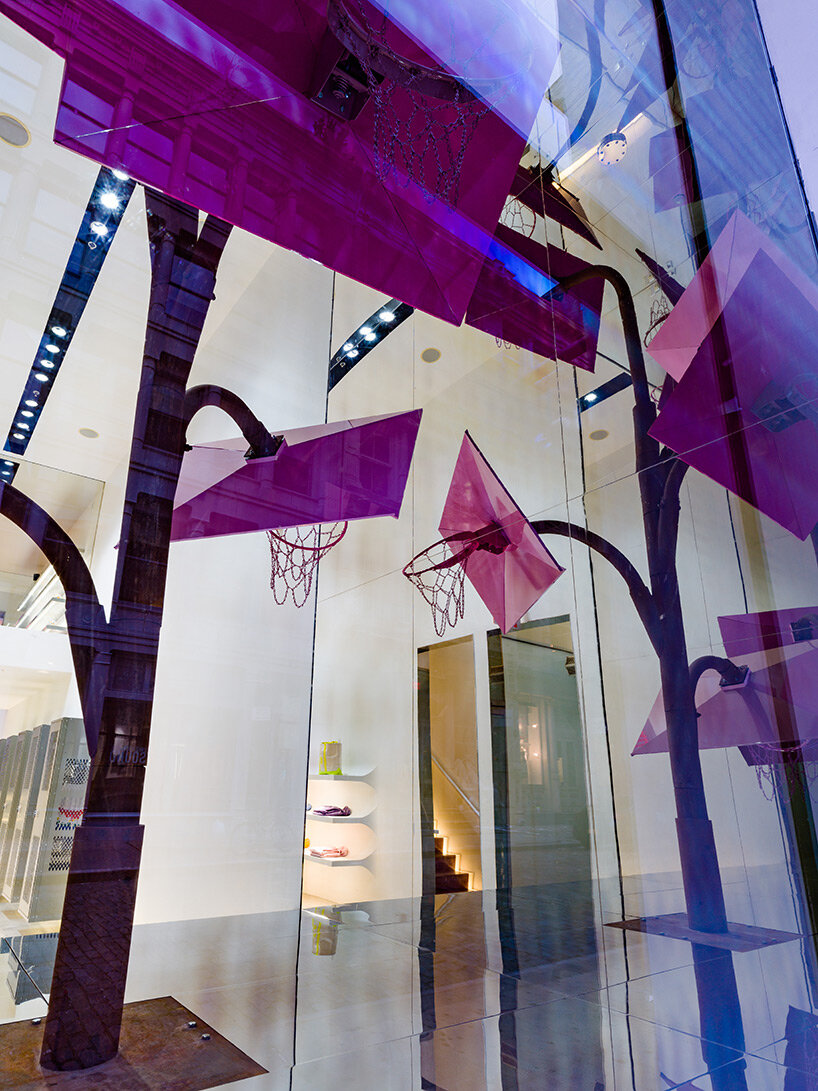 the installation continues new york sunshine's ongoing influence from, and lifelong love of basketball. projects including 'hoop dreams' — an otherworldly collection of images where waves wash over backboards and chain link nets — and the exhibition 'broken time' — with its welded steel and blown glass basketball sculptures — follow the themes of childhood memories, sport and play that can be found across the artist's work.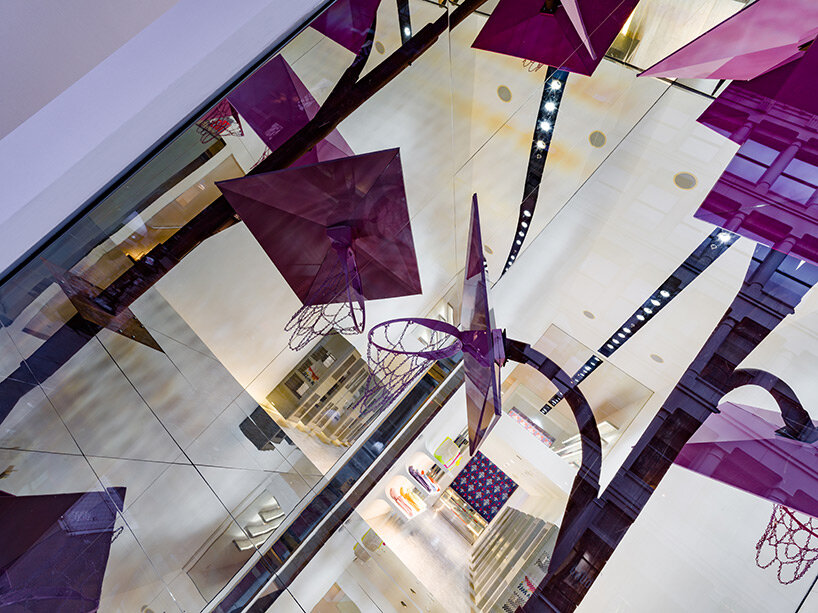 the soho retail space of eric emanuel — the highly sought-after sportswear brand specializing in mesh shorts — becomes a space of artistic significance. eric sources all textiles for his eponymous line from the USA, where from the start to finish of production, the job is always new york-made. emanuel's vision for the location pays homage to many of the existing building's original characteristics, such as its stunning double height ceiling and 'floating' mezzanine, while truly turning it into a space of his own.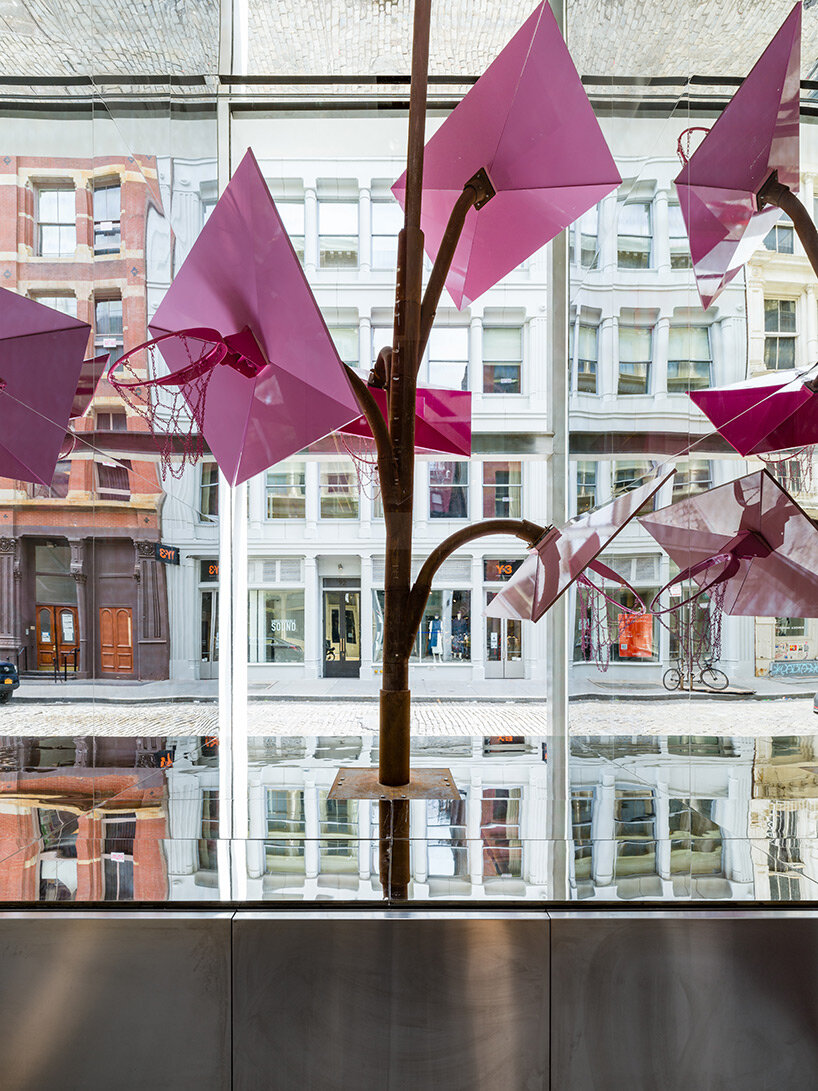 serving as display elements for some of the items on sale, new york sunshine also designed and developed a series of locker-like cabinets that hover above ground and hold emanuel's colorful line of sportswear. 'it's kind of like a school hallway, so that's where the idea of an industrial locker came in,' margaritis says about adopting the idea of sports to the existing site conditions. 'we can also just play into the fact that the products will sell out so fast, that you can have one locker open and all the other ones closed — so visually and conceptually we're saying, that's all we have left!' 
see the installation at eric emanuel, 91 greene street, in new york city.