founded in 1943, NBBJ is a global architecture practice with locations around the world — from seattle to shanghai. the firm's network of 'renaissance teams' includes more than 800 researchers, strategists, nurses, architects, planners, and interior designers who have generated ideas and projects for tech companies like google and samsung as well as institutional leaders such as the university of cambridge and the cleveland clinic. 'a designer must first and foremost be a diligent listener and observer to provide design solutions that are not just iconic, but address clients' needs and goals,' jonathan ward, design partner at NBBJ, tells designboom. 'ultimately, it's not about chasing the latest trend, but keeping an eye to the horizon with designs that help improve our clients' businesses, foster positive action, and celebrate what makes us human.'
tencent seafront towers | read more about the project on designboom here
image by shao feng | all images courtesy of NBBJ
as part of our in-depth interview, jonathan ward discusses the common themes and approaches that define NBBJ's diverse range of work. ward also details the firm's projects for amazon, including the recently unveiled 'helix', and the challenges and importance of integrating greenery and vegetation into architecture. 'green plants and trees can act as nature air purifiers that release oxygen and filter out pollutants,' ward explains. 'given these essential benefits, it's critical that our built environment makes nature a key priority.' read the interview feature in full below, and see more of NBBJ's work on designboom here.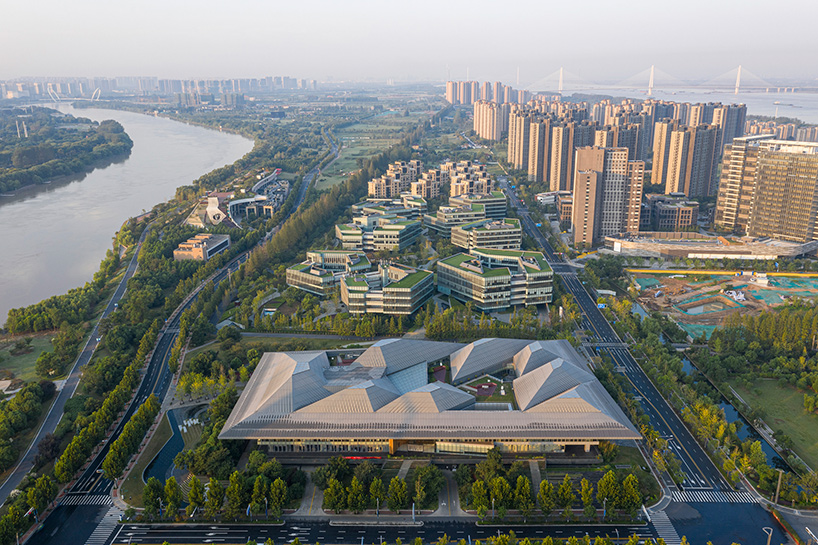 nanjing eco hi-tech island | read more about the project on designboom here
image by shao feng
designboom (DB): your list of clients is vast — both in typology and geography. what themes tie the work together in terms of the problems they seek to solve?
jonathan ward (JW): connection, health, and sustainability power the future of our built environments. we believe great design helps people build community and innovate, so they're more creative, productive and happier. but it's also a tool to support more meaningful and engaging lives. our projects rearrange the typical program, build in elements that foster community and invite the public in through engaging amenities and resources. optimizing buildings, spaces and cities for visual and physical connectivity is paramount to the future of our built environment.
the built environment must also support community health and equity for a broad range of people by creating spaces that welcome and foster healthy habits. design should uplift. a healthy building doesn't just address physical wellness, but mental health as well. it should incorporate the restorative benefits of nature and fresh air, promote movement, and offer respite.
finally, we create sustainable environments, regardless of typology. by employing integrated thinking in our work, our projects enjoy valuable crossovers between typologies, which open up a wide lens of design possibilities. for instance, we see other types of buildings outside of workplaces, such as hospitals, which are some of the most energy-intensive buildings on the planet, lower their energy use through a low-carbon approach, resiliency and other energy-saving strategies. materials like mass timber — prefabricated engineered wood — are changing the game across all building types, helping realize low-carbon, low-cost, and high-impact design.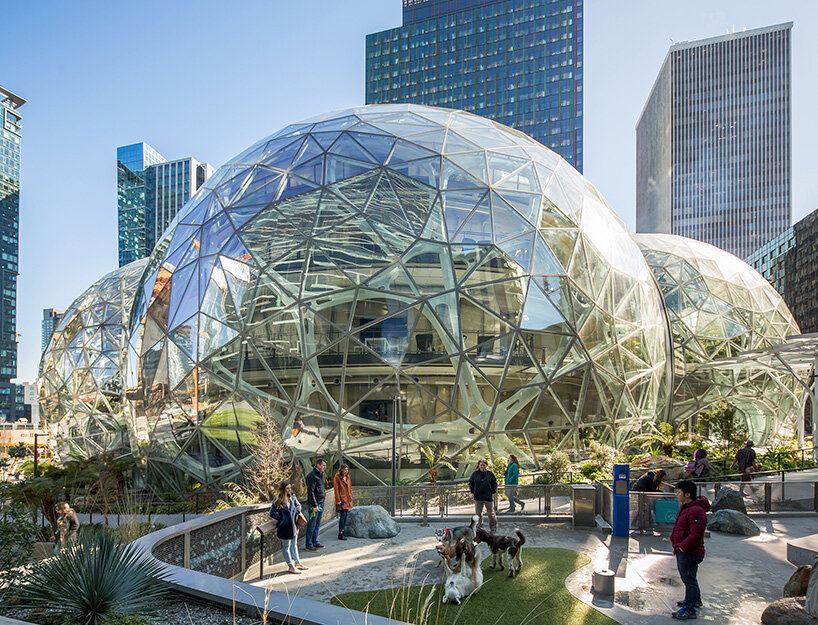 the amazon spheres | read more about the project on designboom here
image by sean airhart
DB: what about NBBJ's culture and process becomes a draw for the range of clients you work with?
JW: our culture and process are unique in several ways. the first is the ability to pull expertise across disciplines, both within and outside NBBJ. because NBBJ designs for a diverse global portfolio, we can harness ideas across different typologies. for example, healthcare projects can inform city building, while workplace strategy can shape urban infrastructure. this interdisciplinary thinking can spur creative ideas about how to foster increased innovation, wellness and connections in our buildings and built environments. ultimately, the human and environment optimization is the same challenge, whether it is a hospital or an office building. the detailed functional relationships vary, but the drive to foster communication and a sustainable future are universal.
this process also ties back to the importance of connecting people and building a community. through all of this, we believe it's absolutely critical to give everyone a seat at the table. a diversity of perspectives and openness helps drive compassion and change. to do so, we create a supportive space where everyone is encouraged to speak up, share ideas, and refine them. we also ask: what is the roadblock to a certain design problem? how can we look at it from a different perspective to find the unexpected and transformative solution? we call this 'change design'.
we also think designing with empathy — and its close cousin, compassion — for our clients and end users are so important. while empathy is the ability to feel someone else's feelings, compassion is the desire to help and be of service to others. a designer must first and foremost be a diligent listener and observer to provide design solutions that are not just iconic, but address clients' needs and goals. ultimately, it's not about chasing the latest trend, but keeping an eye to the horizon with designs that help improve our clients' businesses, foster positive action, and celebrate what makes us human.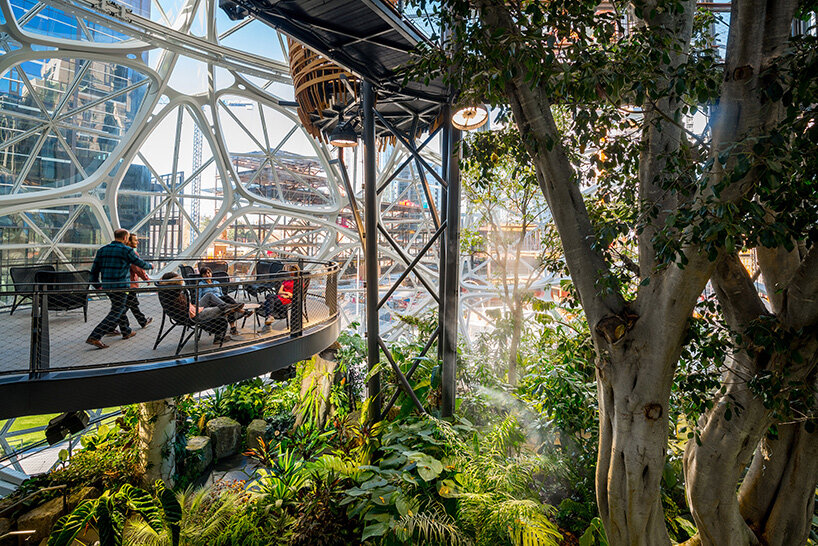 the amazon spheres | read more about the project on designboom here
image by stuart isett
DB: NBBJ has worked with amazon on the design of two projects — the first in seattle, and more recently in arlington, virginia. could you tell us about your amazon work in seattle, specifically 'the spheres'?
JW: the HQ1 project was born from amazon's desire to build an urban neighborhood while not giving up a connection to nature. located in the middle of a city, the amazon spheres create a unique urban work environment amidst a collection of 40,000 plants. the goal was to create a space where employees could work outside of their office in an alternative workplace with no assigned desks, in an invigorating, nature-filled space that is also open to the community. the project also features an unusual exterior structure, which is an organic, modular pattern derived from a catalan solid that reduced construction costs.
the design team went through different design iterations, bringing in experts not normally consulted in office building design to realize the thermal, humidity, and lighting conditions for both plants and people to be comfortable. these ranged from university experts to a NASA researcher who helped create conditions for plant growth in space.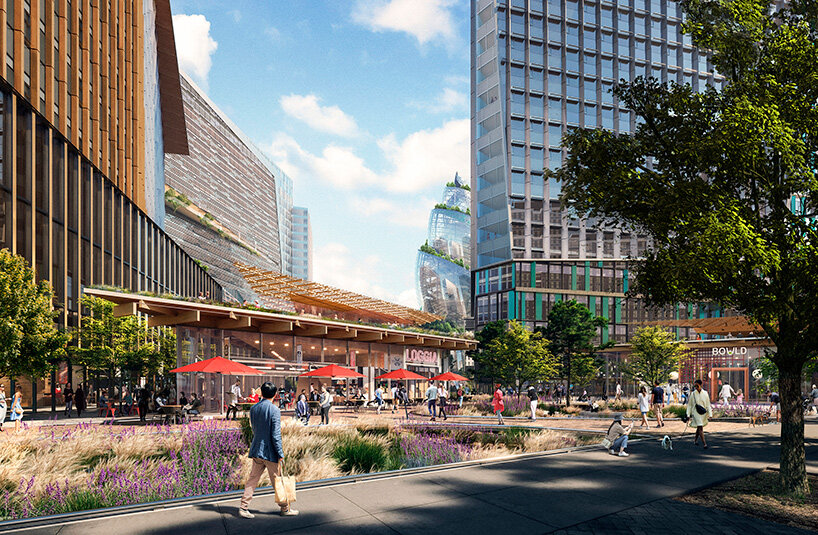 PenPlace | read more about the project on designboom here
DB: plans for amazon's second phase of the arlington, virginia headquarters — PenPlace — include another landmark building: the helix. how did you arrive at the building's distinct form?
JW: 'the helix' helps foster community, well-being and creativity through a unique set of experiences immersed in a lush natural setting. its form is inspired by the double helix, a geometry often found in the natural world, from seashells to DNA to the galaxy.
in addition, sustainability is a key factor for the entire project. PenPlace will feature 2.5 acres of public park space and connection to the metro, while encouraging bicycle transit with facilities for employees and visitors. it will also include an all-electric central heating and cooling system that will run on 100% renewable energy. it will also seek LEED platinum certification.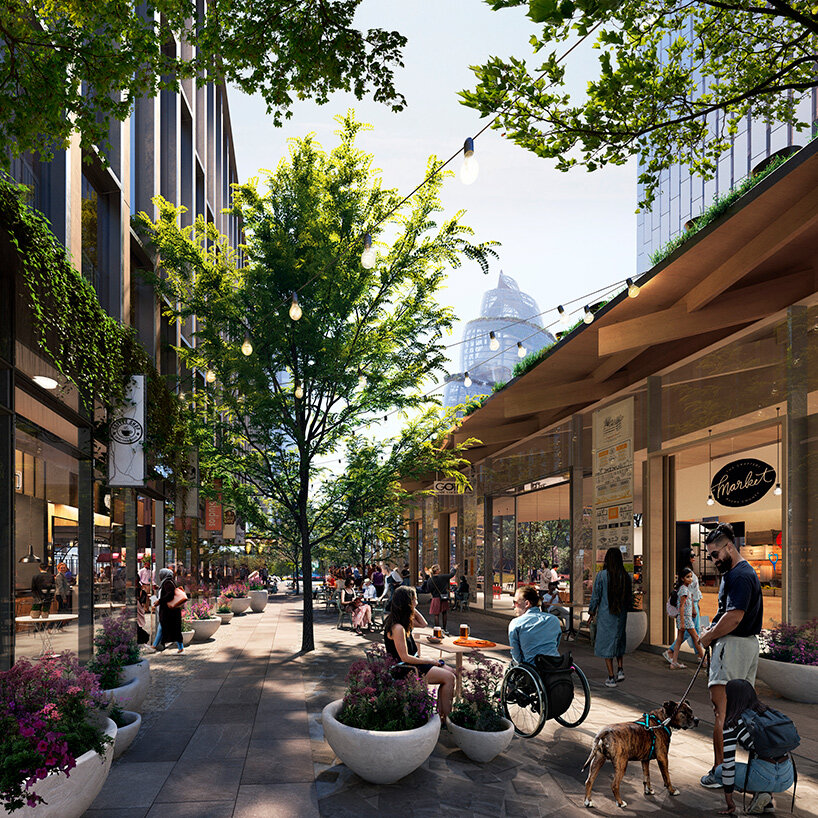 PenPlace | read more about the project on designboom here
DB: what are the challenges of integrating greenery and vegetation into buildings?
JW: neuroscience shows that nature has a restorative effect on human well-being and cognition. we studied these links in a fellowship program with dr. john medina, an affiliate professor of bioengineering at the university of washington school of medicine. viewing nature or being immersed in it lowers stress, blood pressure, and heart rate. it can even shorten hospital stays and reduce medication use. green plants and trees can also act as nature air purifiers that release oxygen and filter out pollutants. given these essential benefits, it's critical that our built environment makes nature a key priority.
yet incorporating greenery in, on or around a building can be complex. the building and site must be structurally resilient to accommodate the extra weight of plants, soil, and water, as well as address maintenance needs, such as plant watering systems. the environment must also be comfortable for both people and plants so each can thrive. in workplaces, design can accommodate the diverse needs of each. for instance, indoor temperature, humidity, and lighting can be optimized for people during the day and tuned for plants at night. even hospitals — which typically don't allow indoor plants due to potential allergies and infection — can be designed to provide immersive experiences with green views, digital walls of nature images, and access to healing gardens.