in 2015, the juilliard school, new york's premier performing arts conservatory, announced plans to build a campus in the chinese city of tianjin — 45 minutes from downtown beijing by high-speed train. two years later, the school broke ground and, despite the pandemic, the building opened to students in late 2020. located in binhai's yujiapu financial district, the building was designed by diller scofidio + renfro (DS+R), the same firm responsible for the 2009 expansion of juilliard's new york home as part of its lincoln center masterplan. 'we were really cognizant of wanting to make the juilliard project not just an educational facility, but also a community facility,' explains charles renfro, partner at DS+R, speaking at a virtual tour of the project attended by designboom. 'we wanted to make it become part of the daily lives of those people that work, play, and live in the binhai district.'
all images by zhang chao, courtesy of diller scofidio + renfro
as the plot forms part of a park district, diller scofidio + renfro was keen to tread lightly on the terrain, while preserving public access. 'one of our first decisions was to take the three major performance spaces, a concert hall, a recital hall, and a black box theater, as well as the larger scale rehearsal spaces, and to sink them into the ground by one floor,' renfro continues. this gesture allows the porous ground floor lobby, with its multiple access points and glazed façades, to serve as a continuation of the surrounding parkland.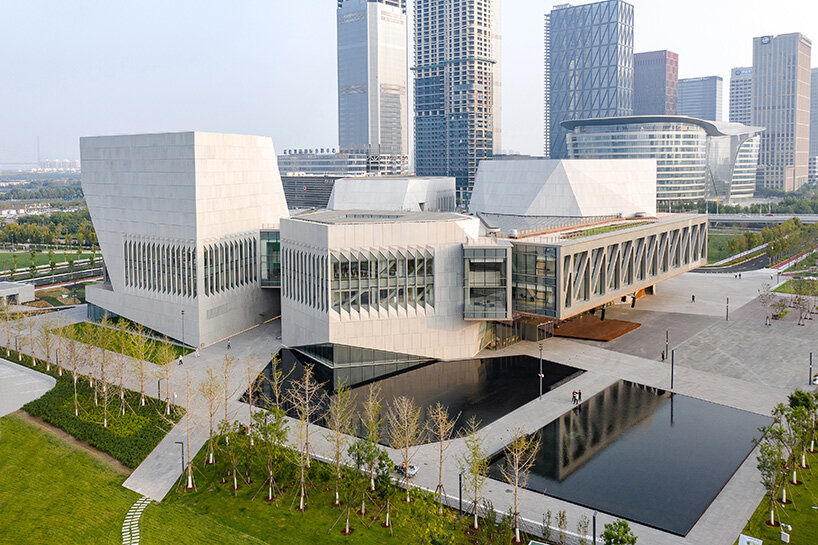 the tianjin juilliard school comprises a total of four faceted pavilions housing a 690-seat concert hall, a 299-seat recital hall, a 225-seat black box theater, and administrative, faculty, and rehearsal programs. serving as cornerstones for the campus, these pavilions are connected by five windowed bridges that each house two levels of instructional spaces. visible from the lobby below, the bridges contain 12 classrooms, 23 teaching studios, and 86 practice rooms. where the bridges intersect, students can gather in intimate, double-height lounges with city or river views.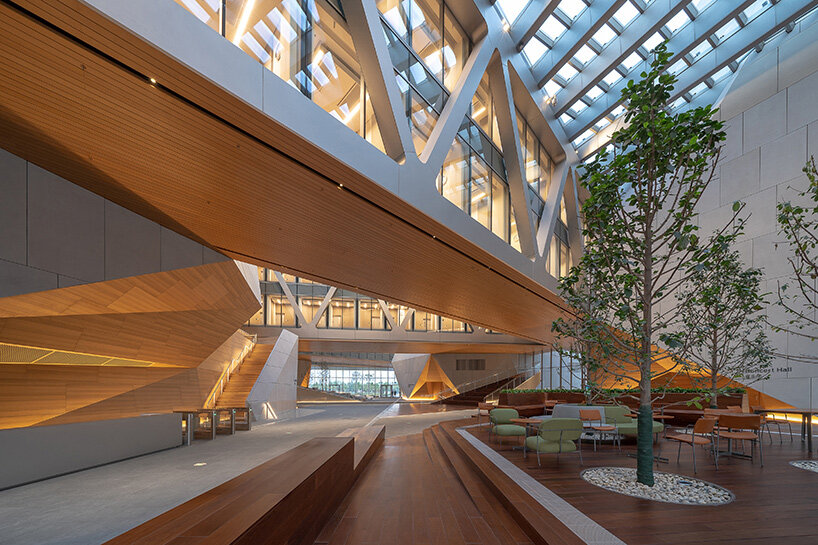 'the most important aspect of the diagram for us was that we elevated all the teaching and practice spaces into a series of bridges that span between the pavilions,' says charles renfro. 'the bridges are actually structured as bridges, they have no vertical columns that go down to the lobby. most importantly, both sides of the bridges are completely glazed with soundproof glazing.' this means that the classrooms, teaching studios, and practice areas within the bridges are all naturally illuminated, while offering occupants outward views and sightlines.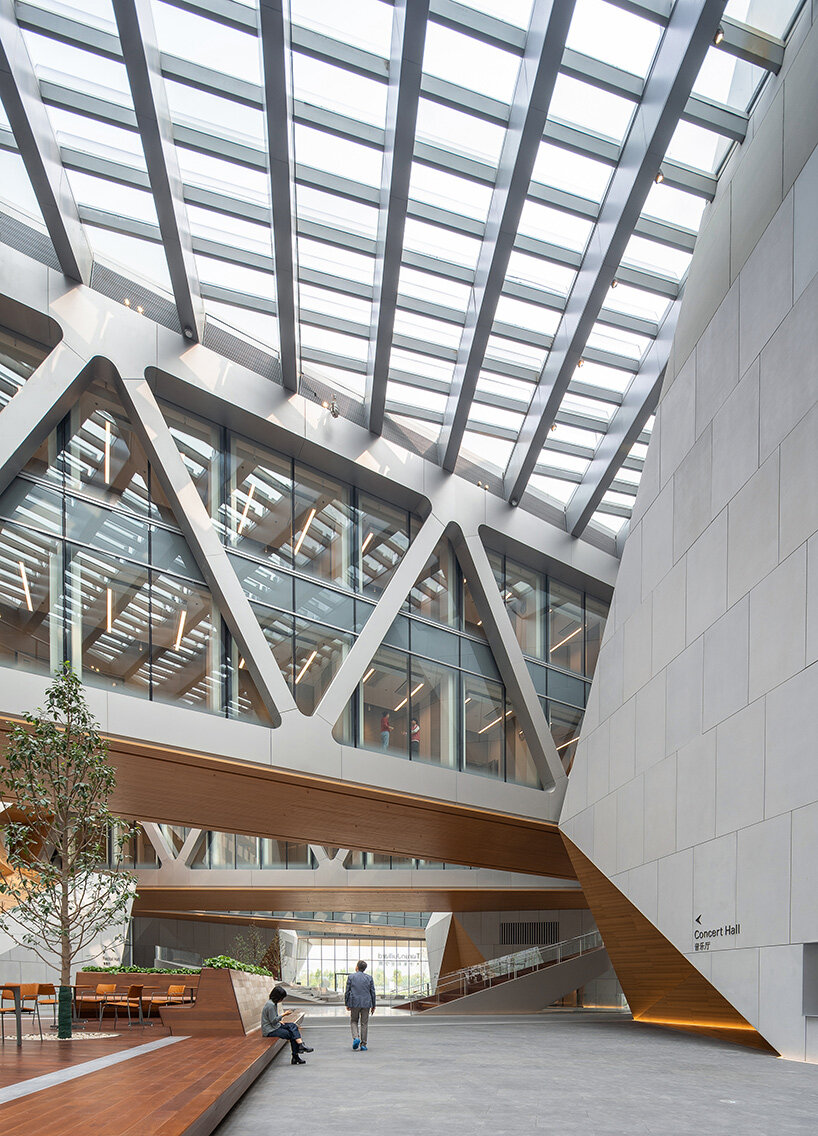 in addition to its role as a center for performance, practice, research, and interactive exhibitions, the school also includes communal spaces that have been designed to welcome the public into the creative process and performance of music. 'in essence, what we tried to do by making these five bridges is allow the public space to roll right through the building,' renfro adds.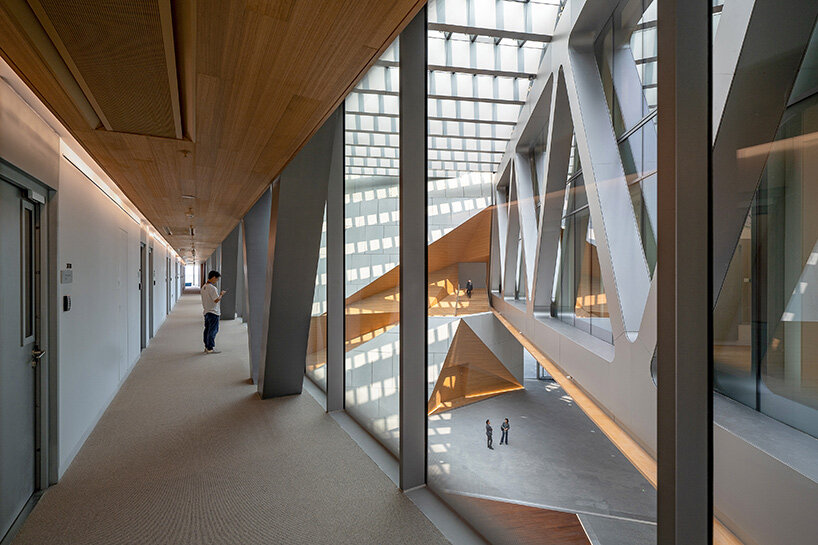 externally, a plaza positioned to the north of the site features a series of gardens designed in collaboration with hargreaves jones, while the south plaza — programmed for public performance and events — features stepped piano-key like seating and planting, and shallow reflecting pools. importantly, the lobby, which provides interior access to all three concert venues as well as public space for both citizens and visitors, has a total of six welcoming entrances.