marking a sensitive and transformative renovation, architect ren ito presents his calçada house. located in vila de paraíso in the north of portugal, the project revitalizes an existing 18th century dwelling and several nearby annex buildings. the built area occupies a tree-covered plot which spans an area of 5,000 square meters. the site had long been divided by scattered buildings, each with a unique character. responding to this condition, the design team refurbished each building to host a residence and guest house. the new dwellings preserves the historic architecture and rusticated stonework, while introducing contemporary elements and expressive timber roof structure.
images by ivo tavares studio
upon approaching ren ito's calçada house, visitors pass beneath a rebuilt entrance gate followed by a grapevine trellis. this footpath leads toward the newly completed extension of the historic dwelling part with its entrance hall and bedroom. the ground floor of the main house hosts residential gathering spaces while the upper level houses the bedrooms. the main house is organized in plan as a cross shape with a centralized stair hall, with design-minded attention toward reinterpreting the stairs as sculptural centerpieces.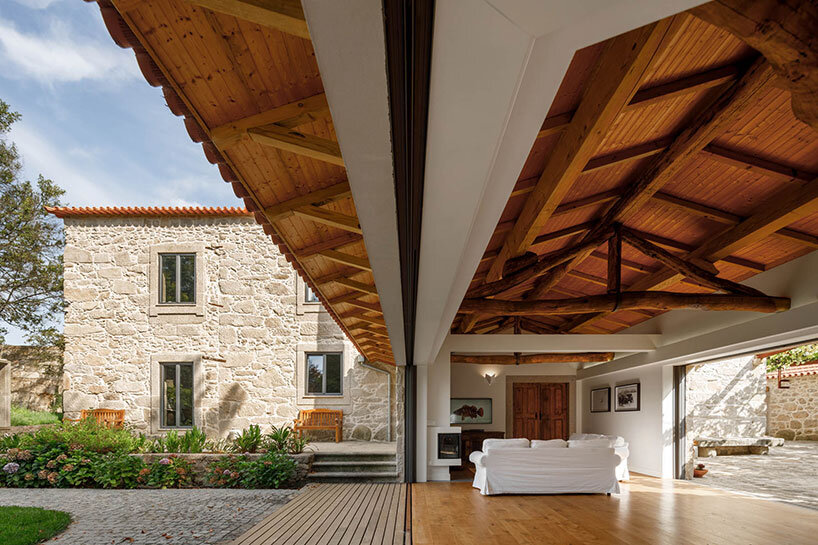 ren ito's calçada house is neighbored by an idyllic garden on the north along with a grapevine-covered courtyard to the south. the newly built living room, punctuated by fireplaces on either end, is enclosed by an expressive roof defined by its monumental structure of exposed timber. meanwhile, the guest house spans two levels connected by another sculptural stair. together with an outdoor kitchen and swimming pool, this guest house is coupled by an annex building which serves as a pool house and garden storage.