as intensely sweet on the eyes as their produce tastes, studio futura has stirred quite a treat with cloud and co-, a dreamy gelato shop in msheireb downtown doha, qatar. the designers created a pastel combo of eye-popping colors splashes with abstract geometries, and an almost surreal universe unravels. moreover, the visual continuity, the stunning details like the metallic decorations and mirrors, along with the theatrical curtains and seats, all come together to give gelato lovers an unforgettable experience. 
'we believe that the only way of being relevant nowadays is to create authentic brands that stand out locally and globally connecting and developing lasting impact with people', as the designers explain.
all photos courtesy of studio futura
studio futura was founded in 2008, in mexico city, with the aim to provoke traditional design and to push design boundaries. as such, the infamous illusionary drawings of illustrator maurits cornelis escher inspire the branding and interiors of the store. the designers take the distorted realities of the artist and turns the impossible into a tangible dream. with a combination of level changes, bold symmetries, monochromatic surfaces and carefully placed lights, a seductive new gelato culture emerges.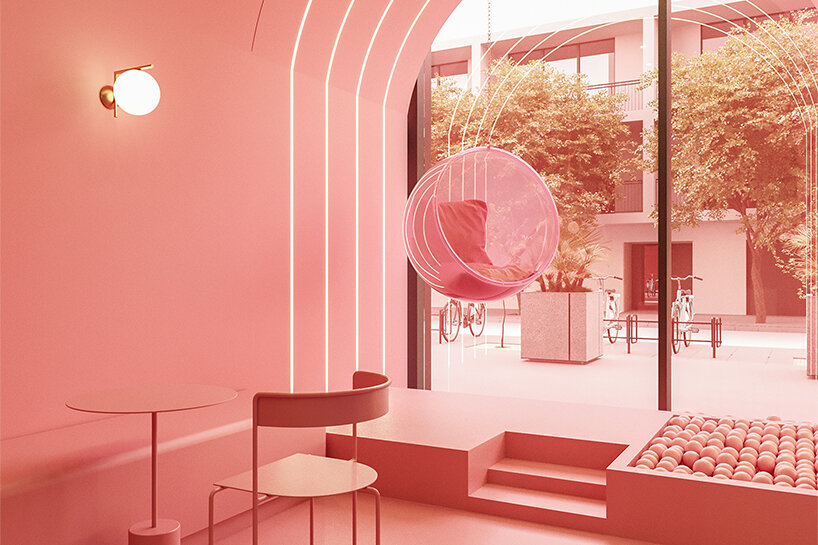 the space is divided in two sections. one is primarily designed in shades of cotton candy pink, incorporated with interactive elements that transforms the customer's area into a playful and imaginative atmosphere. the other, in blue and green combinations, gives off more mysterious vibes. the two areas are connected by a serving counter, featuring the gelato specials of the day. for extra comfort, seating steps and stools complete the room.