a family of five approached OVERCODE architecture urbanisme to design a vertical extension with a roof terrace for their house in the heart of paris. the residential property is the combination of an existing dwelling, completely owned by the clients, and a small building connected to the main house by one room per floor. it is the outcome of the previous owners buying the house next door and connecting both properties to create a bigger space. this resulted in a situation where the house was organized as a linear sequence of rooms forming a circulation loop without any corridor, and a condition of no privacy in the bedrooms.
images by david foessel
the main idea of the client was to create a flat roof for the first floor of the house, which was previously inverse-pitched, in order to take advantage of the floor plate. by doing so, a roof terrace could be created for the home. OVERCODE architecture urbanisme approached the project keeping in mind the necessities first, so the primary operation was to rationalize the vertical circulation of the house by introducing a generous spiral staircase in the center of the space. this allowed them to minimize the circulation and optimize the spaces of the house, resulting in a bigger kitchen, four independent bedrooms, and a roof terrace with a family room.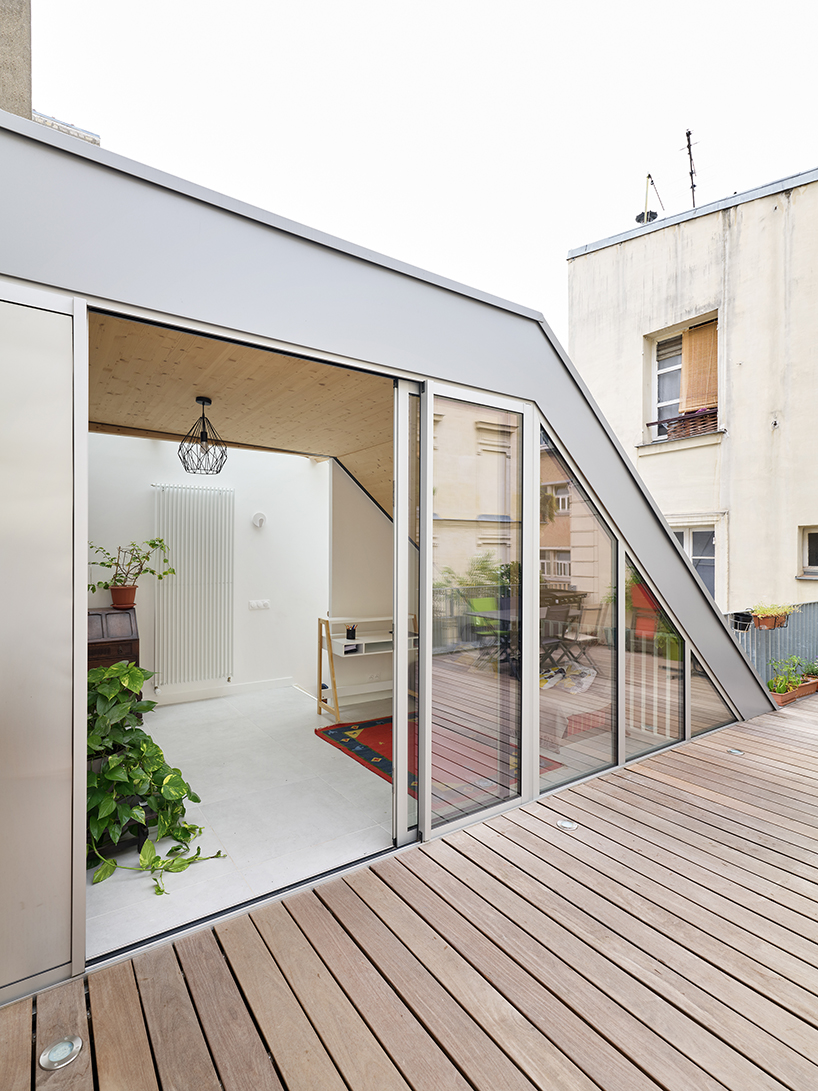 the new organization of the house translates into a roof-surface mirroring the internal flow of the dwelling allowing light to enter deep and to connect seasonal changes with the interior atmosphere. the intervention was constructed entirely in wood to make it as light as possible. initially, the inclined surface roof was meant to be habitable as well, which is why it has two roof terrace levels, but as requested by the town hall of paris, it is now covered in greenery and the rainwater collected from it is re-used for gardening the terrace.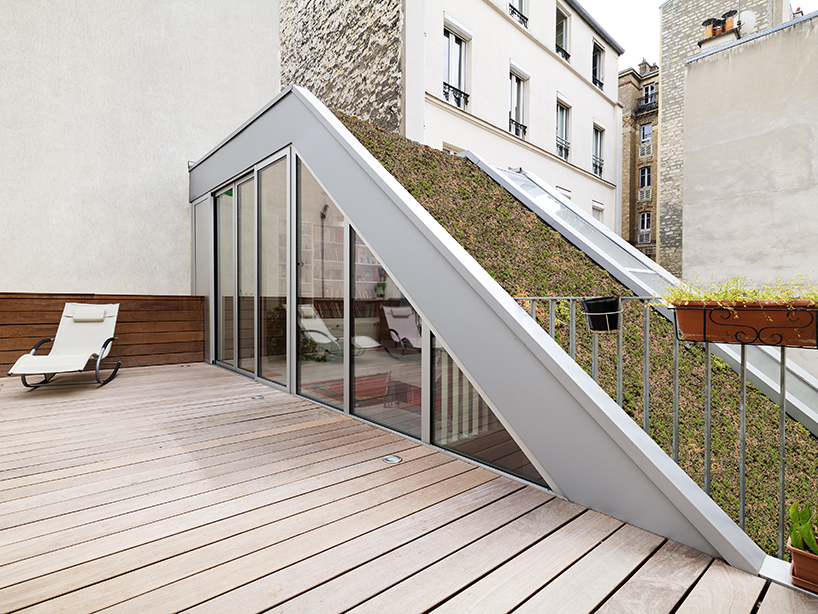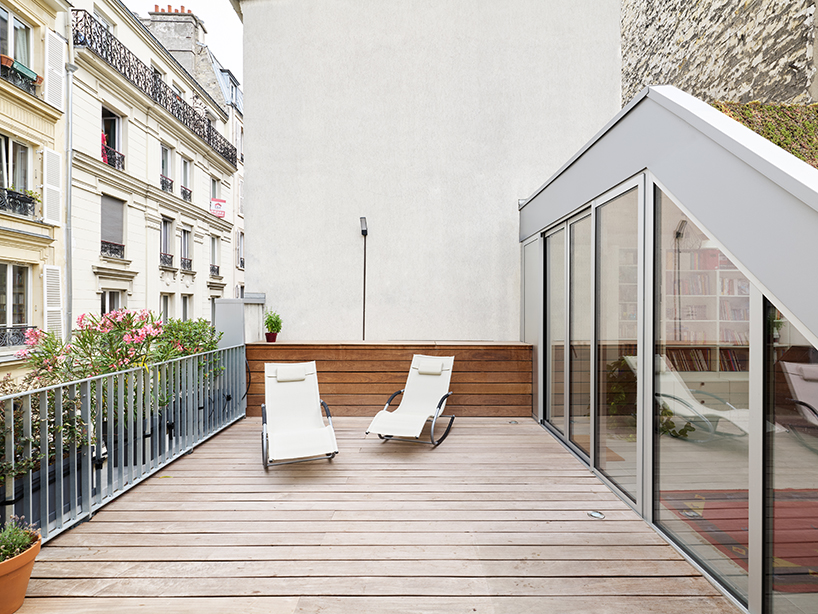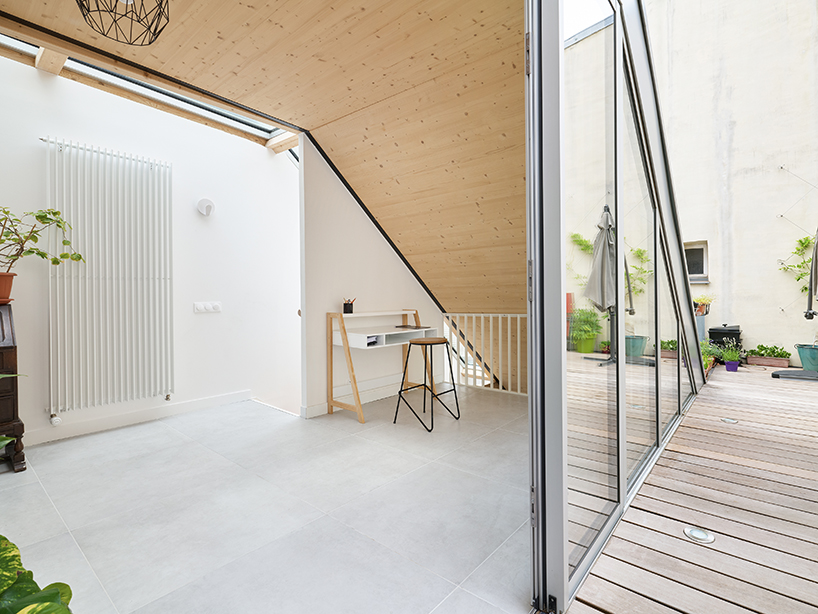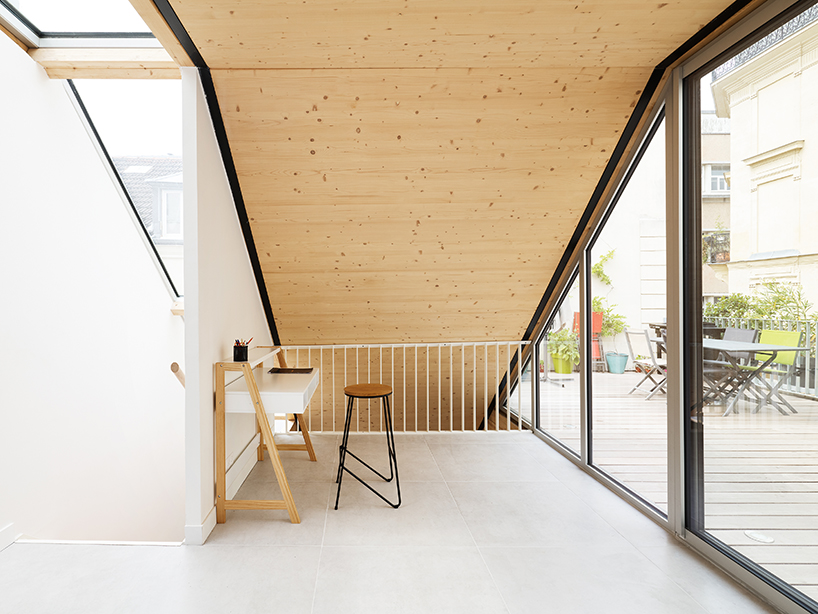 project info:
name: ROOF-TOP paris project
edited by: yasmina karam | designboom