closely following last fall's release of the hummer 2022 electric supertruck, GMC continues its all-electric line with the newly revealed 2024 HUMMER EV SUV. the two all-electric models will stand among the first of GM's vehicles to use a new electric vehicle battery system, a foundation that will power dozens of the company's future EVs going forward — the system will be put to good use as the team hopes to sell only emission-free vehicles by the year 2035. the 4×4 SUV shifts the paradigm of electric vehicles as strictly town cars with its impressive performance off-road and 830-horsepower electric tri-motor setup. although the EV pick-up maxes at 1,000 horsepower, the SUV offers better off-road maneuverability with its shorter wheelbase.
GMC pushes the envelope with its 2024 EV SUV, with such future-minded features including four-wheel steering — this gives the SUV the ability to drive diagonally or 'crab walk.' this feature further ensures an unusually small turning radius for such a large vehicle. the team claims that despite its 10-inch longer wheelbase, it will be able to make a smaller U-turn than ford's electric mustang mach-e. another feature included is 'extract mode,' which lets the vehicle raise itself up to six inches to climb over obstacles. meanwhile, removable roof panels, stored under the hood, transform the SUV into an open-air convertible.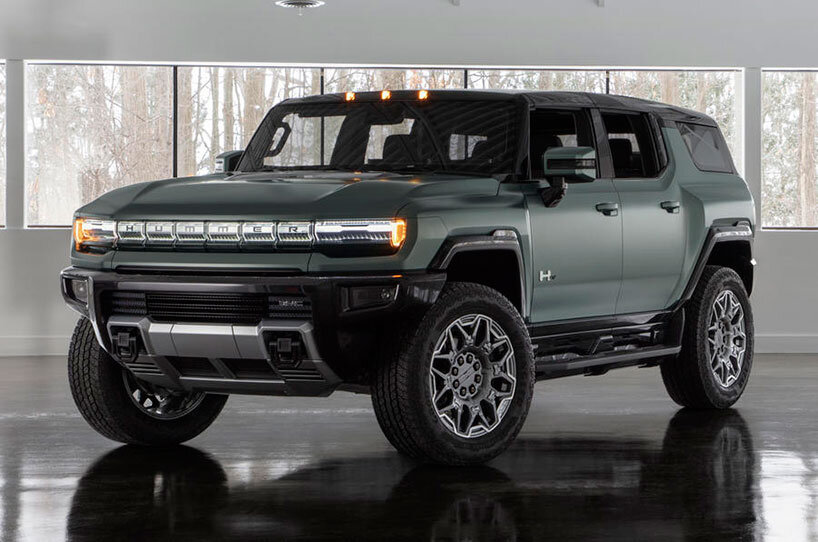 with different versions available, GMC's EV SUV will be powered by either two or three electric motors and will reach 0-60 miles an hour in only 3.5 seconds. the tri-motor version will be available with a maximum of 830 horsepower. the slight reduction in power, compared to the EV pickup, results from its smaller size, and shorter overall length, leaving less room for batteries and therefore less power. still, the SUV offers almost twice the power of the GMC's yukon denali with its combustion engine.