titled 'pipeline', this project has been conceived by DOSIS as a reconfigurable pneumatic structure that instantly activates its setting. inspired by the work of peter cook and archigram, the team at DOSIS designed the structure to be as lightweight as possible. before the pandemic in february 2020, the project's first assignment was to host kenzo's autumn-winter collection — an event in paris that was produced by bureau betak. the project is documented here by imagen subliminal, the photography studio led by miguel de guzmán and rocío romero.
all images by imagen subliminal (miguel de guzman + rocio romero)
isabel collado and ignacio peydro, founders of DOSIS, explain that their interest is in making architecture that focuses on life and events, and not on style. 'architecture is about life, everything else is circumstantial,' the duo says. as with the firm's previous projects, the structure — contained within a PVC membrane — is reconfigurable and transformable. this means that it is able to dynamically adapt to new situations and locations. 'it is a living structure that transmutes depending on the conditions of the ecosystem that hosts it,' explain the architects.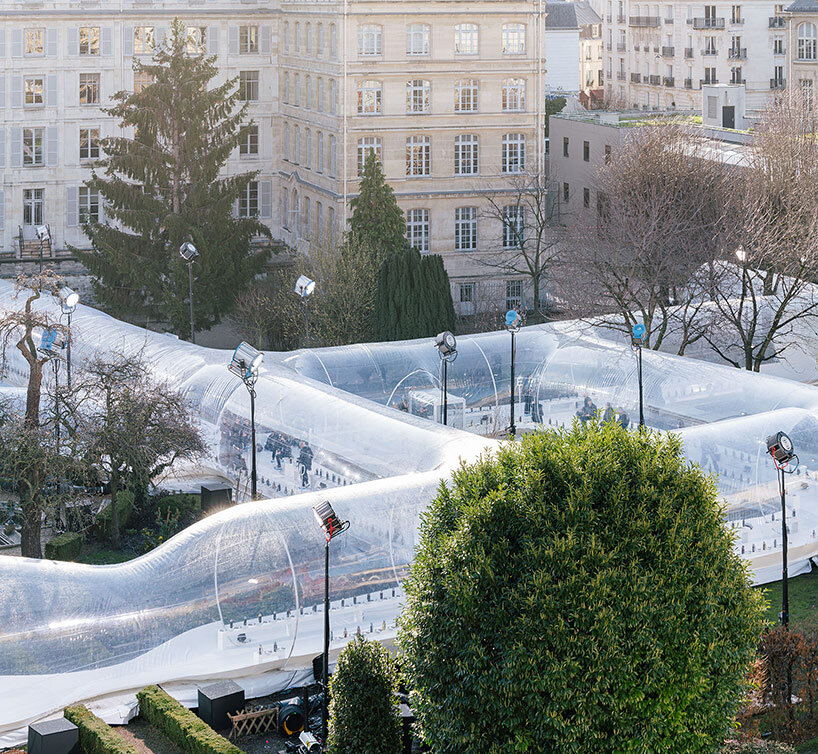 previous work by DOSIS includes another reconfigurable and inflatable structure in london and a concrete house in northern spain. other recently projects photographed by imagen subliminal (miguel de guzman + rocio romero) include a prefabricated office by delaVegaCanolasso and a small pavilion with a charred wood and polycarbonate façade.