a classic piece of architecture is up for sale in santa monica, california. designed by pierre koenig and built in 1994, the schwartz house — koenig's last completed commission — hits the market for the first time at USD $4.4 million. 
images by cameron carothers of carothers photo, courtesy of the value of architecture
'where case study house 22 was a bold experiment that secured the architect's reputation at a young age, schwartz house represents his more mature and expressive work, the last project to be completed during his lifetime,' comments the value of architecture listing. 'here in the first offering since the architecture was commissioned, koenig demonstrates a mastery of materials, sensitivity to the environment, and a harmonious relationship with nature.'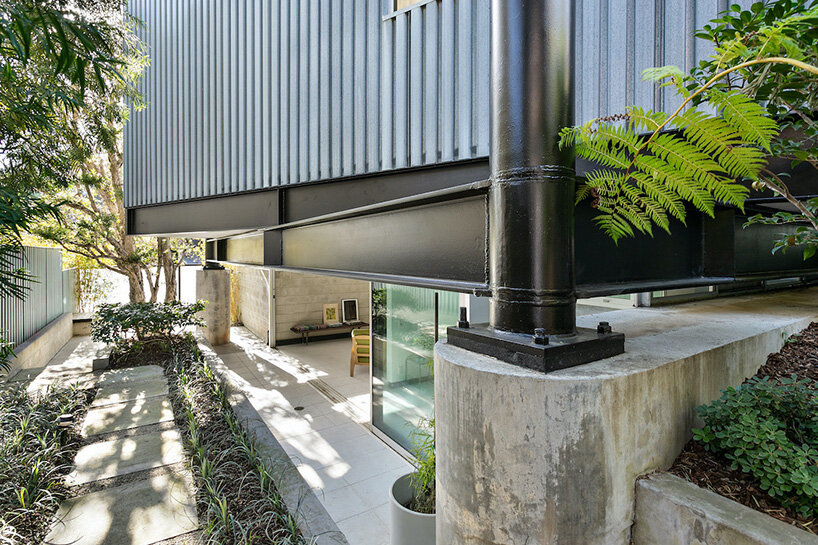 featuring a three-story exposed steel frame, the schwartz house consists of four, 40-foot-tall steel columns supported with concrete piles. a suspended two-story steel-and-glass cube within the frame forms the living area and has been rotated 30º to frame the view down the canyon. to contrast with the shining steel, these steel columns and outer staircases and gates were painted black. 'if the house was facing the street, it would be more due west and would get more direct sun,' koenig said. 'this way, it faces the southwest and is ecologically balanced.'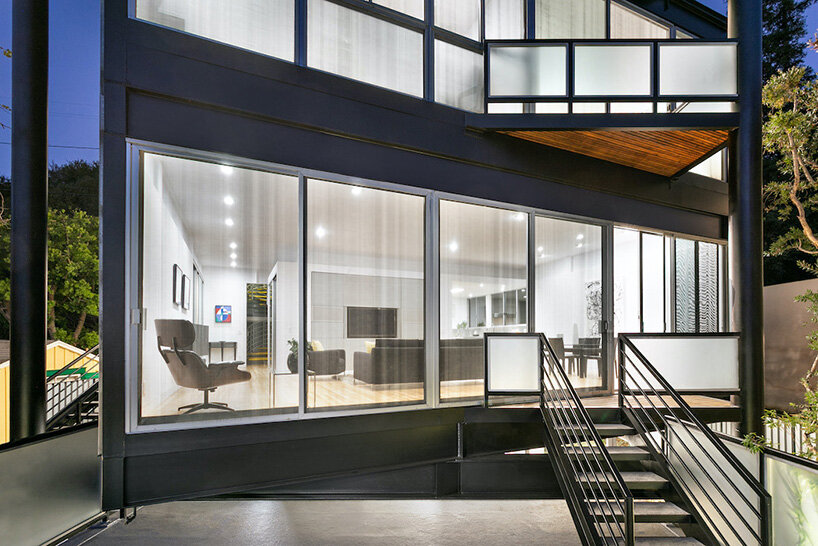 'less an object in the landscape than a machine that dissolves the boundary between indoors and outdoors, the home is a study in restraint, and views through floor-to-ceiling glass provide the most elegant wallpaper in the world,' the listing continues. 'the perfect integration of form and function, the structure is literally the finish, the palette of materials minimal and serene: black steel framing, galvanized wall panels, aluminum fenestration, frosted glass. inside, the home is warm and inviting, with hardwood floors, speckled light playing on white walls throughout the day, and an open plan connecting living, dining, and kitchen spaces.'
see another architectural masterpiece by pierre koenig on designboom here.