conceptualized and built for the 1995 action sci-fi movie judge dredd, this modified land rover has taken part in shaping the aesthetic of a dystopian future world. built atop land rover's 70's-era 101FC, a rugged off-road military truck, the film's 'city cab' prop car marks one of the early dystopian machines that have more recently been reborn as the armortruck and tesla's now-iconic cybertruck. now, the prop car is up for sale, with its techno-militaristic design and in a condition that suits its post-apocalyptic aesthetic.
images courtesy of craigslist
land rover transformed 31 examples of its 101FC into the judge dredd film's 'city cabs' according to road and track. now, one has been discovered in a listing on craigslist, and is up for sale for $25,000 USD. with its machine-like edge conditions and jagged seams, the military-style vehicle appears at first complex — despite its aesthetic, the truck is actually quite basic. the body is realized as a single fiberglass shell enclosing the 101FC truck with its rover V8 engine, four-wheel drive, two-speed transfer case, and output of only 120 horsepower.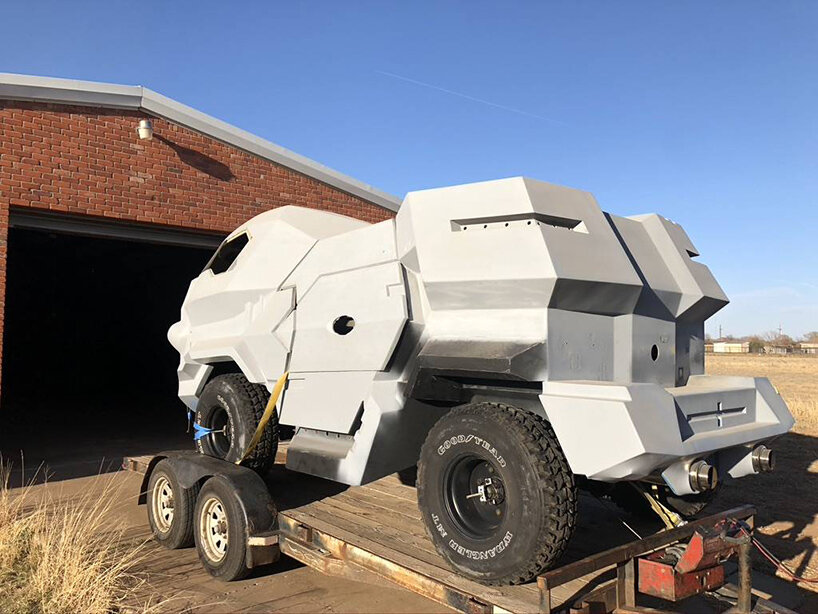 this judge dredd prop land rover is not in the best condition however, as evidenced by its interior. in 2003 the vehicle was reportedly a show truck for audio company JBL, which explains the molded speaker housings and aerodynamic circular headlights that replaced the clusters of lights shown in the movie. outside a coat of primer, the body is bare inside and out, and does not even appear to house gauges.