the COVID-19 pandemic has challenged many businesses, including retail. traditional trade and e-commerce has been forced to innovate in order to stay appealing and relevant. in response to this, snøhetta has designed a playful brand and interior concept for norwegian house of fashion brands, moniker. first unveiled in 2020, the architecture practice has expanded the interior concept with a new 1,500 sqm story housing the men's and sports section. 
images by hinda fahre, courtesy of snøhetta
located on oslo's high-end shopping street bogstadveien, the moniker store experience by snøhetta references the human need to express individuality and features five distinctive personality traits inspired by iconic muses of the 19th and 20th century. these areas offer spaces for visitors to enjoy, creating an immersive experience counterpointing fast fashion and the standardization and predictability of traditional department stores. influenced by the bold astronaut couple anne lee fisher and william frederick fisher, the moniker sport area includes minimalistic sportswear for both men and women.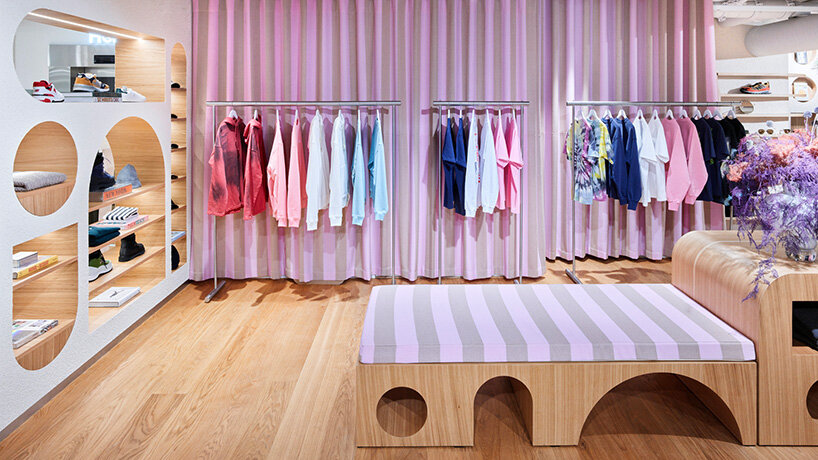 the sports zone sources its cultural references from NASA, echoing technical space gear and the dichotomy between the human sphere and the other-worldly, the industrial and the organic. the zone features steel-toned details against a more earthy and coarser backdrop and is designed in collaboration with art designer pettersen & hein. moniker sport further plays on different nuances of white, inspired by the six shades of white that can be found in an astronaut's spacesuit. designed as a unified space that should reveal itself as one walks through, moniker sport offers a playful and out-of-this-universe experience for exploration and fun.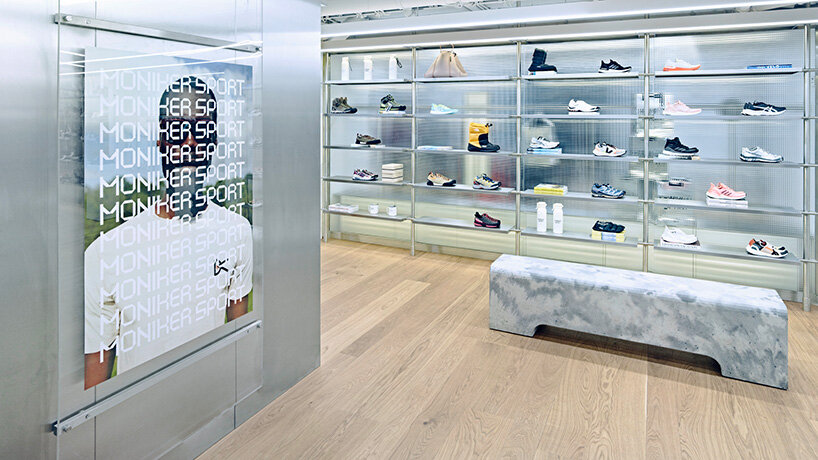 the moniker man area features two zones inspired by the personality traits sensitive and ambitious and referencing french movie start alain delon and race car driver and hollywood hero paul newman. delon's area is influenced by the french riviera and features a warm and colorful interior design that challenges the conception of feminine and masculine. the graphic design snøhetta developed for this part of the moniker brand experience heavily informed the interior design, creating a space with rounded shapes, arches, and organic shapes. playing on a more classic repertoire, the ambitious zone features timeless, hollywood-esque materials such as burlwood, combined with the more industrialized material palette of the racing industry.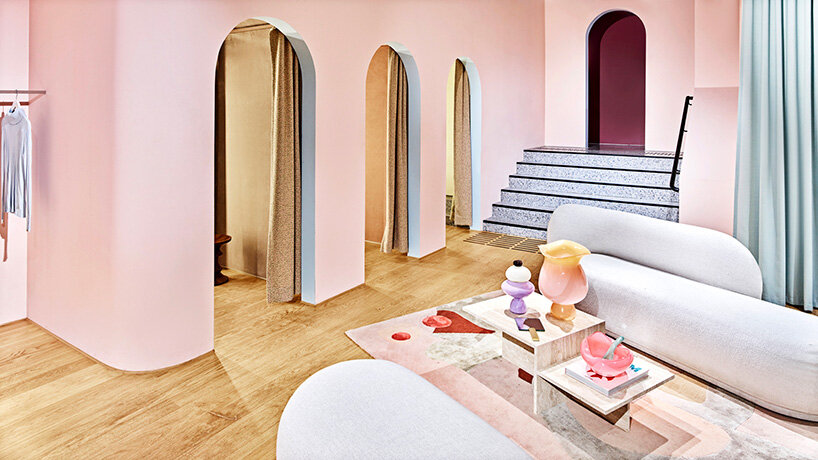 by superimposing layers of cultural references and atmospheres through the brand identity, and graphic and interior design, moniker highlights and honors those who dare to stand out and showcase their individuality. through its interdisciplinary and holistic approach to branding, graphic design and interior design, the moniker brand house sets out to become a new icon of the norwegian and scandinavian brand house scene, both in the physical moniker brand house and online.