in valle dell'orco, a landscape located in the piedmont region of northern italy, studioata preserves and restores 'la baita', or 'the hut' — a small cottage in the middle of a meadow. from the outside, the dwelling is characteristically beautiful as is, but in order to preserve and maintain it for future use, the interior was in need of a transformation to turn it into a comfortable, welcoming, and functional home. studioata aimed to retain the original interior spaces as much as possible — a large living area with a stone vault on the ground floor, and a sleeping area with a pitched roof on the first floor. only a new internal staircase and a new bathroom alter the space as the team had found it. finally, a new underground cellar was built upstream of the cottage from reused boulders that emerged during the excavation.
all images by dario muzzarini
for studioata, the main architectural idea was very simple — insert a new, recognizable container, completely covered with chestnut wood, into the existing farmhouse. the new volume adapts to the contours of the stone envelope, and can one day be completely dismantled to convert the building back to its original state. this chestnut wood covers all new elements and becomes the protagonist of the hut. on the first floor, it covers the walls and the pitched ceiling, becomes a door, a handle, a niche, a retractable door, and a compartment to house tatami mats. on the ground floor, chestnut wraps a long bench and kitchen counter, becomes a table, and an isolated wall against the cold stone masonry.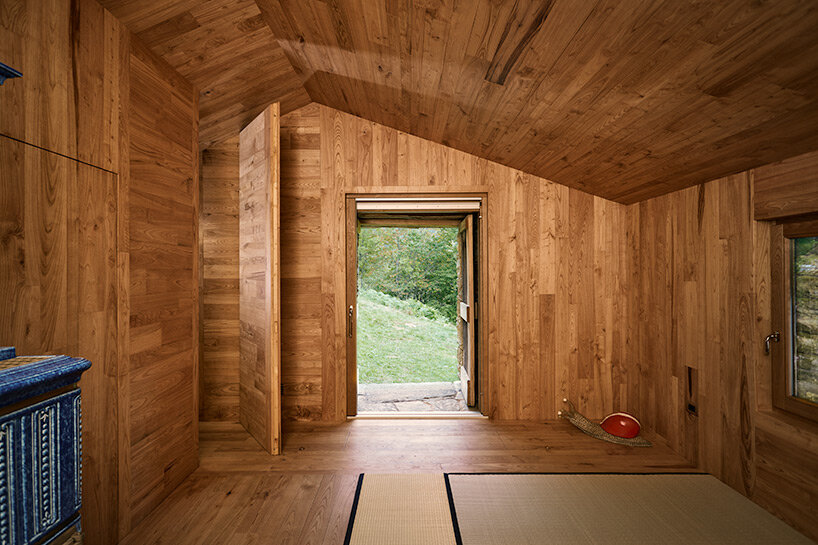 finally, new windows — which have not altered the existing masonry and are also rigorously made of chestnut wood — are deliberately oversized and offset from the original openings and integrated into the new wooden walls. from the outside, these windows keep the image of the hut unchanged, yet from the inside, they frame glimpses of the stone masonry of the old hut, and the extraordinary landscape of the orco valley.