atelier kenta eto has completed 'house in madokoro', a residence in oita, japan that hides an unconventional interior behind its protective façade. the site is surrounded by an unusual collection of elements, including a train station, railway tracks, a bridge, an array of solar panels, and a parking lot. 'after several visits and observation of the site, we started to see the bright side of trains arriving and departing from the station, people commuting to and from work, the large trees of the shrine on the other side of the railway tracks, and even weeds growing everywhere,' say the architects.
all images by toshiyuki yano
within this context, atelier kenta eto sought to design a house that offered a comfortable respite from the surrounding city. 'while eliminating the clutter to a certain extent, we wanted to cut out a moment in this peaceful everyday life and the view of the area and bring them in and incorporate a buffer space into the living space as a comfortable receptacle where you feel like being semi-outside,' atelier kenta eto explains.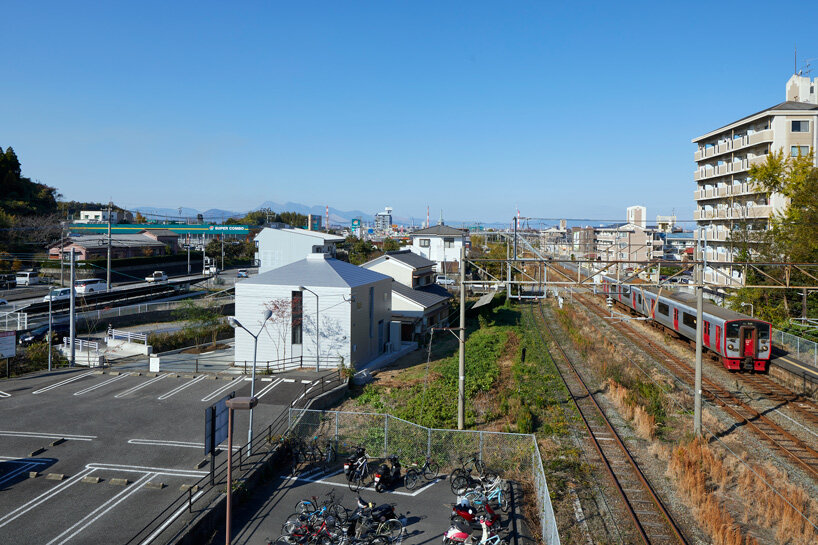 square in plan, the house is divided into four quarters with a cruciform atrium connecting the interior. measuring 1.8 meters (6ft) in width, this space serves as an intermediate area where private indoor space and shared outdoor space merge. here, vertical glass slits in all four directions provide glimpses of the outside world. these apertures also illuminate the space, while ensuring privacy for the home's residents. together with the retractable skylight located at the top of the building's pyramid roof, hatches ensure ventilation using the venturi effect.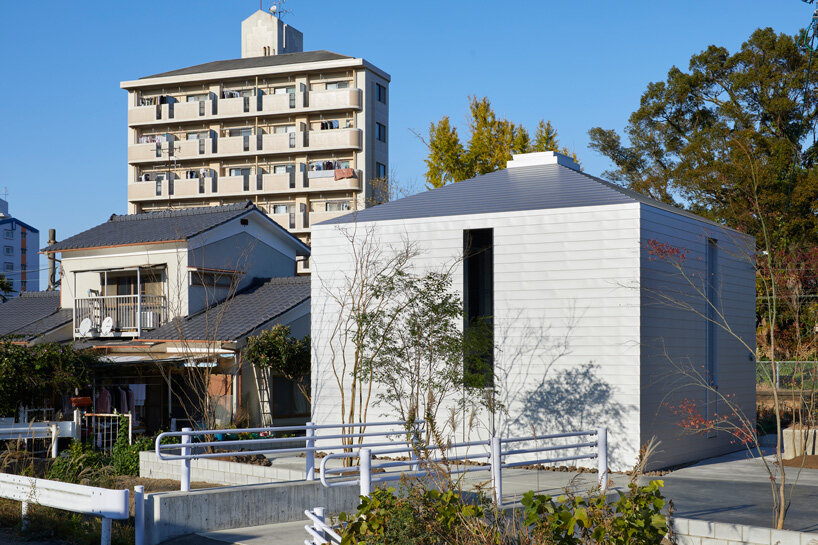 a sunken living room and kitchen are found at ground level, while a thin bridge floating over the atrium connects the second-floor bedrooms through a series of openings — encouraging activities and physical exercise. fabric partitions can be used to temporarily divide the spaces. the architects say that, as the house was designed in the midst of the pandemic, they modified the design so that it is able to adapt to changing lifestyles.