luceplan – the creators of decorative lamps for interiors and acoustic lighting solutions – steps outside with three new outdoor lighting collections. matching the high standards of their portfolio, the novel designs share the brand's core values where research and innovation in terms of technology and styling leads the way. now, however, their icons of light switch to focus on outdoor as well as indoor living.
the fienile collection by daniel rybakken was originally created as a table lamp before transitioning into a ground-mounted light
all images courtesy of luceplan
the three new families of lamps join luceplan's outdoor lighting collections, including the grande costanza open air, pod lens, écran in & out, metropoli, and sky. each highly versatile piece continues to build upon the concept of hybridizing indoor and outdoor spaces, blurring the boundaries between both. they can be harmoniously inserted in any context, from the traditional to the contemporary and from the inside to out, including private residences, shared gardens, offices and hospitality facilities.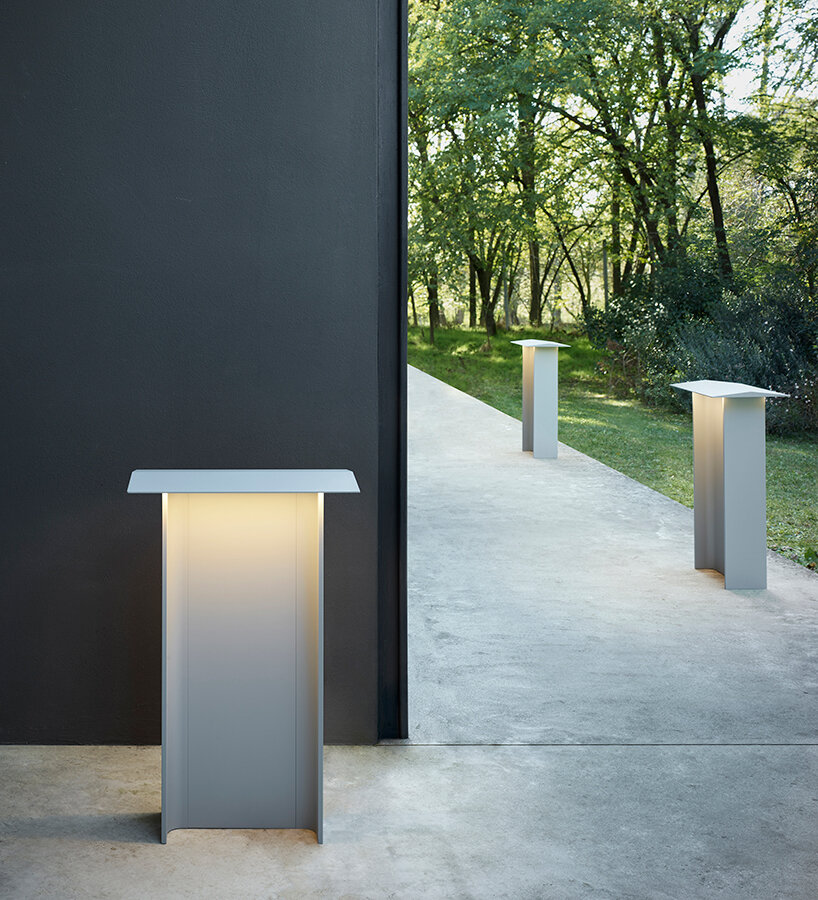 the design is inspired by iconic norwegian rural buildings, most notably the walls and roof
'the new luceplan outdoor collection is driven by one basic consideration: in contemporary design trends, indoor and outdoor tend to mingle and interact. there are no longer any clear separations or distinctions; there is instead a growing aesthetic and functional osmosis between different settings. we are seeing an increasing need, on the part of private clients and designers, to treat outdoor areas as the natural stylistic continuation of indoor spaces. this aspect finds its way into the design of the lighting products themselves, which have to adapt to new requirements, transforming into multifunctional, nomadic objects,' comments patrizia vicenzi, CEO of luceplan.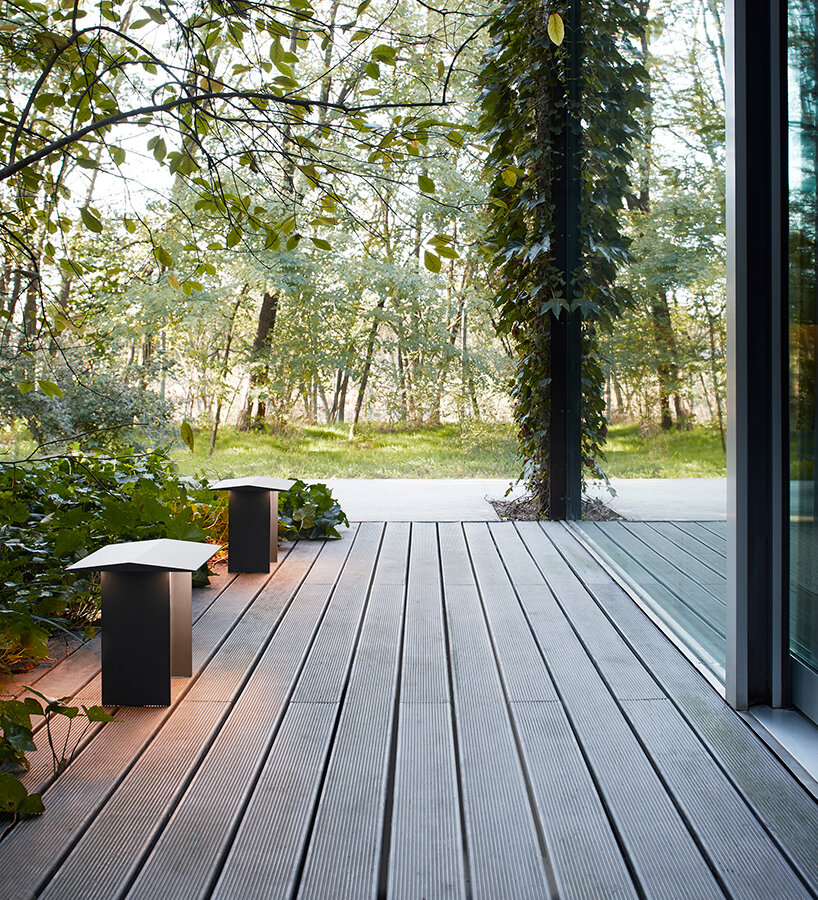 the architectural design is made from materials that withstand weather
originally created as a table lamp, the fienile collection by daniel rybakken emphasizes the trend towards a nomadic lifestyle that moves between the indoors and out. the ground-mounted design is inspired by iconic norwegian rural buildings. as if a micro-work of architecture, it references their walls and pitched roof through an extruded single, solid block of coated aluminum. the diffuser is then made in polycarbonate. like the rustic homes, the light's materials weathers nature's elements and can be finished in two colors – light or dark gray – in two heights – 32 cm or 72 cm.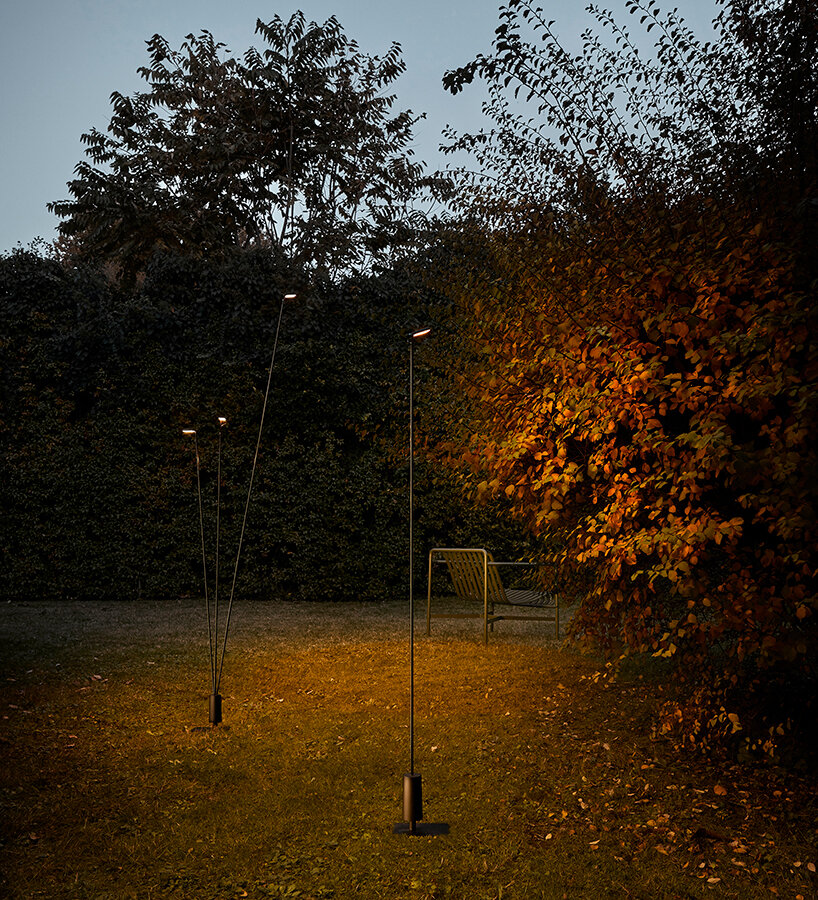 the flia lamp by alessandro zambelli emphasizes luceplan's aim of hybridizing living spaces
the flia lamp designed by alessandro zambelli highlights the importance of portability, especially with its rechargeable version. the ground-mounted lamp combines technological aspects with rigorous styling. to start, the light source has been miniaturized thanks to the use of LED technology. a carbon stem is supported by a cylinder containing the functional core, which grants strength as well as lightness and flexibility. this enables a single configuration with three different heights or a multiple grouping with two or three stems. the result is ready to adapt to different types of settings, styles and needs as crosses architectural boundaries and suggests new usage.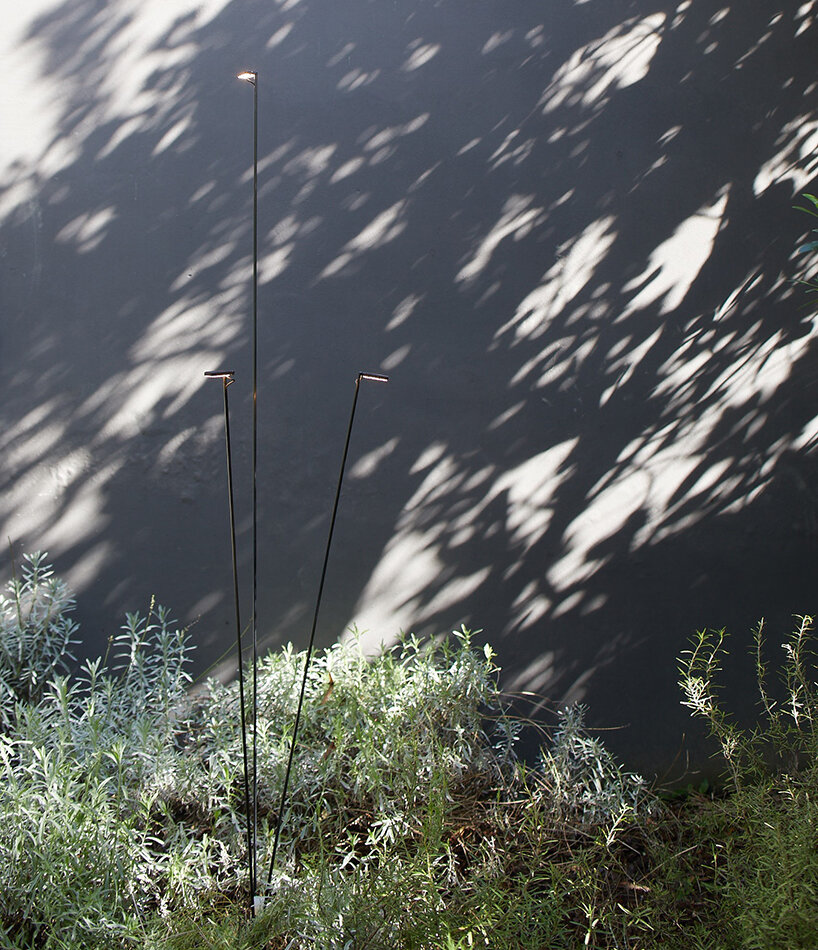 a single configuration can sprout one stem in three different heights or a multiple grouping with two or three stems
meneghello paolelli associati has created the nui and its smaller sibling – the nui mini – as sculptural, minimal yet highly functional objects to personalize the outdoors. its contemporary form takes the shape of two cylindrical volumes that interact to find a balance overall. its upper block, offered in three variations, houses the light source, which is hidden from view and aimed downward. the lower back, with a semi-spherical shape in its upper portion, supports its counterpart and becomes its diffuser. the four different models – three floor lamps and a wall lamp – are made of light gray concrete.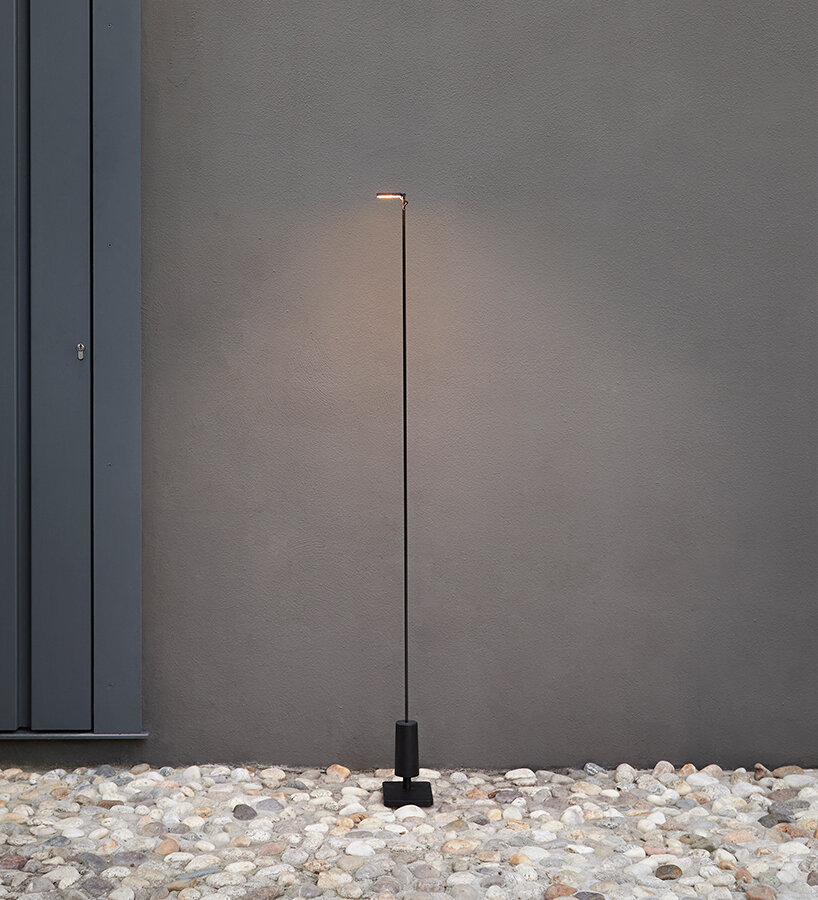 the strong yet flexible structure can easily be moved to adapt settings and meet changing needs
the nui mini takes this same interactive form but turns it into an even more playful design. unlike the large model, it features a glass base that, when switched on, casts a sophisticated game of light intensities and reflections. the top section in aluminum is available in three colors including white, greige and sand. as a results, the table version is highly versatile. it can be used in completely different domestic outdoor and indoor settings to fit any need.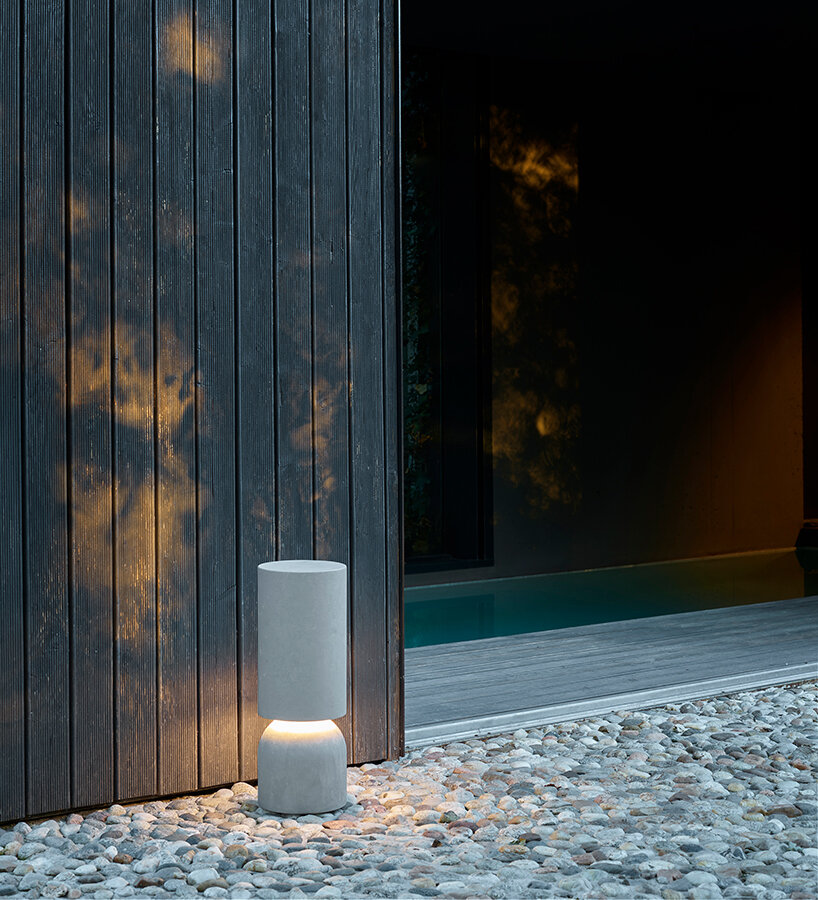 nui by meneghello paolelli associati is a sculptural, minimal yet highly functional object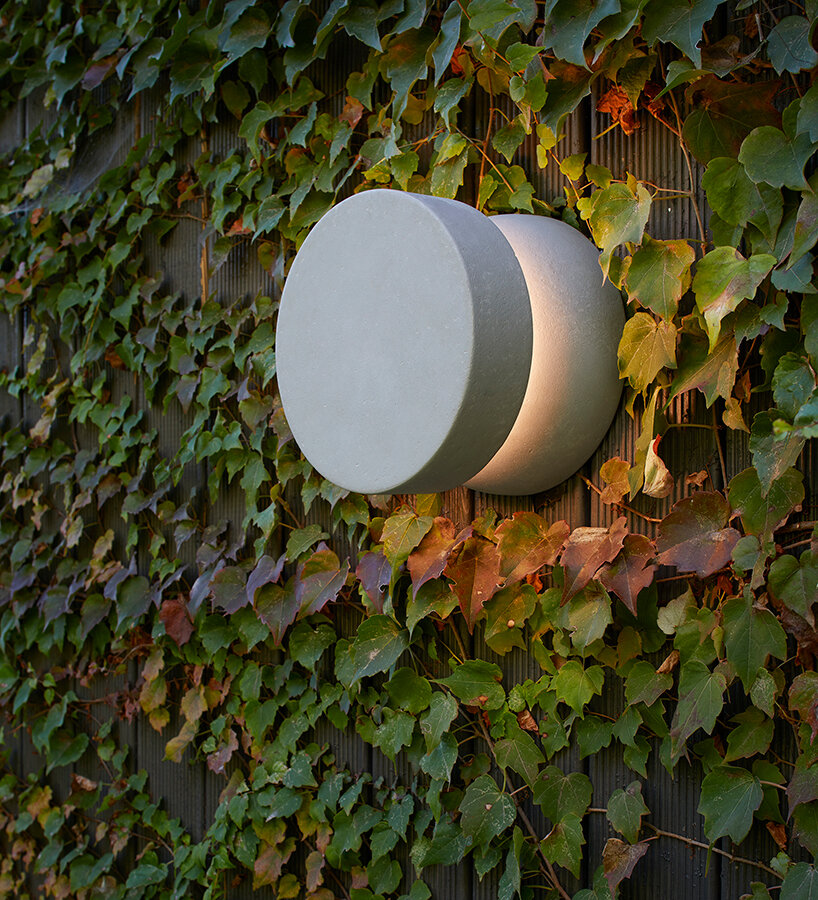 the design is available in four different models including three floor lights and a wall lamp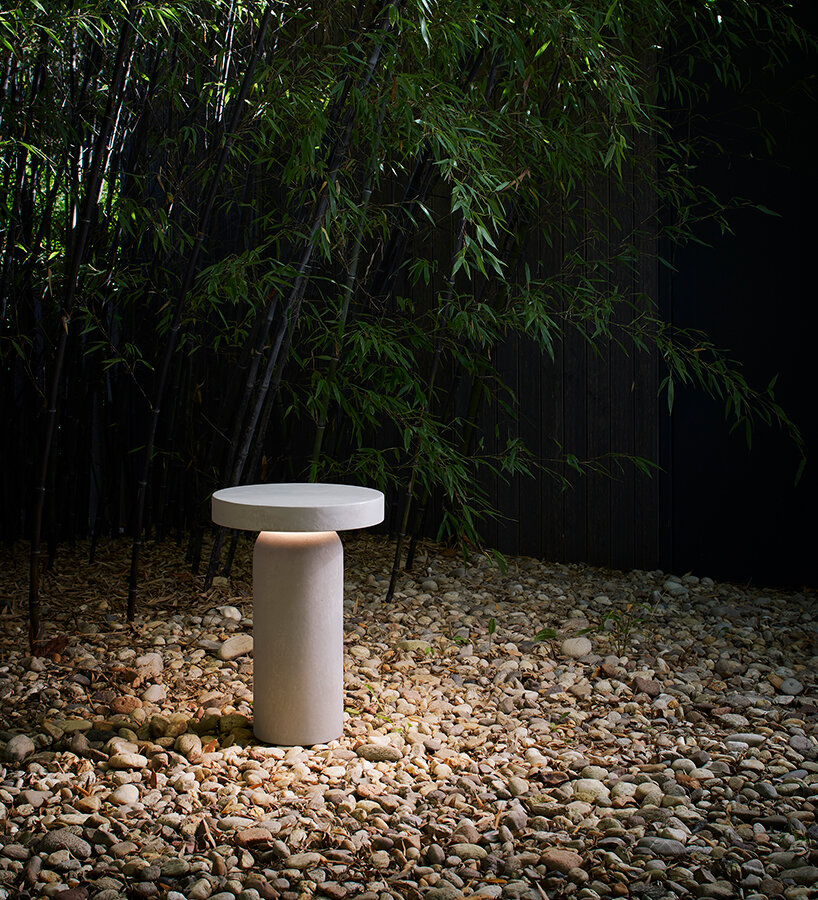 its contemporary form showcases a playful balance between two cylindrical volumes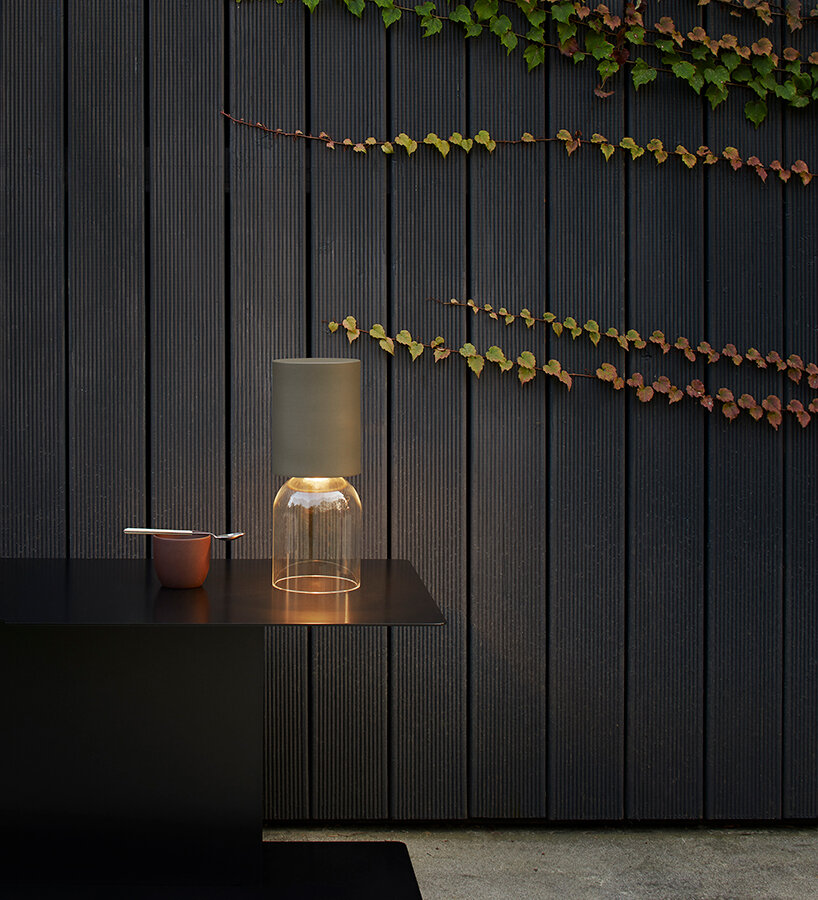 the nui mini can be recharged to be easily moved in and outdoor, atop of surfaces and more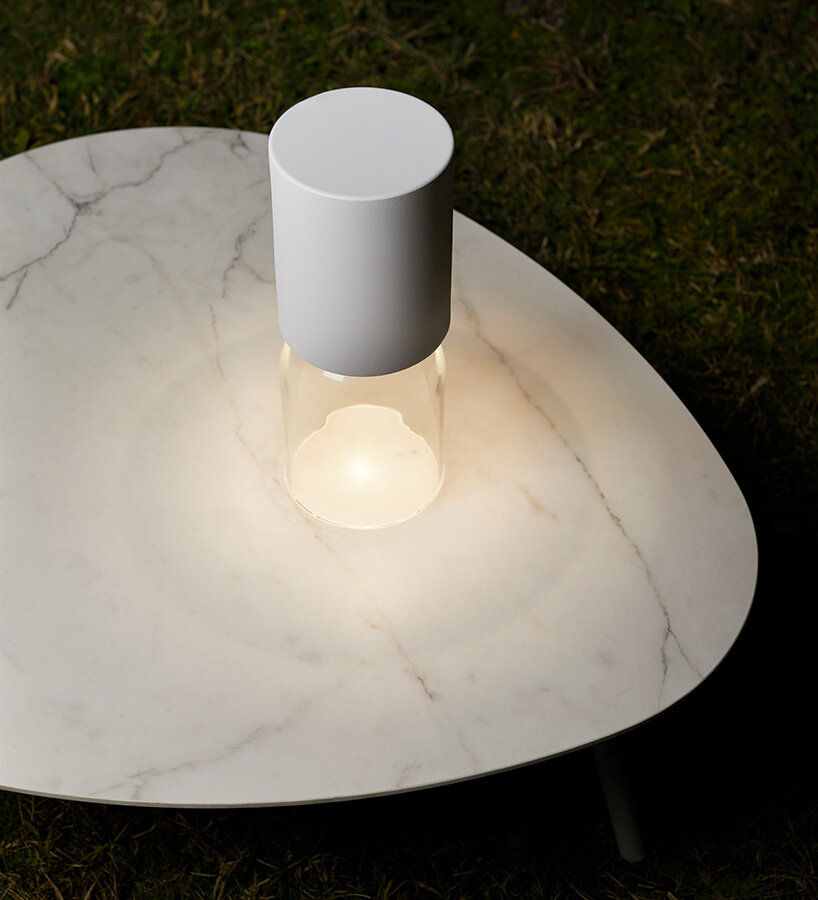 the design's glass base casts a sophisticated game of light intensities and reflections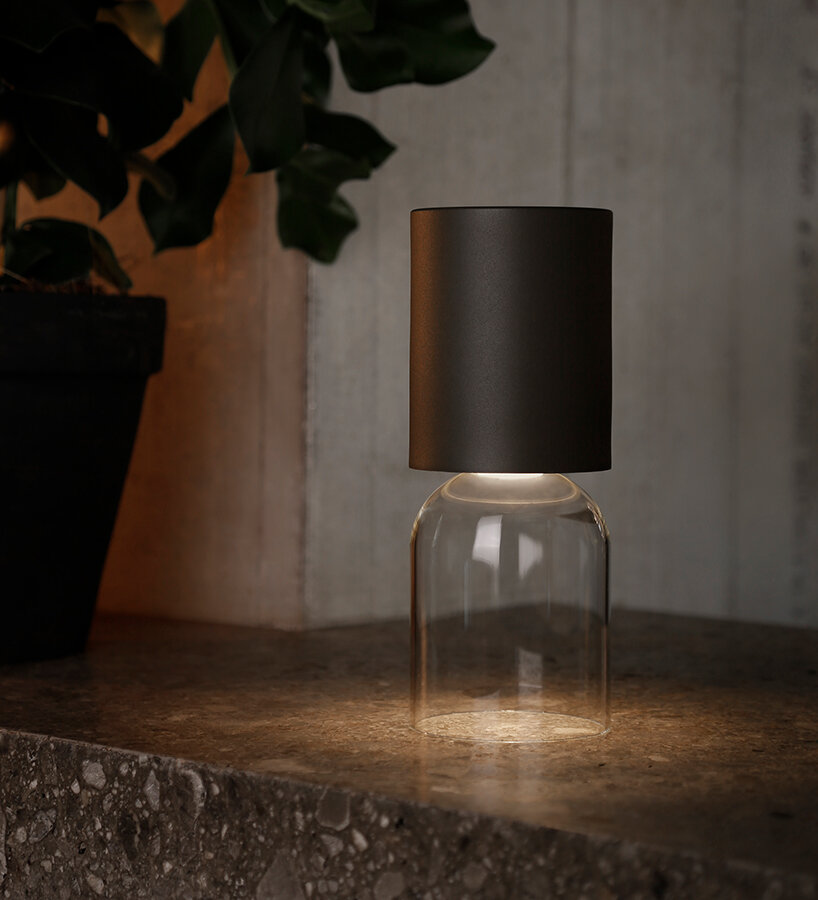 its top can be finished in either white, greige and sand colors
collection info:
brand: luceplan
setting: outdoors
collections: fienile, flia, and nui and nui mini
designers: daniel rybakken, alessandro zambelli, and meneghello paolelli associati