valencia-based firm gallardo llopis arquitectos has completed a linear, two-story residence on the spanish island of ibiza. as its name suggests, the 'house of the three trees' is articulated around a trio of trees that occupy the site. referencing the vernacular architecture of the mediterranean, the building is defined by its composition of volumes and voids, which blur divisions between indoor and outdoor space.
all images by germán cabo | video by alfonso calza
as the plot is surrounded by other residences, and has no particular views to orient towards, gallardo llopis arquitectos decided that the home must produce its own 'interior landscape'. this is achieved thanks to a series of patios, which provide pleasant views of the gardens and terraces that border the house. the building has also been designed to ensure privacy, with the structure positioned to shield itself from overlooking properties.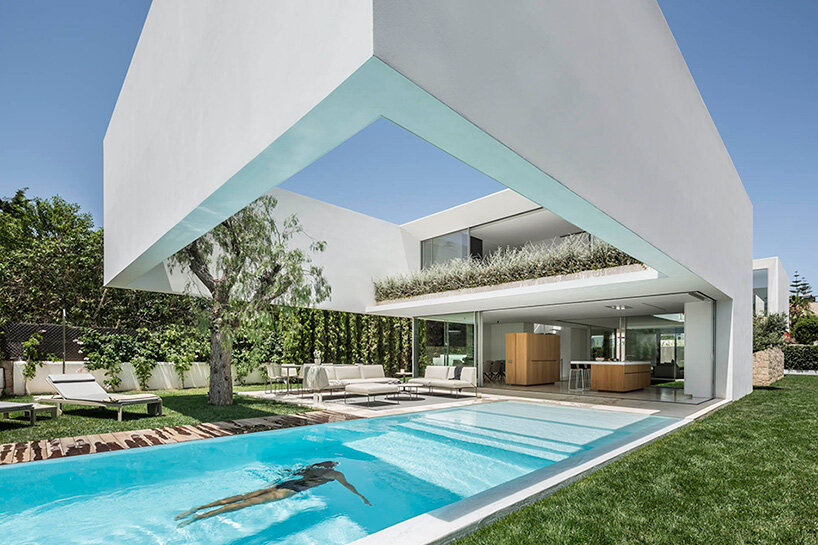 starting with a monolithic volume, the architects removed parts of the structure to create patios and terraces at different heights and with different orientations. these protected outdoor spaces, common to mediterranean architecture and lifestyles, result in areas of vegetation — framing the site's three trees as places of contemplation. the slender cypress, the knotty olive, and the graceful willow characterize each of these spaces, as well as the indoor areas that flank them.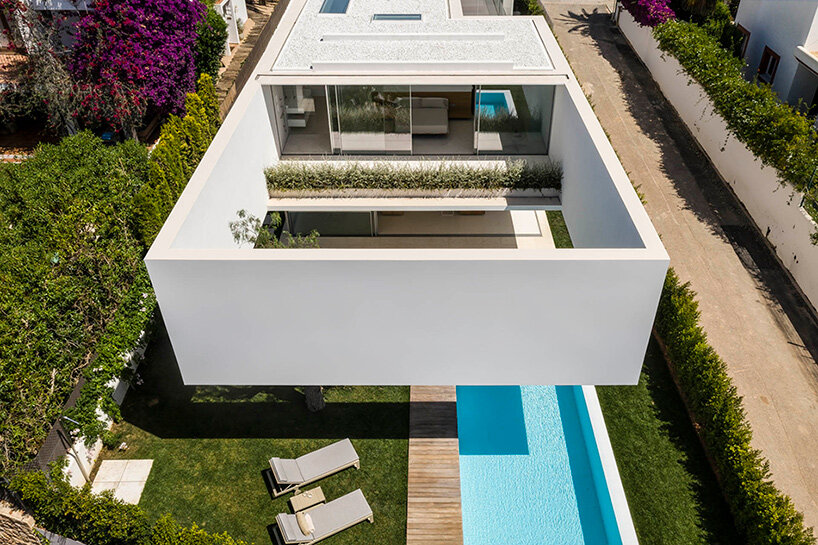 at the rear of the home, a dynamic, cantilevered structure sits above the pool, ensuring privacy as well as protection from the hot summer sun. the ground floor contains the home's living accommodation. the lounge is positioned near the entrance, with the kitchen and dining area spilling out onto a terrace at the rear of the plot. sliding glass doors mean that during warmer months the interior space can be expanded to include the pool and its adjacent lounge area.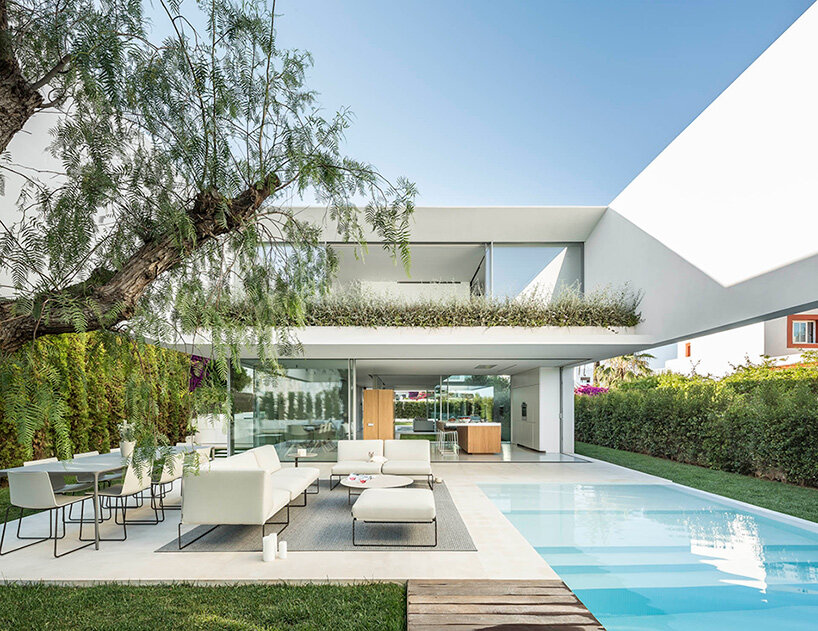 containing four bedrooms, the upper storey is more reserved and introverted. a lightweight staircase connects the two upper floors with a basement that includes a garage, a gym, and a laundry room. throughout the project, a relationship develops between the rough texture of the home's stone walls and its smooth white surfaces. these two materials are complemented by glass and timber in order to achieve a balance between tradition and contemporaneity.