situated along the quiet countryside of south portugal, atelier rua's casa um marks the 'first house' of the design-minded hospitality brand theaddresses. with its relaxed interior and secluded location, the boutique guesthouse introduces to its visitors a retreat from urban life. the project stands as a renovation of a former shepherd's house that had long occupied the coastal orange groves near tavira. the architecture of the house is designed as a contemporary expression of portuguese traditions, and is organized as a clustered assembly of staggered boxes. this strategy generates a new landscape along its terraced roof.
© francisco nogueira | @francisconogueira
with its casa um guesthouse for theaddresses, portuguese studio atelier rua celebrates the style and details of typical algarve architecture. the resulting space is soft, minimalist, and contemporary. the design team organizes casa um across two levels, with shared spaces along the upper floor — the renovated portuguese quinta — and the private spaces and patios on the new ground floor. while a new kitchen and living room occupy the original farmhouse, an intimate patio is introduced around an old bread oven. meanwhile, the former stables now house the dining room which overlooks a scenic meadow. the house is available to visit, and can host up to eight guests.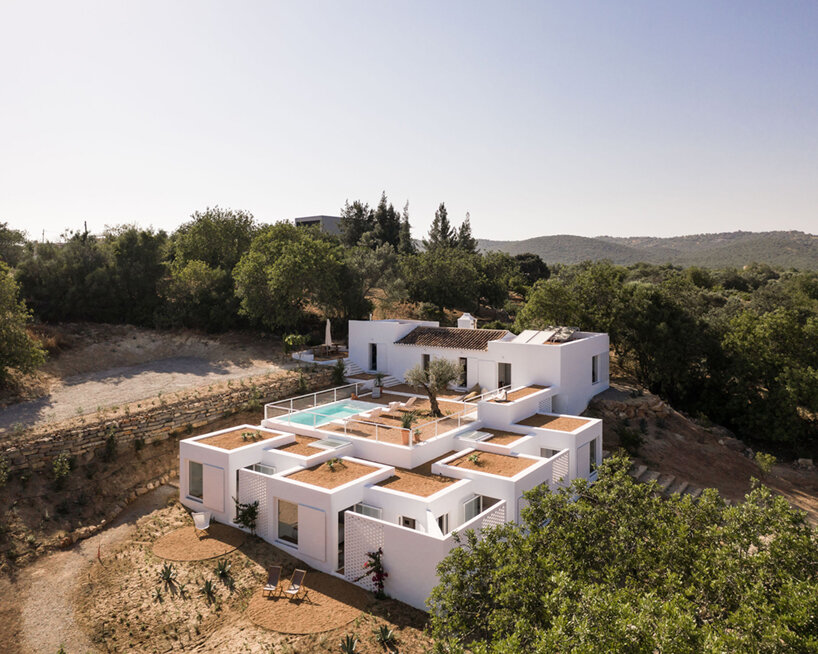 atelier rua designs its casa um as one of the many guest houses hosted by theaddresses. each house has its own story and is located in an authentic location. the design-minded team collaborates with only the best portuguese architects, and styles its interiors as meticulous compositions. as demonstrated with the revitalized casa um, each house hosted by theaddresses occupies a site where old and new collide. each room has its own bathroom, there is always a large outdoor area or garden with swimming pool, and guests will find an artfully crafted selection of objects, products and books either to enjoy while on holiday or to take home.