architect hadrien breitenbach has collaborated with patrizio miceli, head of creative agency 'al dente', to design the agency's new interiors in the heart of paris. the project is designed as a living space, and includes a hidden indoor swimming pool, a lounge-dining room patio with ample daylight, two photo studios, a conservatory, and offices. various windows and openings illuminate the space, which is marked by a mix of eras and styles, merging a variety of colors and shapes.all images courtesy of al dente
when entering 'al dente', one is directly greeted by the glass-roofed patio. hadrien breitenbach & patrizio miceli have organized the first level around a conservatory with fully glazed floors, allowing it to visually communicate with the ground level and its swimming pool. a second studio designed as a black box is used to create still life for the agency's artistic directors. the last room, patrizio miceli's office, takes shape as an alcove with a view of a three-arch sequence, seemingly extended to infinity, with the use of a mirror.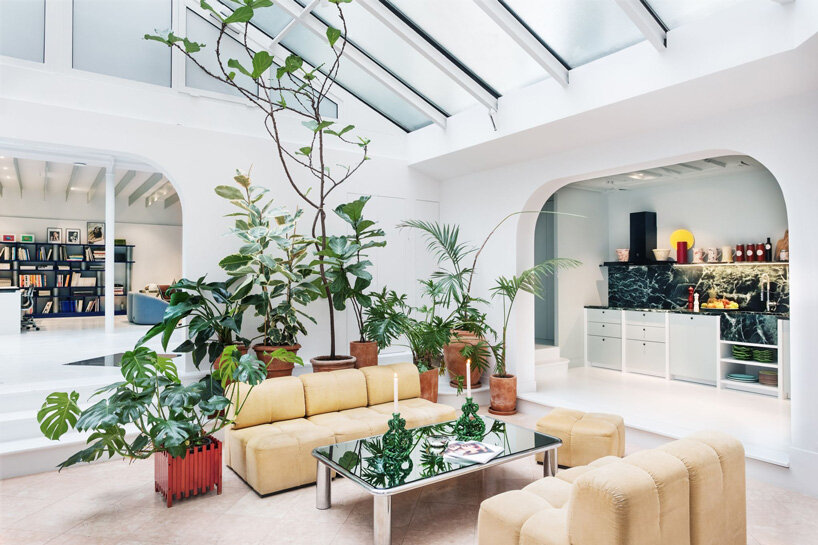 realized by landscape designer julia chaigneau, the garden upholds the project's mediterranean influences. fruit trees, jasmine, and aromatics such as basil, rosemary, parsley and mint are placed within. the background is a multi-functional set; a daylight shooting studio, workspace for creative teams, living room, and an indoor saltwater swimming pool cleverly hidden under the floor. 'when I create a place, I think of it as a sequence shot where the paintings are linked together. create rhythm, play with perspectives and light. for al dente, it was a question of outlining a living space to give free rein to patrizio and his world,' hadrien breitenbach adds.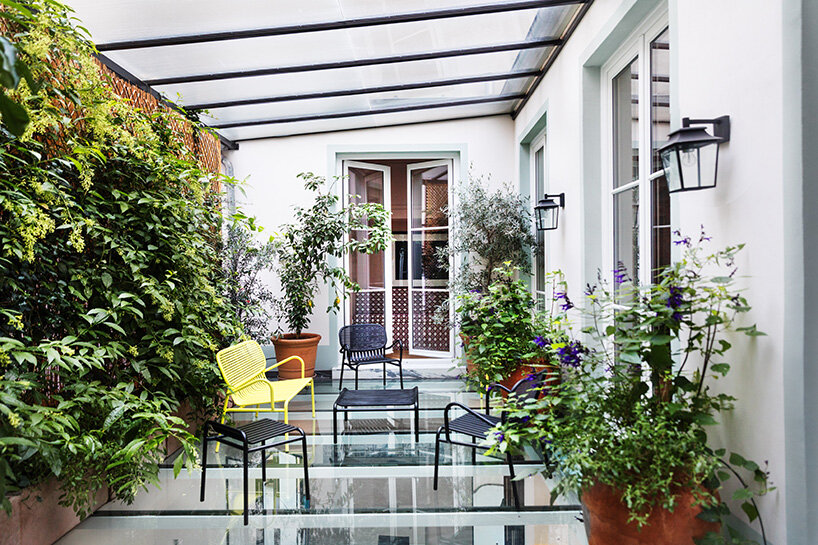 the uniqueness of the place comes from the influencing mix of pieces from the 60s, 70s, and 80s. visitors entering the house are greeted by a living room connecting the alpine green marble kitchen and a 60s, 70s style dining room. there sits a tailor-made table in green lapland quartzite, all framed by sleek semicircular arches. 'by transforming this space, we were concerned a space with plural influences that create dialogues between volumes, objects or even colours,' patrizio miceli mentions.