the inspiration of kyoto project celebrates 13 japanese studios and workshops, keeping century-old japanese craft and manufacturing techniques alive while inspiring a new, international generation of designers.
people's imaginations have always been sparked by the beauty and uniqueness of tradition, and the stories behind certain objects and artefacts. creative industries like furniture design and fashion are continually inspired by traditional products, often applying innovative ideas and technology to them to meet the demands of contemporary markets. modern products are often born from a union between traditional craftsmanship and original, new ideas.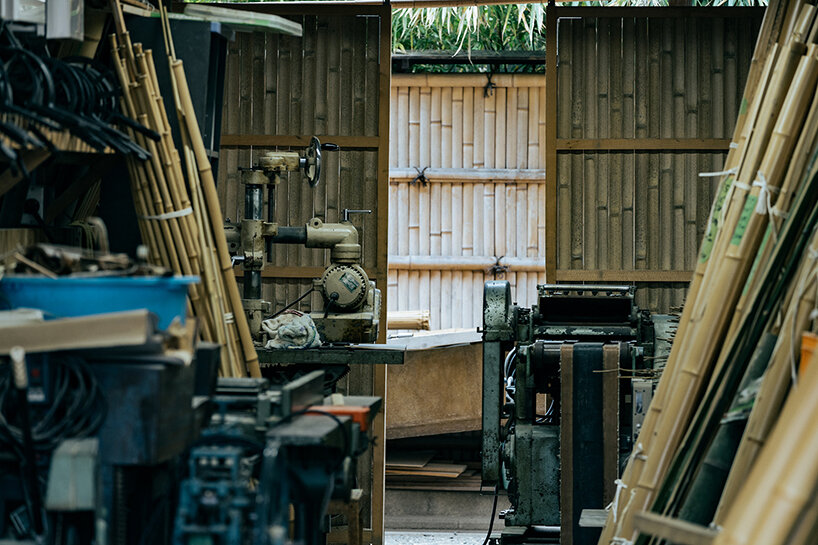 designated as one of the approved traditional arts and crafts of kyoto, miki bamboo's kyo-meichiku bamboo is used to create a modern table. the table's strong support resembles a taimatsu, a traditional Japanese torch of bound wood
the inspiration of kyoto project selected 13 traditional manufacturers from the craft capital of japan. in collaboration with two parisian design studios, studio garnier & linker and studio kaeran, the project championed the talented craftspeople and their ancestral techniques by inspiring a collection of innovative products. 'I believe sharing, working together, mixing cultures and ideas is always a great source of inspiration for beautiful projects. and this is what [inspiration of kyoto] is about,' says studio kaeran. here, we share the story behind some of these products.
originally, japanese company hiyoshiya was a manufacturer of traditional japanese parasols called wagasa. as time passed, however, a decline in the market saw the company begin to struggle. thankfully, inspiration is not always as distant as it may, at first, seem. recognizing the value of the traditional craftsmanship of the wagasa, hiyoshiya simply turned its parasols upside down and, in so doing, found itself in the lamp shade business.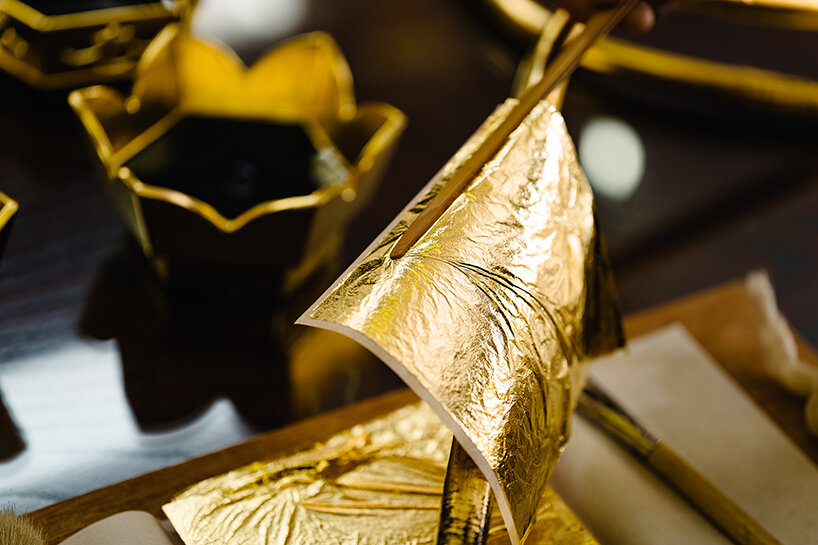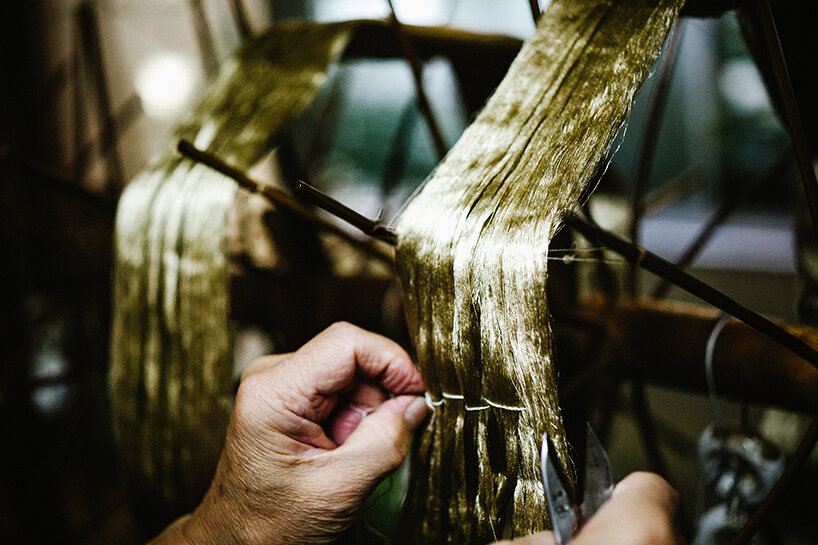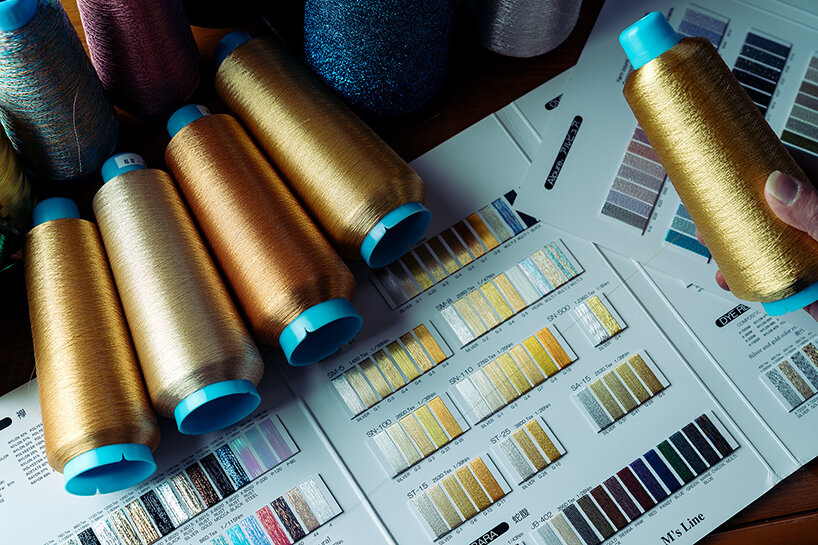 at morisan's workshop (middle), they exchange the usual doll clothes and ladies fabric-lined accessories for larger homewares that showcase mitsuwa's range of striking threads (bottom) and weaving techniques
nakagen and miki bamboo grow and supply kitayama cedar and kyo-meichiku bamboo respectively, materials used in traditional japanese architecture. made with the help of local carpenters chushin kougei, nakagen's kitayama cabinet resembles the protective trunk of the tree and displays only the owner's most precious items, while miki bamboo's table features a single leg inspired by the architecture of japanese temple gardens. meanwhile, as a team that manufactures and restores buddhist altar fittings, it's no surprise that iwata houraiya's wooden storage unit presents a powerful and stable base for contemplative accoutrements. all three pieces are visual celebrations of the materials and the craftsmanship used to make them.
based in nishijin, the epicentre of the kyoto fabric industry, kitai uses delicate silks to construct detailed floral hair accessories by hand. inspired by these ornate and artistic creations, the designers collaborated with kitai, producing wall-mounted artworks for interior decoration. the resulting panels resemble vertical flower gardens, creating mesmeric patterns with intricate detail. morisan, meanwhile, create elaborately woven and independently designed apparel for professional quality hina and may festival dolls. teaming up with their nishijin-neighbour mitsuwa, a metallic yarn manufacturer, the two create a more expansive, more imaginative and more ambitious selection of homewares that highlight the fabric's quality.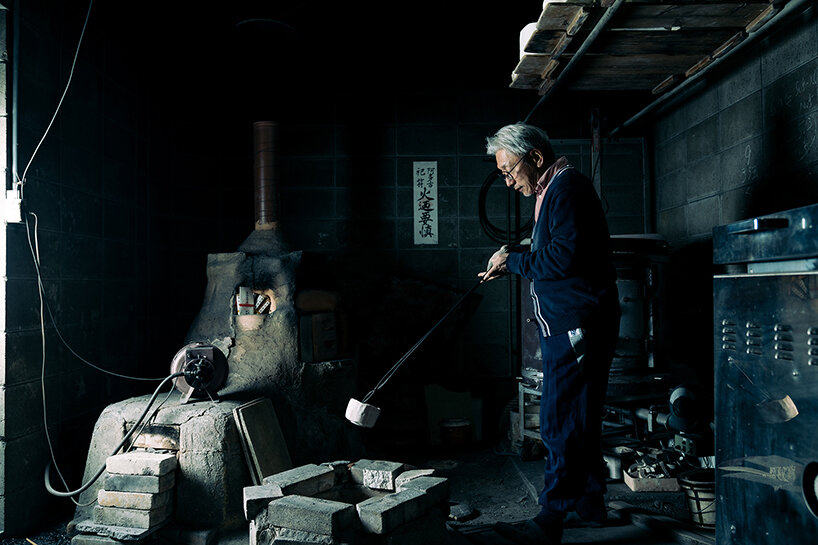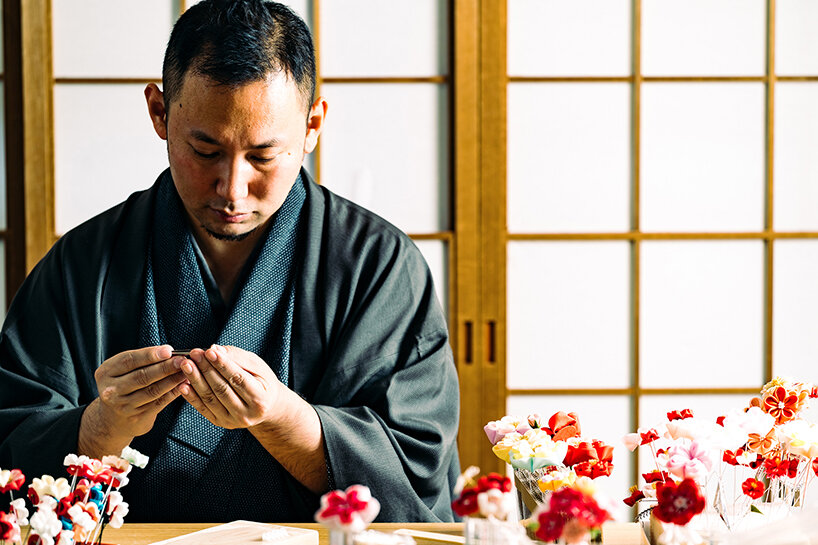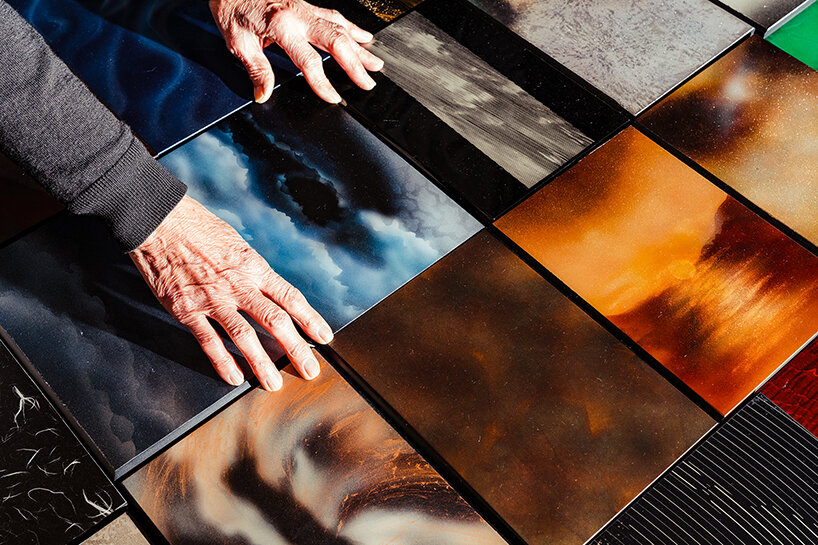 with clients including luxury hotels, restaurants and residences, kyoraku kougei exhibited a selection of its lacquered wares at maison et objet in january 2020, and now deal with international buyers
raku is an almost 500-year old craft, historically intertwined with kyoto. celebrating imperfection, the unpredictable firing process, used traditionally for tea ceremony ceramics, creates stunningly expressive and individual results. raku master yoshimura rakunyu has used the ancient craft to create uchû (space), a selection of unique vases. complementing the traditional process with contemporary design, rakunyu presents his floating wares suspended in a plinth of gold, an apt metaphor for the inspiration of kyoto project itself.
dating as far back as 7000 BCE, the urushi lacquering technique is so synonymous with japan that european craftsmen, attempting to recreate the process, gave it the term 'japanning'. traditional urushi lacquerer makino coats interior architectural products with sumptuous patterns that, once dried, become extremely durable, while kyoraku kougei prefers a UV coating technique that supplies an equally durable, but also heat-resistant finish, with detailed coloring. before their involvement in the project, the two companies worked on a range of one-off projects, but now they've created exclusive collections of homewares and furniture respectively.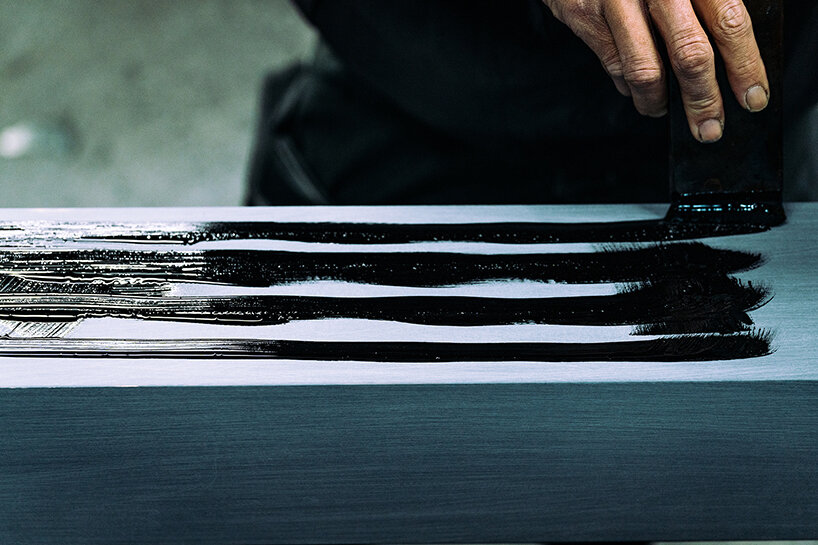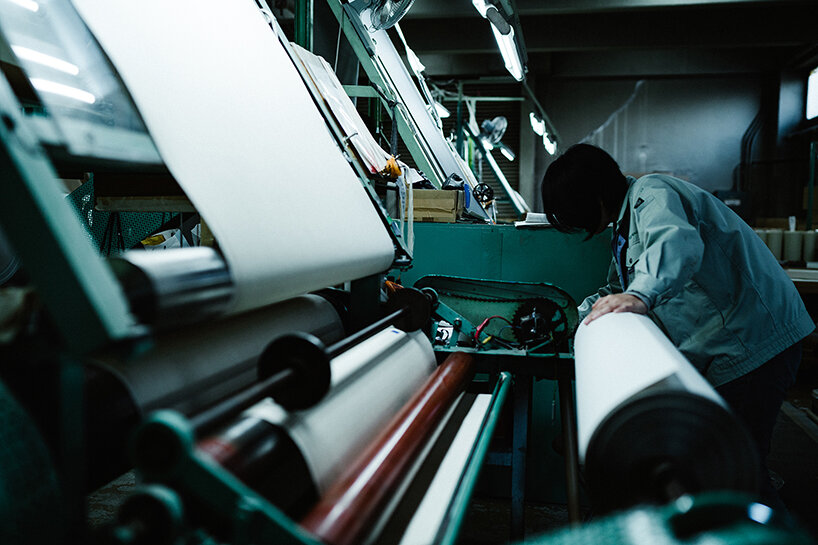 makino's urushi lacquering technique uses urushiol (top), an oil taken from hinese lacquer trees, to give an extremely durable high-gloss finish. a single piece can require weeks or months of layering and re-layering to complete
the final two brands in the project include keikoroll, who uses traditional yuzen dyeing lithographic printing techniques for theater costumes; and 130-year old wallpaper manufacturer erimo, who uses fine threads and handmade washi paper to create original textured wallcoverings. both brands have expanded their respective crafts into new areas, producing original homewares and art prints, and a new line of textured paper that accurately resembles wood grain, metals and natural leathers.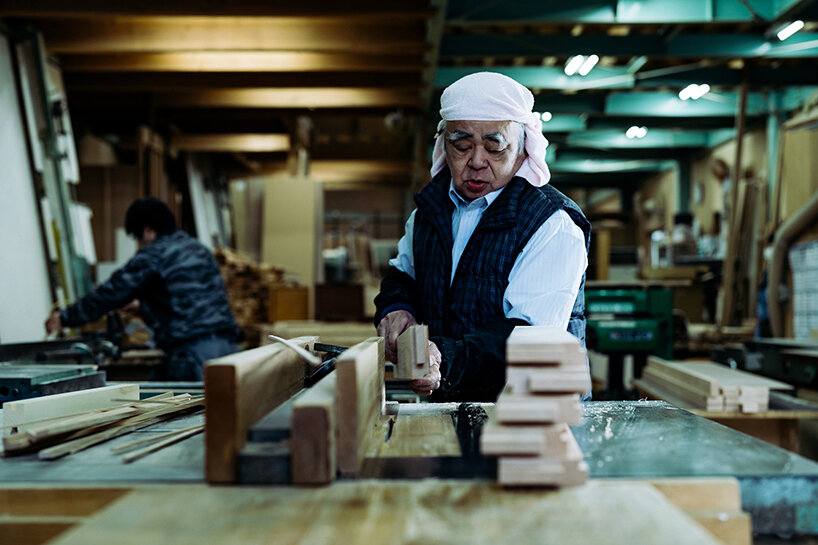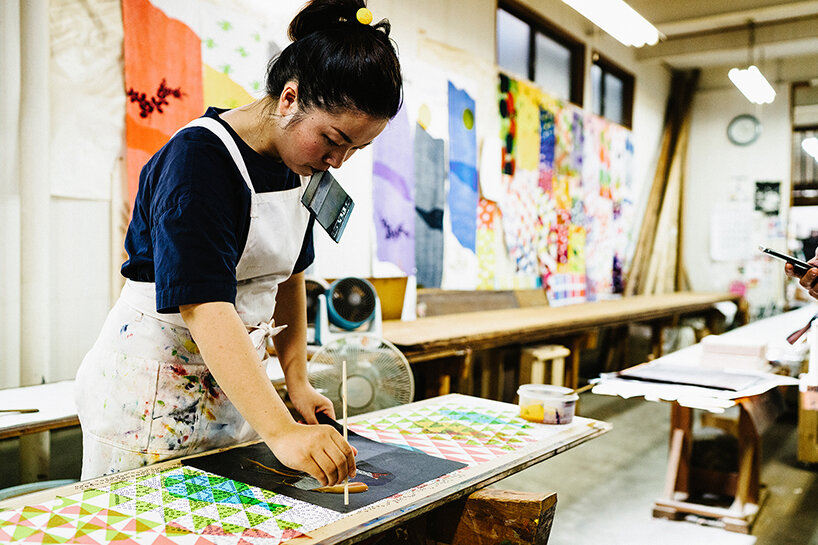 together, designer keiko yamamoto and yūzen fabric dyeing expert yamamoto senkojo joined forces to create colorful textiles with bold, randomly arranged but engaging patterns
'the relationships we establish with the craftsmen we meet continue long after the end of the project,' states studio garnier & linker. through the inspiration of kyoto project, sponsored by the kyoto chuo shinkin bank, these artisanal handcrafting techniques will inspire and encourage international designers and manufacturers again.
guest feature by james wormald / architonic