NEW HOW architects completes its weekend house nové hamry among the czech republic's forested ore mountains. the house stands as a single volume, rising upwards among the surrounding spruce trees. unlike the white plaster houses nearby, the new construction seeks to integrate itself into its natural context, nestling hidden among the trees. the design of the weekend house takes influence from the materials and tones of the area, which comprises a palette of greys in the trees, granite, and basalt rocks. to celebrate this condition, the house is clad in a dark aluminum. the standing seams introduce a verticality that furthers references the slow-growing spruces.
images by petr polák
the team at NEW HOW architects sculpts its weekend house nové hamry as an angled volume with its entrance marked by a subtracted void. such classic elements as the roof and wall give way to a clear shape and merge with each other. the form is the result of a precisely organized interior together with the changing seasons — as the snow load in winter requires a steeply angled roof. meanwhile the condition of a 'lookout tower' determines the height of the house from within. the dwelling seeks to suggest a tower rather than a typical house. the program is thus distributed across three levels, each with their own character.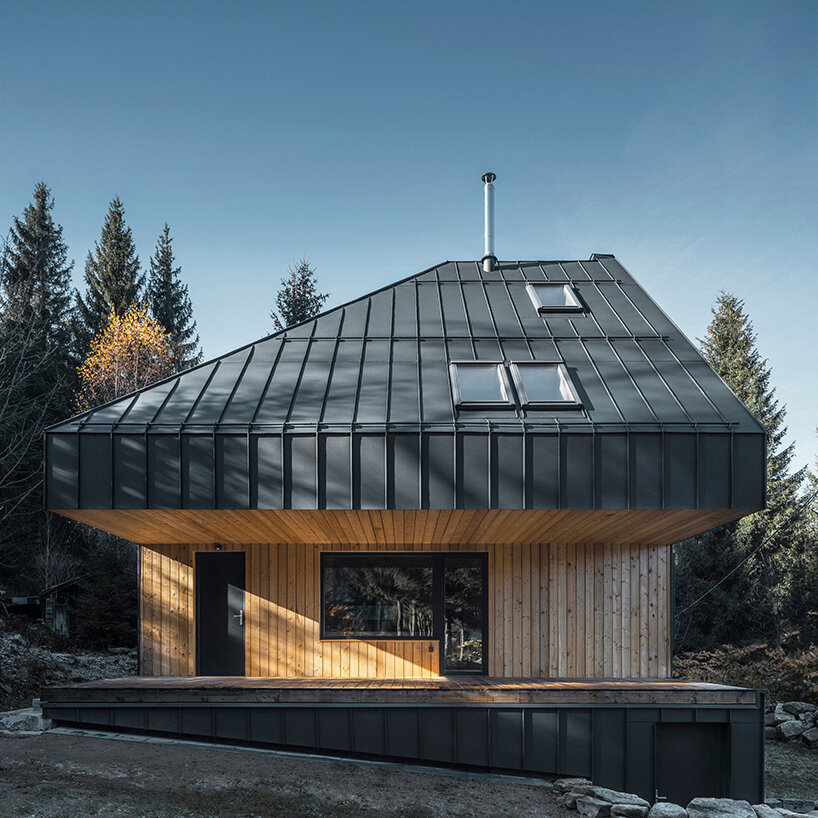 a studio space occupies the highest level of NEW HOW architects' weekend house nové hamry. the team programs this area as a place of solitude and reflection. a large, square picture window frames the treetops, the sky and the distant landscape beyond. along the level below, the team introduces a void in the floor which is filled by a large net. this establishes a visual and acoustic connection with the lowest level and functions as an area of rest. NEW HOW architects comments: 'it's a place where you can unleash your imagination. sitting in a net and not having solid ground underfoot has something to do with the dream of flying, as well as looking up at the sky.'