there is a professor in every architecture department who turns every model upside down. flipping a model upside down is a quick way to discover a new perspective, a new relationship between the occupant and the built space. this simple move is commonplace during the design process among architects, though mainly while exploring more conceptual geometries. when this strategy is used at full scale to transform the most intimately familiar type of space — the typical single-family house — the resulting condition is so uncanny that it becomes a public attraction. such strange dwellings have been popping up across the world, their inverted orientation expressed so literally that even the furniture sits upside down. this strange domestic condition is stripped of its intimacy and comfort to become instead a public playscape.
upside down house, szymbark, poland | image courtesy of CEPR
the first instance of upside down architecture in europe was built in szymbark, poland. architect daniel czapiewski designed the 'upside down house' in 2007 as a part of the center for education and promotion of the region in szymbark. the whimsical project seeks to teach visitors of the nation's tumultuous political history and its relationship with communism — an era which the architect claims 'turned the country upside down.' the posture of the building further introduces a new and uncertain awareness of how the space is occupied — the house sits on a slant so that visitors climb through the attic window without the reliability of a level floor.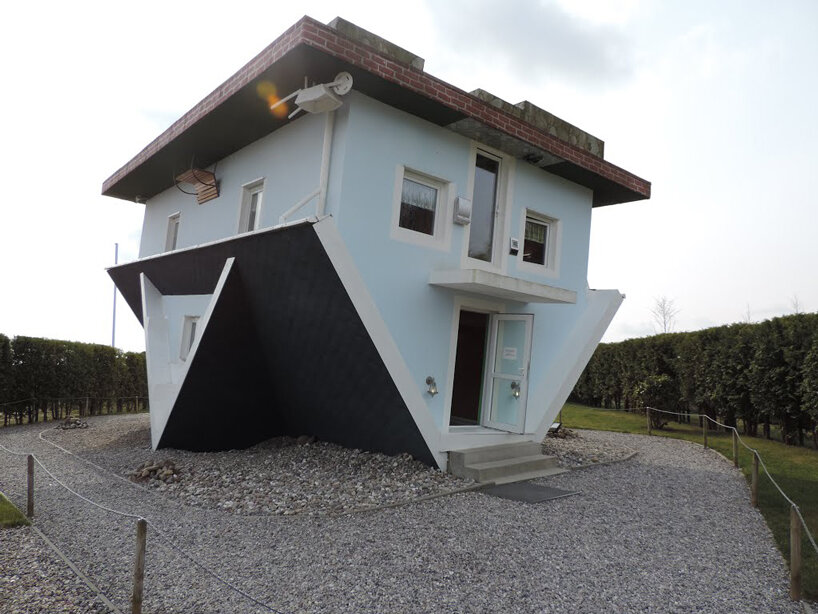 die welt steht kopf 'the world is upside down' | image by löwe 48 / panoramio
die welt steht kopf 'the world is upside down' stands as the most photographed single-family house in europe. the project marks the first of its kind in germany, and the first in the world complete with inverted furniture — the other 'upside down houses' that had existed up to that point were either empty or were used 'the right way round.' the house is organized across two levels, and leans at a slope of 6 percent. inaugurated in 2008 after two years of planning and construction, the house was conceived by two polish entrepreneurs klaudiusz gołos and sebastian mikiciuk, along with designer gesine lange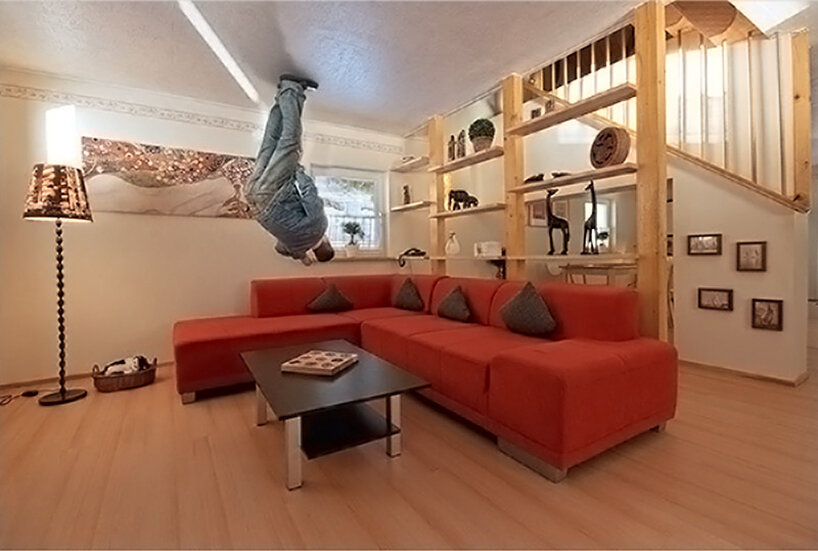 die welt steht kopf | image by löwe 48 / panoramio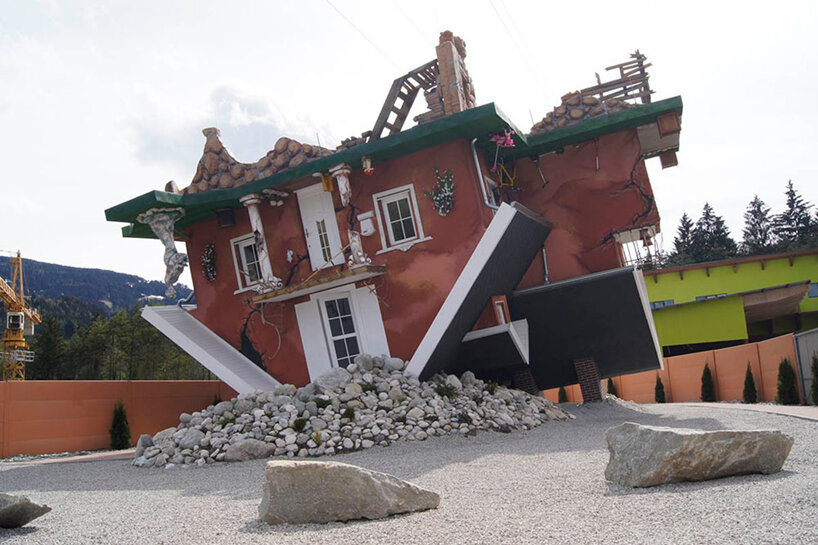 haus steht kopf, tirol, austria | image by tirolland
haus steht kopf is realized as another tourist attraction of upside down architecture, this time in austria. taking cue from germany's 'die welt steht kopf,' the dwelling is completely furnished to offer visitors the opportunity to 'see the world from the perspective of a bat.' the design team emphasizes the idea of the uncanny, or the transformation of a familiar experience into something strange. the team comments: 'ordinary things become exciting again, familiar objects appear new and interesting. all furnishings are on the ceiling. even the car parked in the garage can be admired from below.'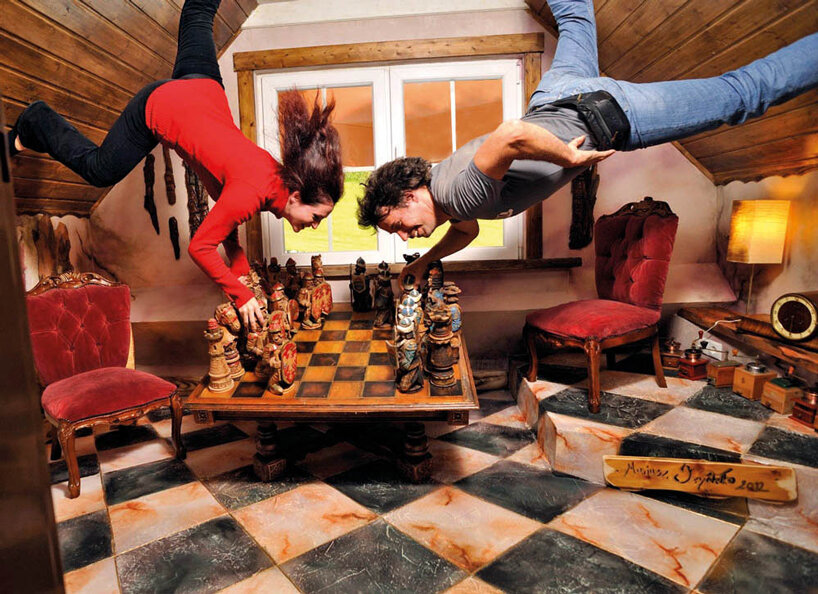 haus steht kopf, tirol, austria | image by tirolland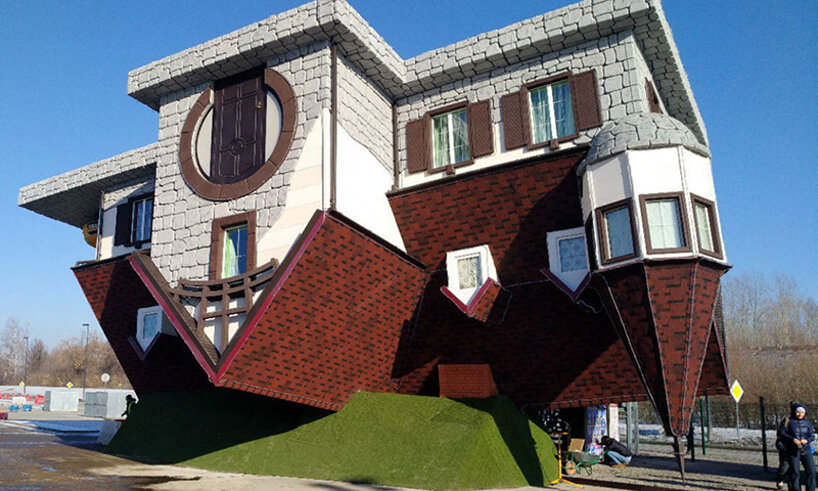 image © ruptly
curator alexander donskoy introduces this feat of upside down architecture to the russian city of ufa, claiming it as the 'biggest inverted house in the world.' the work occupies its site as a large-scale work of public art and cost the team over 350,000 USD to complete. this enormous undertaking is fully furnished, and exists as if discovered as a frozen moment in time — with a fully stocked refrigerator and operable drawers filled with folded clothes. upon its completion in 2018, the curator tells ruptly: 'it is an upside-down house, people are walking on the ceiling and all the furniture is above them. this space is absolutely upside down, even clothes are hanging upside down, we break all laws of physics. we make people think about something new and to look at life from another angle in this bottom up space.'