polish studio PORT introduces its kryjówka space as a 'mysterious island in the center of wrocław.' the team realizes the timber environment as a rejection of the typical plastic playgrounds meant to occupy children while adults go shopping. the little island within the city center offers a place of playful retreat. the project further seeks to teach children about architecture and space-making — a goal which unintentionally prompted the design team themselves to re-realize what it actually is. in considering their own first child-like interactions with architecture, the team recalls 'huts by the river, trees, the smell of wood from construction pallets at the end of the street, a dugout, a tent made of a blanket.' these first architectural sensations offered a starting point for the project's development.
images by stanisław zajączkowski
PORT's hidden 'kryjówka' space was designed in partnership with children as a place just for them. the project was initiated by the wrocław-based OPEN MIND foundation which started the project kids design space. co-financed by the ministry of culture and national heritage, the project establishes cooperative design teams comprising children and well-known polish designers, architects, ceramists, and illustrators. children's works have become a starting point for professionals, and above all, an inspiration for further, individual work on concepts of new, unique utility objects.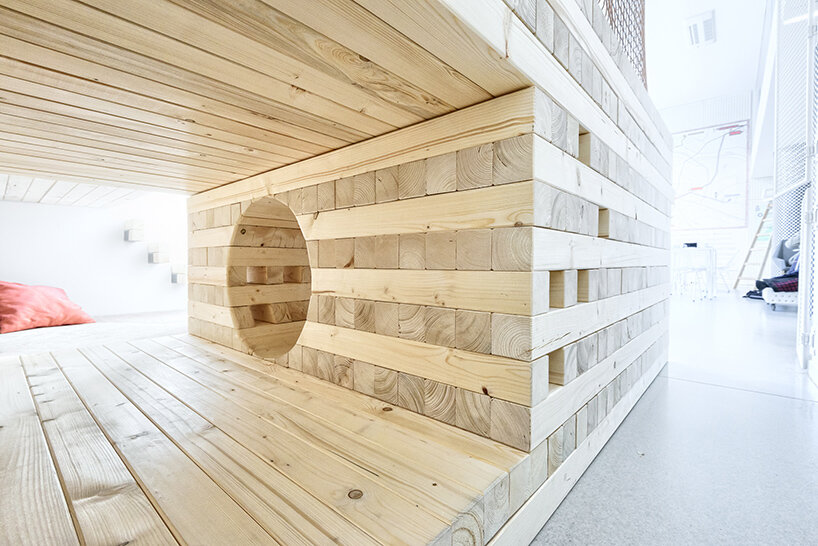 PORT and the design team realize 'kryjówka' to express its name, meaning 'hiding.' during the two-stage workshop, the children delve into the secrets of the architect's process, and ultimately create a 1:1 scale model of their own hideout. the experience of professionals together with the unlimited imagination of children rendered amazing results. the hideout comprises a simple and clear structure of alternately arranged wooden beams. uncut, protruding beams create such conditions as stairs and roof, while the removed or hollow beams result in entrances, windows, and tunnels.