in their sustainable mission to expand their electrified portfolio, the german sports car brand debuts an extended version of its taycan. the porsche taycan cross turismo is an all-rounder electric vehicle, versatile enough for long distance off-road adventures with the whole family – including your new porsche e-bikes, if you have them.
all images courtesy of porsche AG
'in 2019, we sent out a key signal with the debut of our first all-electric sports car,' said oliver blume, chairman of the executive board of porsche AG, at the world premiere of the cross turismo. 'we see ourselves as pioneers of sustainable mobility: by 2025, half of all the new vehicles we will deliver will have an electrified drive – either fully electric or plug-in hybrid. in 2020, one in three of all vehicles we delivered in europe had an electric powertrain. the future belongs to electric mobility. with the taycan cross turismo, we're taking another major step in this direction.'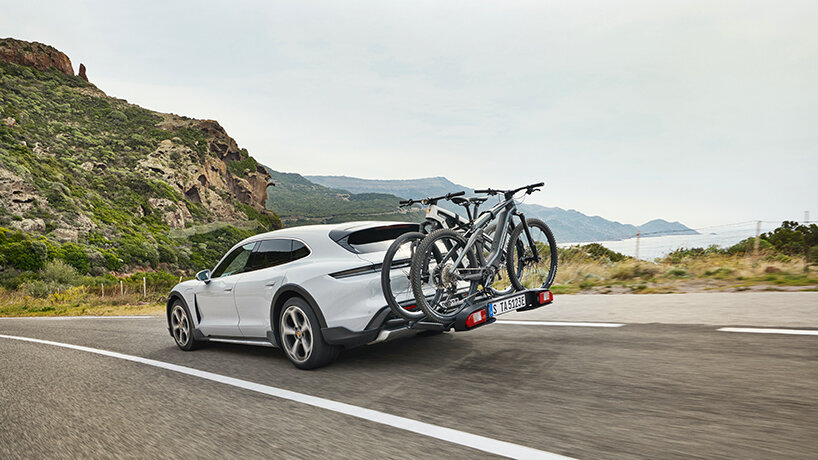 the exterior design of the porsche taycan cross turismo closely follows the same language as the original. its silhouette is once again defined by the sporty roofline sloping downward to the rear, or the fly line as their designers call it. off-road elements include wheel arch trims, unique front and rear lower aprons, and side sills. the additional off-road design package adds special flaps at the corners of the front and rear bumpers and at the ends of the sills to give an even more striking appearance as well as protection from stones. finally, its novelty rear carrier for bicycles allows the tailgate to still be opened when loaded.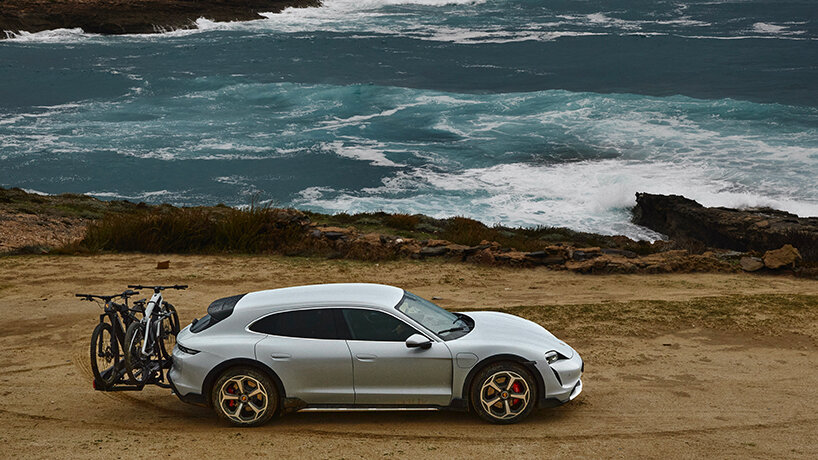 as standard, the cross turismo benefits from a new high-tech chassis with all-wheel drive and adaptive air suspension to deliver dynamic all-terrain driving. inside, comfort is expanded; there is 36 mm more headroom for rear-seat passengers and over 1,2000 liters of load capacity. furthermore, the optional off-road package increases ground clearance by up to 30 mm.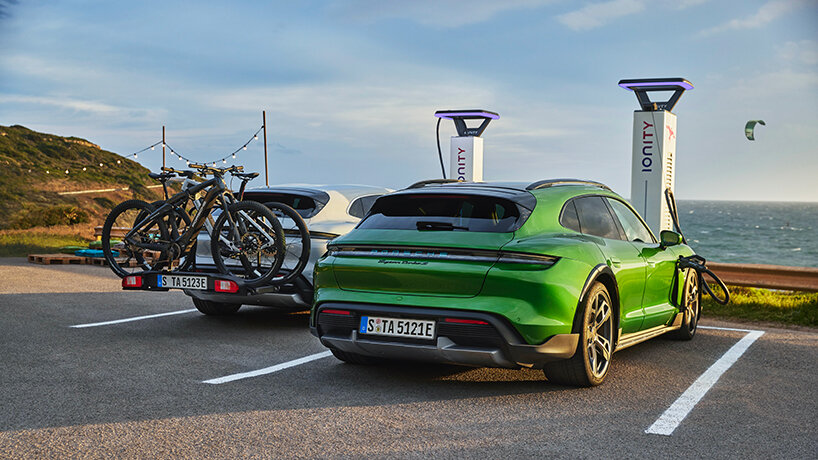 like the coupe versions, the estate car also enhances an electric drive with 800-volt architecture. it offers four derivatives: 4, 4S, turbo and turbo S. its performances varies from 280 kW to 460 kW of power, a top acceleration of 0 to 62 mph (100 km/h) in 2.9 seconds, and a max speed of 155 mph (250 km/h). on a single full charge, the car is anticipated to offer a top range of 454 km.