We recently learned about Paris-based architect Nicolas Sisto through his collaborator, Clarisse Demory. One look at his portfolio (he recently redesigned the Marais store of fashion brand Lemaire) left us wanting to know more.
Sisto, a young architect in his early thirties, grew up in the French Alps where an interest in photography (taking pictures of "ruins, modernist buildings, urbanism, and the alpine landscape") led him to architecture. He founded his own practice, Sisto Studios, in 2012 and last year finished the renovation of a friend's 1,700-square-foot loft in the 19th Arrondissement in Paris. Here's a look at the result.
Photography by Nicolas Sisto; styling by Clarisse Demory.
Above: The four-bedroom apartment is in an old candy factory building. Sisto extended the mezzanine to include an office and installed a 40-foot metal beam to create the stairs. The floors are white concrete with radiant heating.

Above: The lofted mezzanine includes the main bedroom, a guest room, and office; tucked beneath are two kids rooms off the kitchen.

Above: Sisto designed the kitchen custom for the space. It's made of black wood and Zimbabwe black granite cabinet fronts and countertops (from Marbrerie Boucon).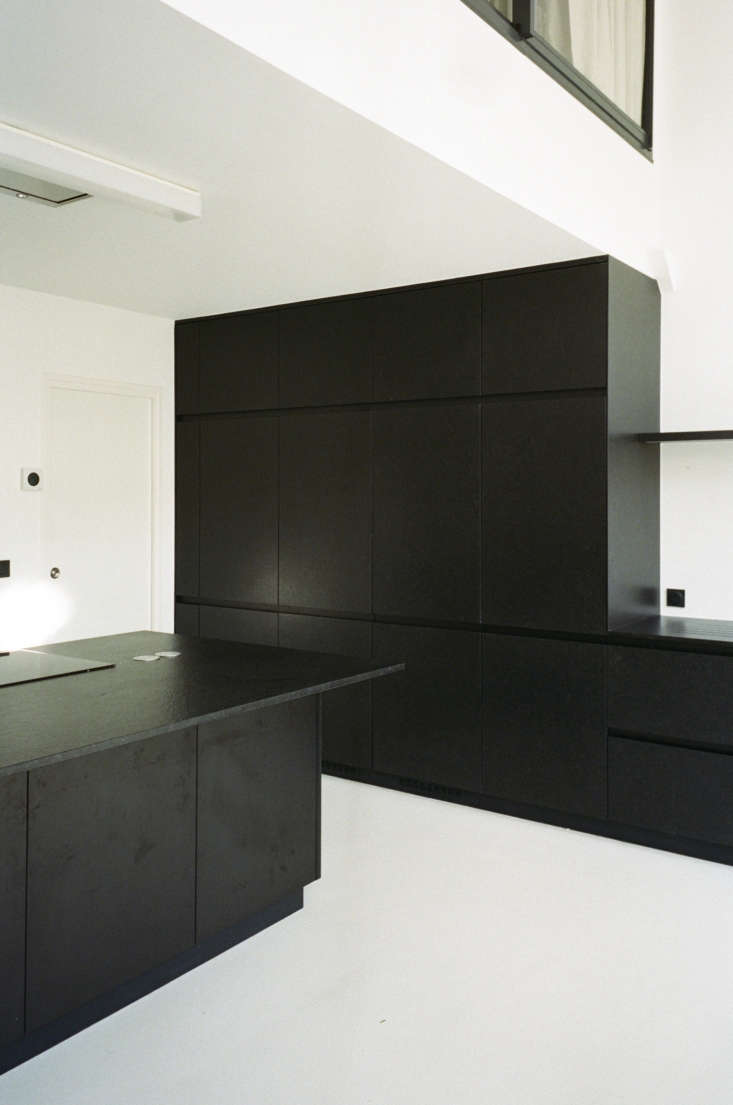 Above: Pantry storage and a panel-ready Electrolux refrigerator are hidden within the granite cabinets.

Above: The kitchen island is fitted with Bosch ovens and a Bosch induction cooktop; the vent above is from Airlux.

Above: A cotton hammock hangs in the main living space adjacent to the kitchen.

Above: Two sets of Arnould Inox outlets are integrated in the island countertop.

Above: Sisto sourced the commercial-style kitchen faucet from a local restaurant supply store. The rope system is ridged to hang bunches of dried flowers and air plants. Behind it is a Sonos Play 5 System.

Above: The Serge Mouille 2-Arm Ceiling Lamp was sourced by the owner. Sisto called on the Serge Mouille atelier to build an extension bar to fit the height of the new space.

Above: The Dublin 6-Seater Oak and Glass Dining Table is from Habitat and the French school chair is vintage. The floor outlets are also Arnould Inox.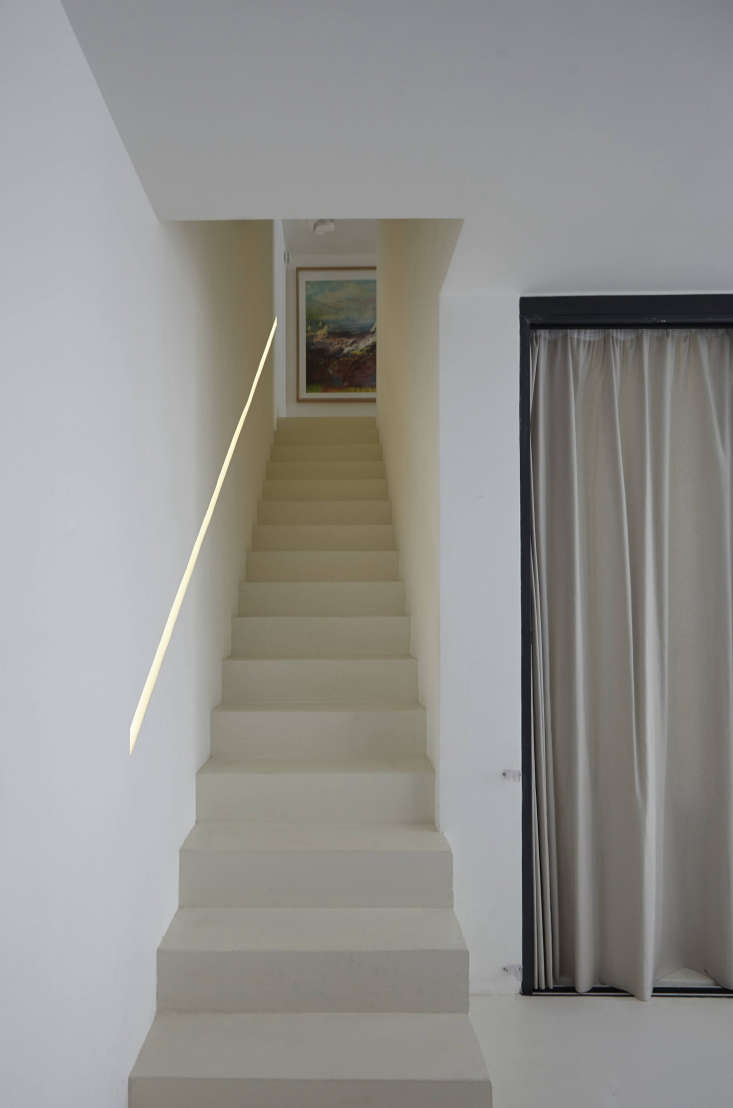 Above: The studio created an inset banister and installed a string of LED lighting with motion detection.

Above: The upstairs flooring is Dinesen Douglas fir planks (over 13 inches wide in random lengths). The headboard is made from a length of repurposed Ikea kitchen countertop. The bedside table is a mirrored plexiglass stool typically used for shop window displays.
For more Parisian interiors, see our posts: