on april 1, 2020, new york gallery friedman benda initiated a series of online interviews aimed at connecting individuals across the world with leading voices in the creative field. design in dialogue is a conversational program hosted alternately by curator and historian glenn adamson and designer stephen burks that engages with designers, makers, critics, and curators as they reflect on their careers and creative processes. against the backdrop of COVID-19 and global lockdowns, the conversations are held virtually on zoom for 1 hour for anyone in the world to tune in to, and include a participatory Q&A with the audience in attendance. friedman benda has since presented more than 80 episodes, and will continue with a lineup of future guests, each offering unparalleled insight into the sensibilities, musings, and memories of today's creative protagonists. see our recent feature of henrik vibskov on his creative crossovers, and irma boom on the permanence of the printed page.

on january 27, 2021, design in dialogue welcomed the one and only philippe starck to the series in an intimate, deeply personal conversation that spanned his early memories and moments, to his thoughts on the design industry at large. the eminent french creator spoke with glenn adamson about his own entry into the design world, his belief in democratic objects, his predictions about the dematerialized future of the discipline, and many other thoughtful topics.

watch the full video interview at the top of the page and stay tuned as designboom continues to share design in dialogue features. see all past episodes — and RSVP for upcoming ones — here.
starck teamed up with kartell and autodesk to create a chair designed completely by artificial intelligence
read more on designboom here
the episode began with a more than 10 minute long personal narrative by starck, where he delved into some the most personal aspects of his childhood and upbringing, and how those experiences led him to design. in an intimate story about his feeling of loneliness, social invisibility, and 'transparency' as a boy, as well as an absence of direction and desire for the future, starck recounted the first time he drew furniture — without really knowing why or how. 'I started to design things to save my life,' he recalls. 'I was so invisible that I felt like 'the invisible man', one of the only movies I saw when I was very young. 'the invisible man' was invisible except for when he put strips of fabric around his face, and then he became visible. for me it was exactly the same thing — I created my own bandage around myself and I became visible, even for myself in the mirror. but that all meant making design, and I had no idea what this was. when I speak with my wife jasmine, she says that she always dreamt about the future of her life…but me, I never had any desires about my life. I didn't even know we could dream about life. I didn't know we could want anything. I was nothing, nowhere, with no past and no future…I was lost, but there was a light. I saw the light at the end of the tunnel which was creating.'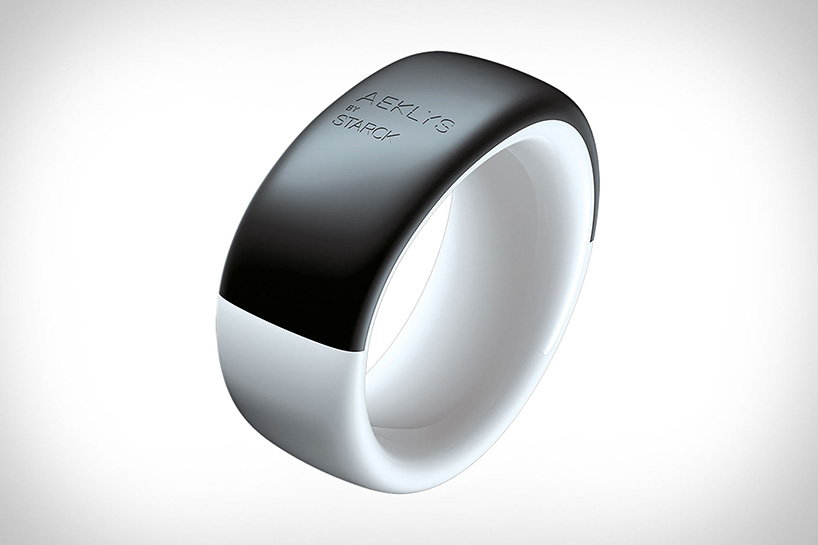 AEKLYS by starck is an intelligent ring that connects the user with its environment
read more on designboom here
starck strongly emphasized his belief in the idea that people are obligated to help the community around them — a notion that strongly links to his thoughts on democratic design, and maximizing the availability and accessibility of design. 'I think when you're born, you sign a contract with your community,' he says. 'I think this contract is based on the idea to help your community, especially to contribute and continue the evolution of the animal species. I think it's not a choice. it's an obligation. it's the only reason to live, it's the reason to be on this earth.'
'when you're lucky enough to have an idea, or very lucky to have a good idea, you have a duty to share it with the maximum number of people,' starck continues. 'I don't think you have to produce things cheaply, but you have to decide to try to do it for the maximum number of people, with the maximum quality, at the right price. democratic design is about raising the quality, lowering the price, and giving to everybody. I was, and still am, uncomfortable when I see a designer who decides from the beginning to make things in limited edition, to decide to make things very, very costly. it's against all my humanity, and also it's too easy. when you decide to make a good product, with a long life, with all the parameters of sexuality, politics, ecology, economy, and affordable enough that almost everybody can buy it, I can tell you it's a lot more complicated…'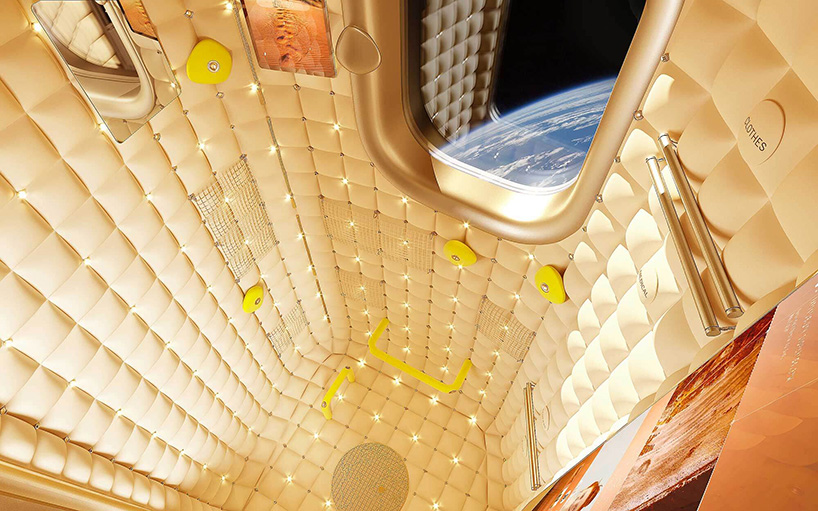 this womb-like habitation module was designed for future space tourists
read more on designboom here
in looking at the timeline of design — past, present, and future — starck surveys the evolution of the industry, and makes an impassioned, striking prediction about the de-materialized destiny of the discipline. 'design is a child of the 18th and 19th century, especially the 19th — the century of industry,' he says. 'we created steel, which gave us the possibly to make trains, boats, planes… design was made to make all these ugly things nice for the eyes, to be acceptable around us. design was made to make a product lovable — at least at the beginning, after it was just business.'
'the part of intelligent human production follows a scenario called dematerialization. for some reason, we have this subconscious desire to dematerialize things around us. dematerializing means increasing power and intelligence, and decreasing the materiality. there is an example just in front of us — the computer. the computer used to be a big house, a building. after that it was a big suitcase, a small suitcase, then an envelope and then a card, and now, it's my new ring — the AEKLYS ring. we can make almost everything like a computer. we can dematerialize almost everything.'
'everything has a time. now, we are now out of the 19th century completely. we are all in the virtual. that means all the objects, with dematerialization, will disappear. there is no reason and no way to design things which have disappeared, which is fantastic — it is the absolute continuation of our evolution. our evolution never said we are here to produce materiality. the difference between us and animals is our intelligence. today, the proof we have is that we are the only animal species who invents things. that's why to continue to invent, we have to become free. the more there is materiality, the less freedom and humanity there is. that means dematerliazation is vital. it's one of the big important steps of our next evolution.'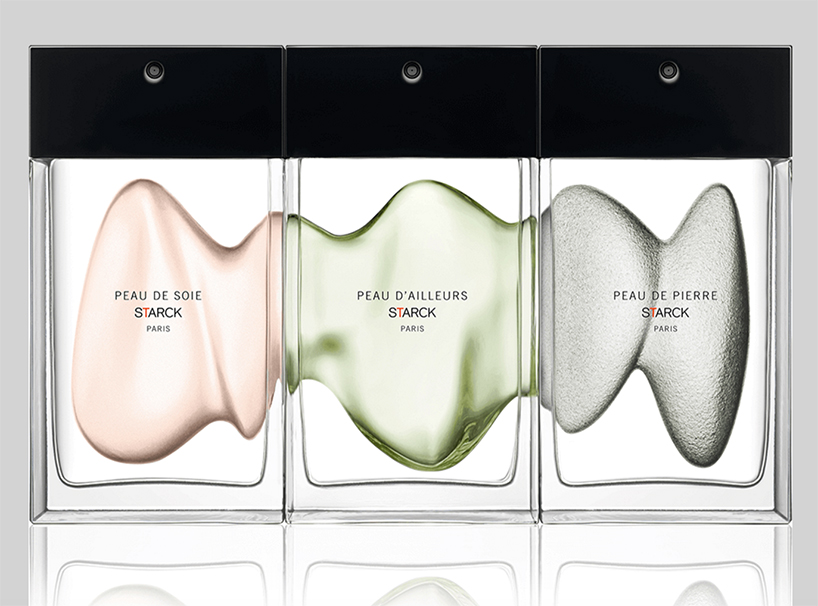 in 2016, philippe starck unveiled the first fragrance collection of his new haute parfumerie brand, starck paris
read more on designboom here