herzog & de meuron has shared a first look at the national library of israel, a major new project currently under construction in jerusalem. images released by the architects show cast-in-place textured concrete walls as well as a winding staircase, while daylight entering through openings in the façade animates the interiors. the project, which broke ground in 2016, is being developed alongside tel aviv-based firm mann-shinar architects.
all images © herzog & de meuron
the new national library of israel, adjacent to the israel museum at the intersection of kaplan street and ruppin boulevard in jerusalem's national district, has been designed by herzog & de meuron with the israeli firm mann-shinar architects serving as executive architects. the building's area totals approximately 45,000 square meters (approximately 485,000 square feet), including six storeys above ground and four subterranean levels.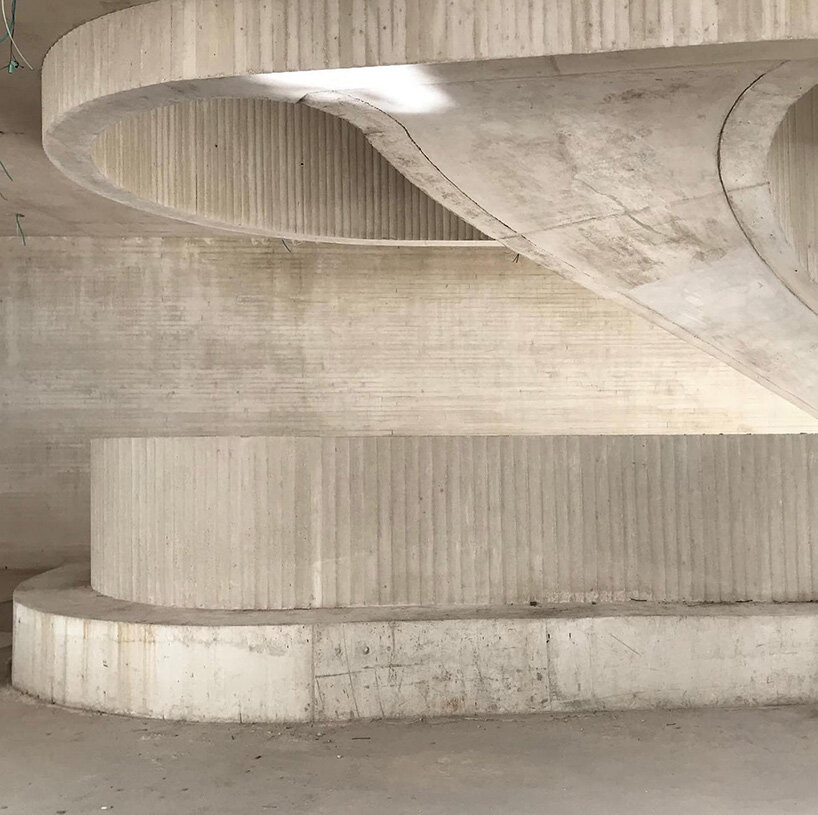 responding to the shift from print to digital, the library's design includes both conventional and unconventional spaces for a range of audiences. the project also seeks to reference the city's architectural traditions while aligning with its contemporary context. on its instagram, mann-shinar architects recently shared a photo of the building's distinctive curved roof covered in snow. at ground level, the institution will be bound by a garden and public space that connects the surroundings to the interior functions.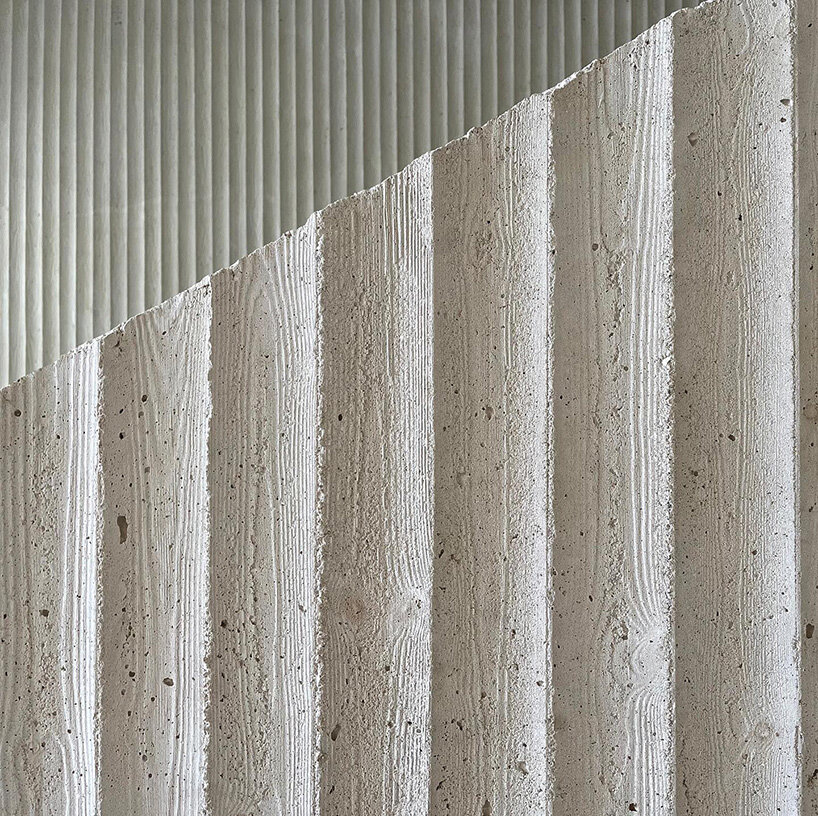 meanwhile, the focal point of the interior is a reading room surrounded by exhibition spaces, an auditorium, a bookstore, a youth center, and places to eat and drink. within this space, a void consisting of offset circles passes through each of the levels — connecting the reading room to the library's physical collection of books below. see designboom's previous coverage of the project here.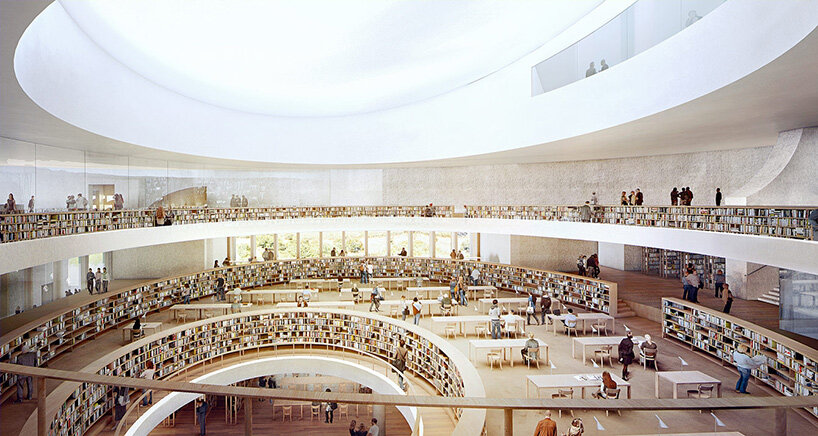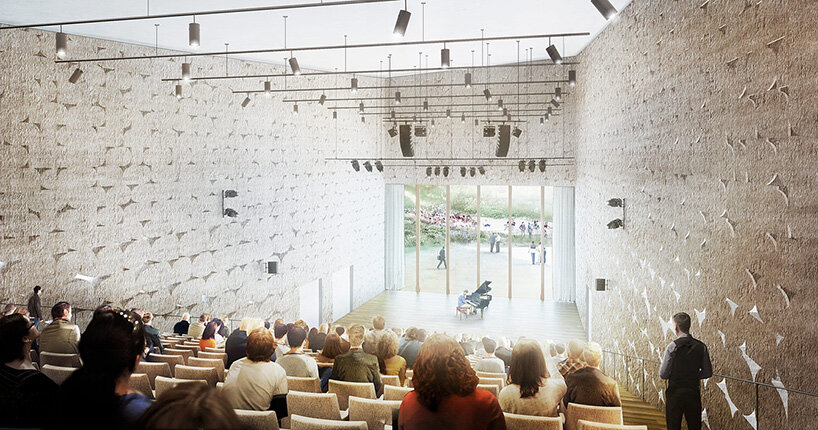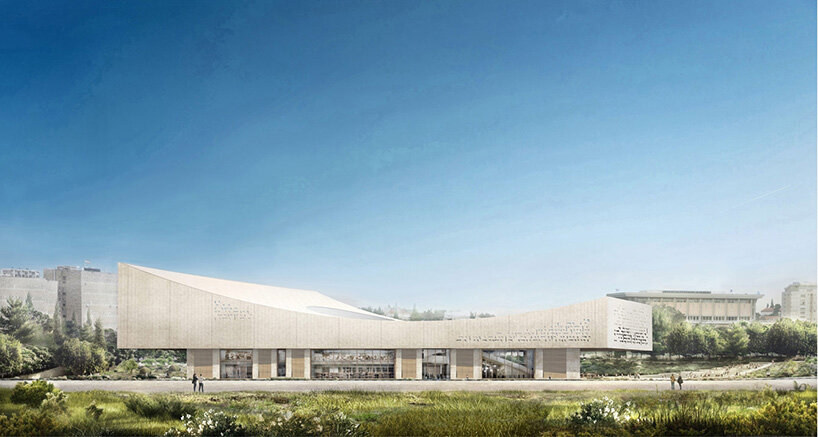 project info:
name: national library of israel
location: jerusalem
architect: herzog & de meuron
executive architect: amir mann – ami shinar architects & planners
status: completion scheduled for 2021
herzog & de meuron team —
partners: jacques herzog, pierre de meuron, jason frantzen (partner in charge)
project team: linxi dong (associate, project director), stefan hörner (associate), maximilian beckenbauer (associate, project manager), marco zürn
fernando alonso, miguel santiago espitia, clément thomas mathieu, lukasz szlachcic, rachel tan, leonie welling, elad meirom, harry wei, matthew critchley, xin li, tali shoavi, axel vansteenkiste, maria galustian, rachel tan, andré vergueiro, timothee boitouzet, linea jensen, daisuke hirabayashi, ines li-wearing, tiago baldaque da silva, lasse skafte, carly gertler, harrison nesbitt, arrate abaigar villota, farhad ahmad, martin brandt, pedro rodriquez-parets, abigail chang
philip stevens I designboom
mar 01, 2021