spanish studio alberto facundo arquitectura presents its 'catorce house' as an assemblage of monochromatic volumes. located along the outskirts of bolbaite, spain, the dwelling seeks to adapt to its environment through its design language and its orientation. keeping in mind the suburban site together with its surrounding natural context, the house is closed off from the road along which it faces, and opens away toward the views of the spectacular landscape beyond.
images by german cabo
alberto facundo arquitectura's catorce house shields itself from the road and from its neighbors with a stark, street-facing wall — realized in black and white. while maintaining privacy for the occupants, this element offers a visual continuation of the dwelling's minimal geometric language. the orientation, facing toward the distant landscape away from the road, is one of the main aspects which drove the project, informing the organization of the interior spaces. this have been the main key point to guarantee control of sunlight and cross ventilation in all rooms.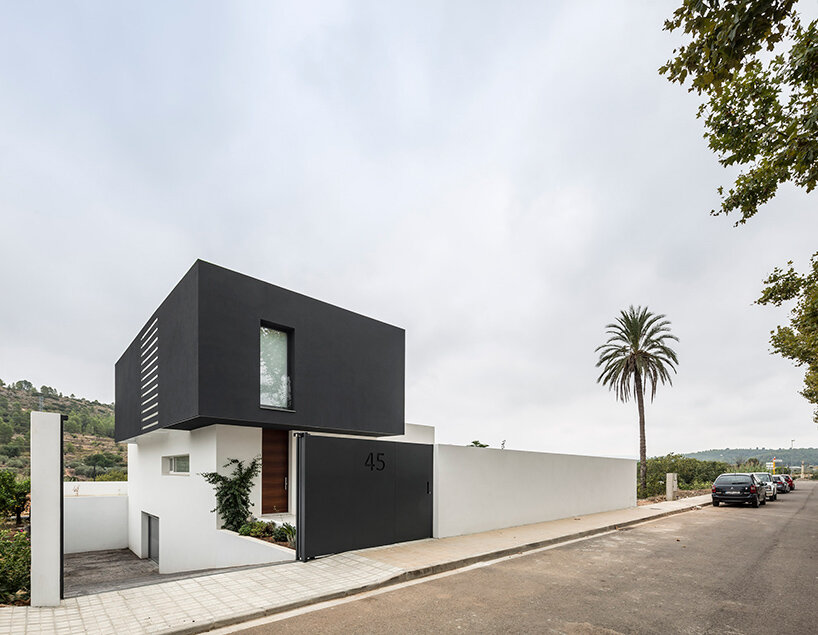 designing the catorce house, the team at alberto facundo arquitectura aimed to express a contemporary language. the dwelling is realized with clean and distinct volumes with clear tonal contrasts which, together with such materials as wood and stone, offer a more playful atmosphere. a careful attention to detail is revealed through the strip lighting which highlights the edge condition of the exterior volume. the team continues, commenting on the dwelling's goals toward sustainability: 'thanks to its design and execution under passive house criteria, air infiltration has been controlled by specific solutions, efficient air control equipment has been installed, thermal bridges have been eliminated and good insulation has been introduced in the enclosures and openings.'