london-based artist ian berry has been using denim as an artistic medium to create textural collages, layered canvasses and 3-dimensional textile rooms for more than a decade. his 'secret garden', previously featured on designboom here, impressed readers for its intricacy and detail, realized in the form of a wonderland of denim botanicals draped across the children's museum of the arts in new york. often drawing from urban landscapes and elements of city life for his jean-based work, berry was forced to look at what was around him during the COVID-19 lockdown, and found inspiration in his very own living room.
all images courtesy of ian berry
berry has recreated his lockdown living room from jeans, reproducing domestic elements from his home in denim. the interior tableau features a denim chesterfield couch, plants made from jeans and a record player with many albums — all in shades of indigo. a selection of books and family pictures, as well as the view from berry's own living room window, lend a deeply personal touch to the project, which is evident throughout the scene.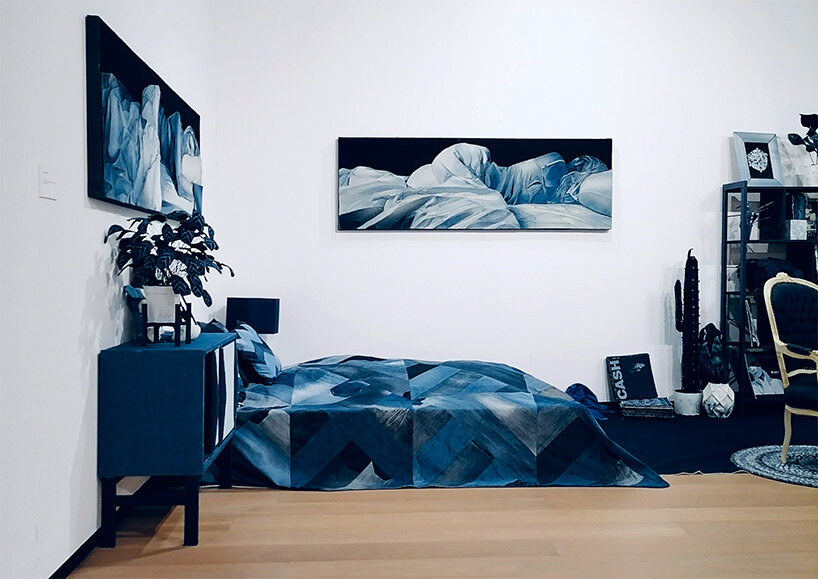 'living room' forms part of a large exhibition of berry's work at museum rijswijk in the netherlands on view until april 5, 2021 — while the institution is currently closed due to COVID-19 restrictions, the museum is encouraging future visitors to book tickets online in advance of its reopening. the show also features a selection of work from berry's international photo project 'stay behind closed doors', in which he called out to professionals and amateurs to send in a photo that depicts what the lockdown means to them personally.