known for its acclaimed off-roaders and rally cars, UK-based auto manufacturer presents its bowler CSP RIV concept, now on auction at RM sotheby's. first unveiled at the 2017 defense and security equipment international, the one-of-a-kind bowler rapid intervention vehicle (RIV) was built in collaboration with the UK ministry of defense. the concept showcased not only the company's capability and expertise gained after thirty years of extreme off-road motorsports, but also its cross sector platform (CSP) — a common versatile platform with modular subsystems and components which caters to a range of potential clients, from defense to emergency services.
images © 2021 courtesy of RM sotheby's
bowler motors' CSP rapid intervention vehicle (RIV) ensures that extremely rapid progress could be made over any terrain, although the concept offers a mileage of only 170 miles. this model is achieved through the mating of the cross sector platform (CSP) chassis that packs a 300 brake horsepower and 516 pound-feet (700 nm) of torque engine. with independent seating for four adults, the off-roading capability results from the long travel independent suspension and high and low range all-wheel-drive system. drive is channeled through a highly rated 8HP ZF transmission and the car carries a 4,409-pound (2,000-kg) payload.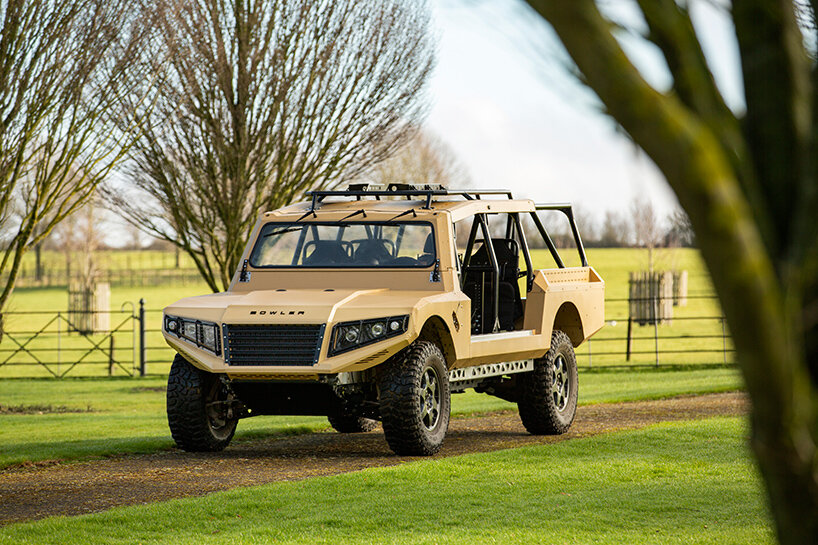 while the bowler CSP RIV is not road legal, its engine and powertrain is sourced from land rover so runs and drives very well. even though it is entirely functional, the RIV has never been registered and therefore may be difficult to gain road-legal status in certain markets. the result of significant research and development, the vehicle is completely unique and might add to any existing collection of military vehicles, as it is for sale. offered at no reserve, the team at RM sotheby's predicts that it will go for €75,000 — €100,000 ($91,354 — $121,806) during the auction which closes on february 26th. currently, the highest bid is €24,500 ($29,844)