inspired by the idea of change and transformation, prada has debuted its fall/winter 2021 womenswear collection by miuccia prada and raf simons within a space designed by rem koolhaas and AMO. titled 'possible feelings II: transmute', the show follows january's exhibition of menswear, which was presented within the same tactile and colorful set. with the ambition of repurposing furnishings used for the prada's shows, the set's materials will be upcycled, finding a new life after the events through special product installations and pop-ups around the world.
following the digital presentation, miuccia prada, raf simons, and a multidisciplinary ensemble of creatives including rem koolhaas, discussed the collection, collaboration, and today's challenges in fashion and creativity. jump to the 'prada intersections' conversation in the video below.
all images courtesy of prada
prada explains that its fall/winter 2021 womenswear collection is a fusion between disparate themes and intents that mirror the nature of humanity: a belief in the fact that men and women each hold the masculine and feminine within themselves. 'this collection explores the space that exists between conventional polar opposites – the point between simplicity and complexity, elegance and practicality, limitation and release, transmuted,' explains the italian fashion house.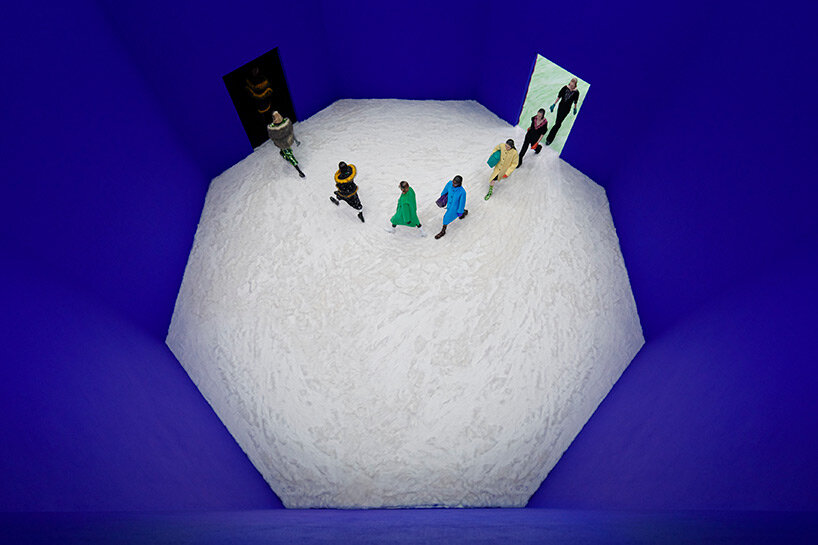 prada says that traditionally 'gendered fabrics' have been re-contextualized for the collection, while embellishment is structural, economical, and combinations and juxtapositions of surfaces evoke tension. this is mirrored by the multi-textural interior landscape — designed by rem koolhaas and AMO — that allows the models to move between spaces lined with faux fur, marble, and other materials. the show took place against an original soundscape created by richie hawtin, aka plastikman.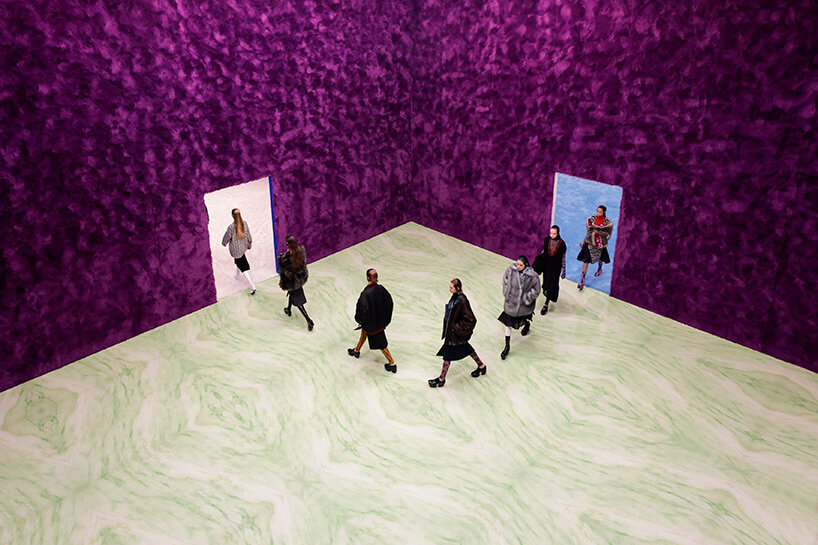 in creating a show without a live audience and presented as a digital film, miuccia prada and raf simons worked closely with rem koolhaas on creating a strong relationship between the actual space — psychologically and physically — and the new collection. 'every show has a degree of premeditation,' says rem koolhaas in the conversation, 'but also a strong degree of improvisation. therefore I would not say it's so serious, but we really played with the idea of virtuality more than earnestly approaching it. that is the beautiful thing about fashion, is that you can always play.'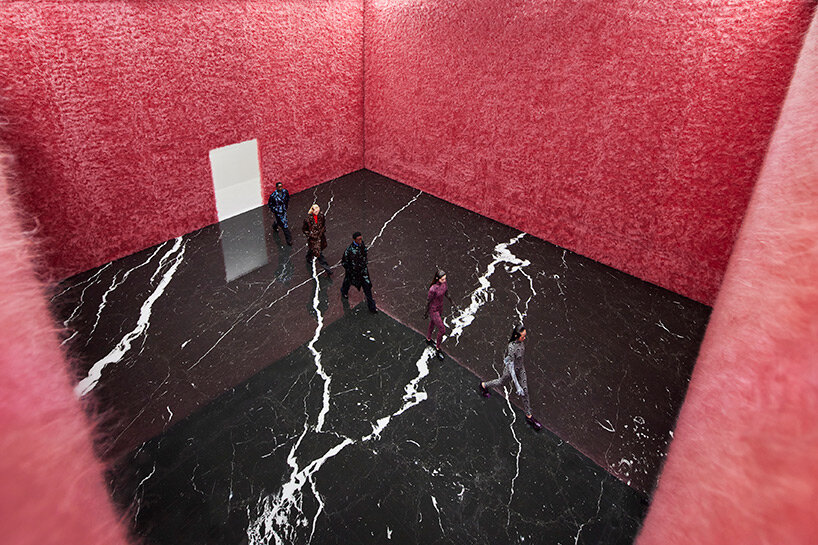 during the digital discussion, where participants tuned in from afar on giant screens set up within the space, miuccia prada posed a question to rem koolhaas about which disciplines are the most relevant for his architectural work. 'the most important thing for us is to understand the people we work for, that we understand their aspirations, habits, ticks, cultures, and aesthetics,' koolhaas said. 'there's only one profession that was systematically looking into that, and that is anthropology. it's as if you come from a different planet and you look, and try to define, and can really interpret very carefully what you see, and what that means — so that's crucial. the other thing where I've so deeply enjoyed collaboration is fashion, the incredible speed of fashion, and the way in which fashion can assemble something sublime in almost 15 seconds. in fashion, the flash of inspiration is very close to the realized object in the best cases. the meticulous part of anthropology, and the intuitive flashes of fashion, have been very crucial.'