belgium-based studio dmvA revitalizes mechelen's arts center nOna which had for decades suffered from lack of space. the existing art-deco theatre hall had its limits and was no longer sufficient on terms of flexibility. in 1999 the owners had the idea to build a second theater hall on the adjacent printing business site. in the meantime, the printing business was transformed into three temporary rehearsal rooms for artists in need, called nova. finally, in 2016, the actual renovation and building of the extension of arts center nOna started. the project, with its dynamic brickwork, fit in the urban planning of the city of mechelen to boost the cultural axis between the grand place and the lamot-site.
images by sergio pirrone | @sergiopirrone
dmvA's arts center nOna is situated in the middle of a block along a medieval alley that divides the new and old site. the new extension is embedded into the urban fabric by the succession of interior and exterior rooms with their own materiality and atmosphere. this way the new site takes advantage of the capricious form of the plot and responds to the patchwork of garden walls and sheds. three patios as urban 'rooms' were created around the new theatre hall and the forum, a multifunctional space with the allure of a covered market hall. the first patio located between the alley and the front desk connects the begijnenstraat with the inner area. the large patio introduces an extension of the forum while the long patio accesses the artists' foyer at the back. wide thresholds blur the boundary between inside and outside. the exterior patios were created in collaboration with artist nick ervinck with the concept 'brick in motion.'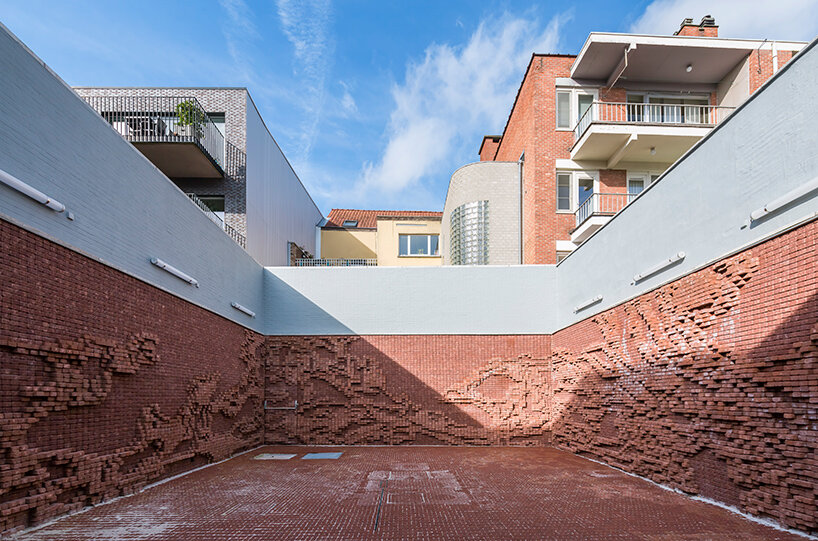 with the renovation and extension of the arts center nOna, dmvA introduces a new hall in the form of a multifunctional concrete box. along the concrete facade, the design team includes an engraving of 'n o n a,' obviously denoting to the name of the arts center, but also recalling the former printing business of the site. the theater hall is constructed according to the box-in-a-box concept to meet the acoustic requirements of the building while the new building at the street side serves as a gate to the  courtyard. the new building connects the new site with the existing theater hall. arts center nOna engages with the city through the glass facade while LED screens display the programming of the arts center, animating the street and inviting interactions with passers-by.