the mclaren artura signals a new chapter for the british supercar brand as their first-ever series production high-performance hybrid. the model combines its inherent distinctive design, thrilling performance and engineering innovation with EV driving capability. the electrification adds the benefits of lower missions, faster throttle response, and complete emissions-free journeys of up to 18 miles.
all images courtesy of mclaren
'every drop of mclaren's experience and expertise has been poured into the artura. our all-new, high-performance hybrid delivers all of the performance, driver engagement and dynamic excellence for which McLaren is renowned, with the additional benefit of EV driving capability. the introduction of the artura is a landmark moment – for mclaren, for our customers who will appreciate and enjoy this car on every emotional and rational level, and for the supercar world,' states mike flewitt, CEO, mclaren automotive.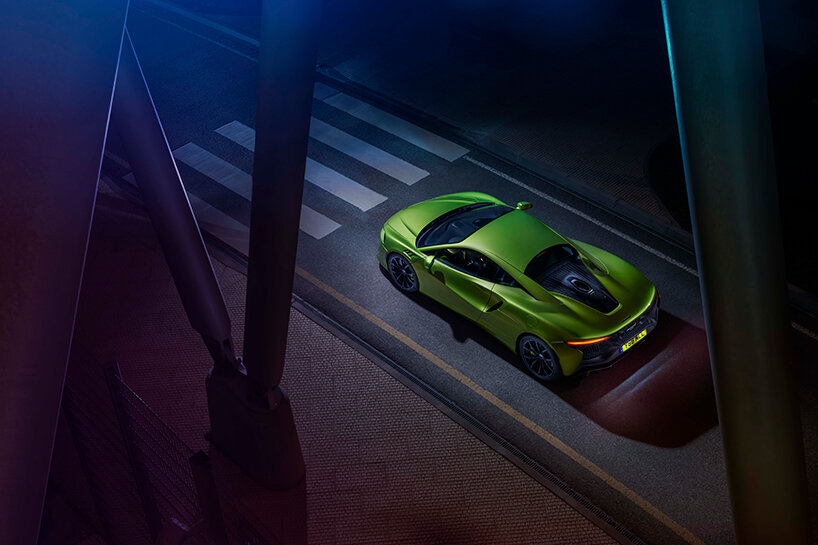 delivering a performance to match the renowned marque, the mclaren artura pairs a 2,993cc twin-turbocharged 3.0-liter V6 petrol engine with an e-motor and energy-dense battery pack. together, this produces a combined output of 671 bhp and 720 nm of torque through the eight-speed transmission. sharp throttle response accelerates the supercar from 0 to 62 mph in 3 seconds, to 124 mph in 8.3 seconds, and up to a top speed limited to 205 mph. a new rear suspension concept with uprated electro-hydraulic steering and proactive damping control, enhances the agility, stability and dynamic performance.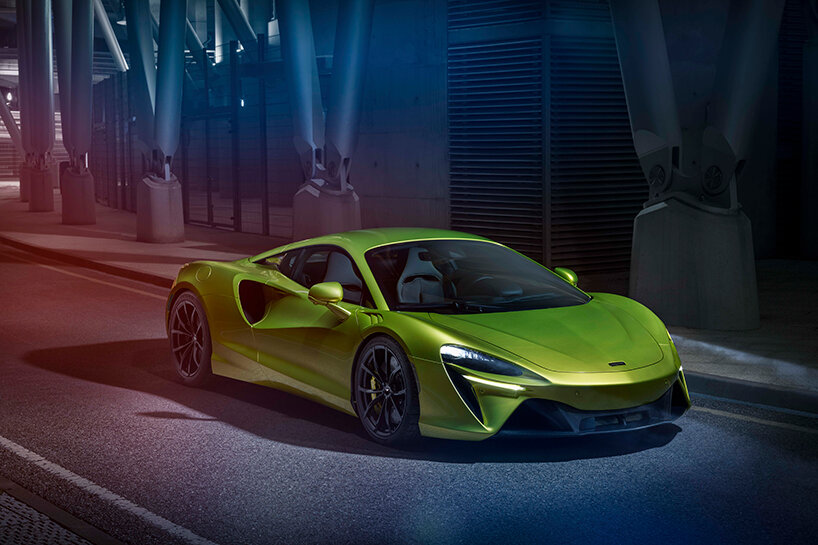 with a dry weight of 1,395 kg, the supercar is their lightest to date. this is despite the added hybrid powertrain elements, from motor to battery pack. it utilizes their all-new mclaren carbon lightweight architecture, made from superformed aluminum and carbon fiber, which is uniquely optimized for HPH powertrains. comprising five lithium-ion modules, the battery pack is mounted on a structural carbon fiber floor, then bolted onto the rear base of the monocoque. this is to maximize stiffness, weight distribution and crash protection.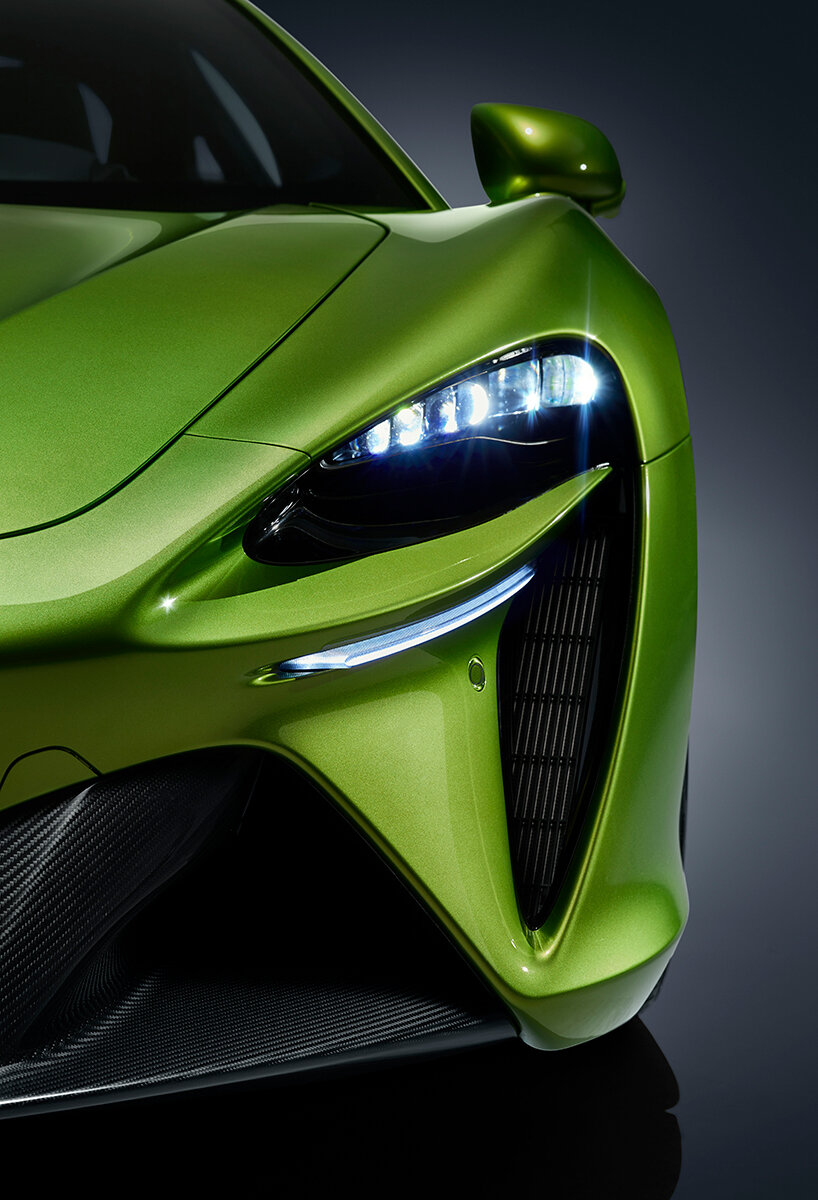 form follows function for the exterior design of the mclaren artura, where the minimal shutlines, panel joints and body sculpture are shaped to optimize performance and manage airflow. it has a shrink-wrapped appearance, in the mind's of mclaren designers. its low-nose, cab-forward and high-tail stance once again features their signature dihedral doors, which house wing-mirrors that fold in tightly when opening.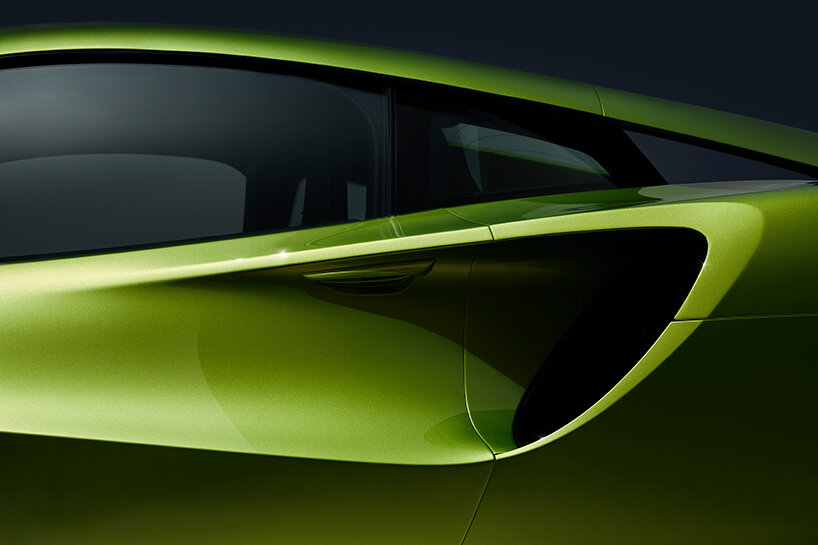 inside, the cabin is entirely new with the cockpit centered more than ever around the driver. the driving mode selection – a choice of e-mode, comfort, sport and track, and handling modes – has moved to the instrument binnacle, which is mounted to the steering column. this means that the steering wheel is kept clear of unnecessary switches so that the driver can still change modes whilst having two hands in control. up front, a new 8-inch HD touchscreen infotainment system enables configuration of advanced driver assistance systems and smartphone mirroring. all-new lightweight clubsport seats, which combine a range of motion with the support of a bucket seat, completes the interior.