'welcome to the future of the curb' — declares oonee, in introducing its 'mini' smart, modular, and customizable pod for secure bike parking. while cars and vehicular parking dominate the streets of new york city, oonee's founders sought to carve out space for bikes. the company's journey started when founder shabazz stuart had his third bicycle stolen in a five-year period, and realized that secure parking for bicycles was a crucial aspect of micro-mobility and infrastructure in cities. despite this obvious need, the vast majority of cyclists do not have access to secure, smart, or attractive parking facilities. therefore, the team at oonee introduces 'mini' — a pod designed to survive the demanding streets of new york, and deliver up to 10 quality secure bike parking spaces in place of one single car.
oonee mini is designed with hundreds of design and technology innovations to make life easier for cyclists, while keeping the surrounding neighborhoods looking beautiful. the team actively engages with the community to collect feedback from cyclists, pedestrians, public space managers and even school children. each mini features a customizable skin that can be tuned to match the local architecture and neighborhood conditions. it is also designed to scale and form a comprehensive public bicycle parking and service network for urban areas. oonee installs, operates and manages the pods, and membership is always free to the public.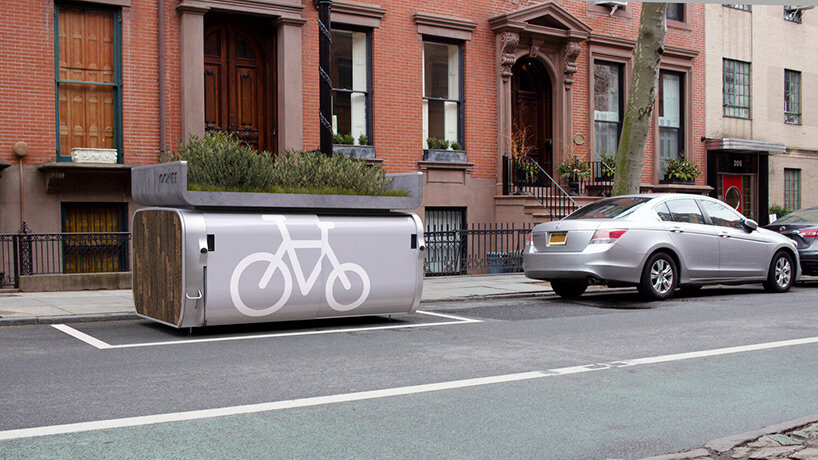 tech and operation features of the oonee mini include smart access technology, which allows for unlocking by a keycard or a smartphone. meanwhile, interior illumination lets cyclists find their bike inside mini, even at night. an air pump provides free and easy air, with hydraulic sliding doors offering easy opening and automated closing. insurance coverage for bikes and scooters inside lets riders rest easy, and oonee care keeps the pods in good condition and provides cyclists with rapid customer service.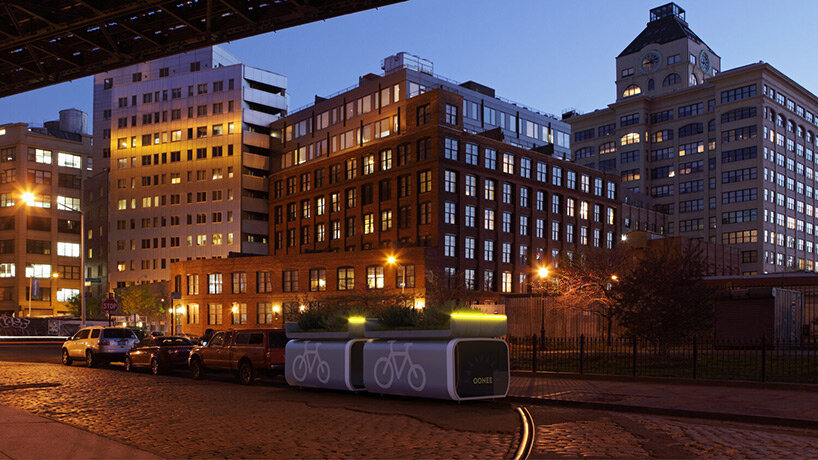 design features include accent cladding and colors, which can provide an individual touch to unique settings and streetscapes. furthermore, custom greenery and planting boxes for plantings can be installed on the roof and exterior accent lighting for warm illumination. a scratch-resistant powder coat paint helps protects mini from vandalism and damage, while its glossy finish ensures that pods are reflective and visible during evening hours.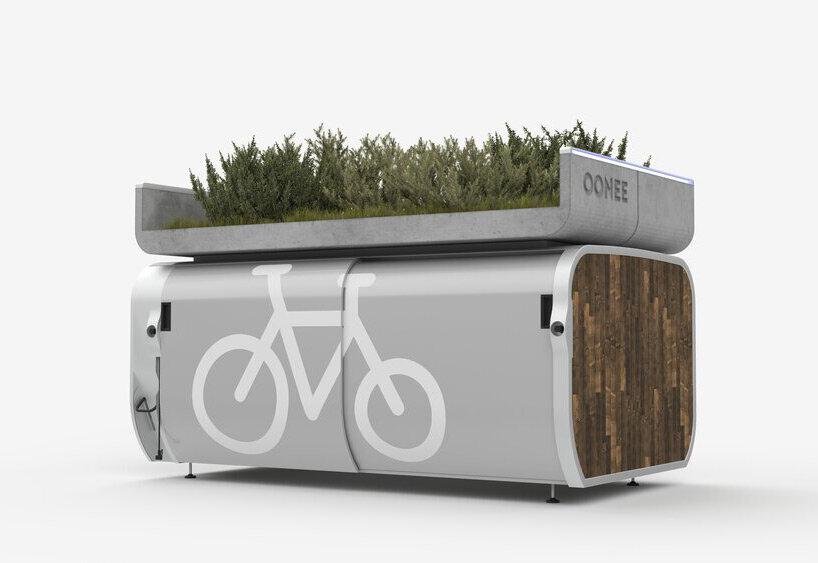 oonee hopes that with its network of micro-mobility-supportive smart infrastructure, it can fundamentally change urban streetscapes. thanks to a sponsorship from VOI, the first two units have been fully financed and will be launched on the streets of new york sometime in spring 2021.
project info:
company: oonee
model: mini
nina azzarello I designboom
feb 17, 2021