architecture and interior design studio LINEARAMA has turned the traditional elements of a 'sciamadda' — a typical genoese takeaway — into an exercise of architectural composition, formed around a piece of site-specific furniture. inside 'il genovese', a new eatery in the bay of boccadasse in genoa, the studio has shaped a six meter long, continuous brick counter that bears tectonic evidence of its relationship with the sloped ground.
all images by anna positano, gaia cambiaggi | studio campo
inside 'il genovese', LINEARAMA has created a jagged, brick-colored base for the bar feature, which is separated from a vertical frame of rhythmically divided rectangular columns, generating a linear geometry that emphasizes the enveloping loop of the design. the crowning feature of this small-scale building is the new horizon of the entire inner volume — a slate-black support plane with a showcase of food, whose presence is reinforced by the display of ligurian delicacies.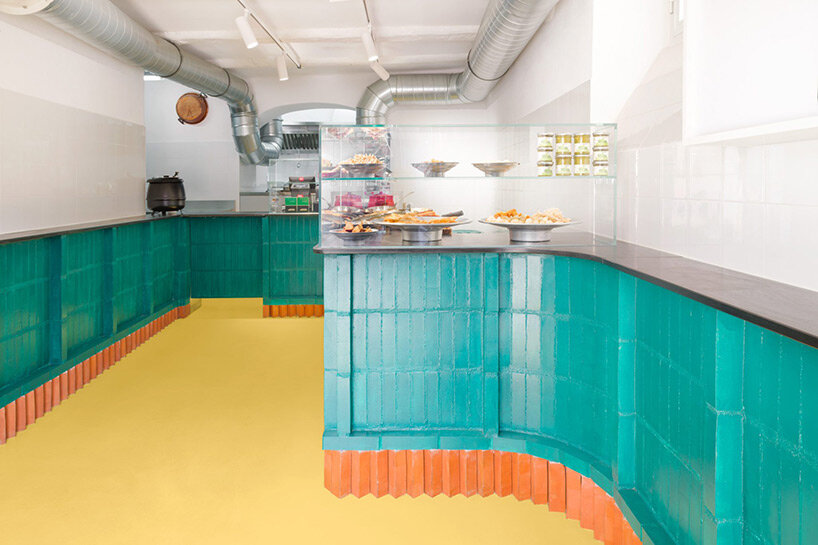 LINEARAMA explains that three main details define the connection between the continuous, blue-green brick section, and the untreated brick base that meets the floor: the convex squared corner that proposes a contrast between the 45°-laying of the untreated base brick and the heads-crossed of the higher green infill; the concave connection with the gently curved deformation of the shape in the plan section; and the proximal transition of materials between the counter and the entrance, in which persists the precise distribution of geometries by highlighting cuts and joints.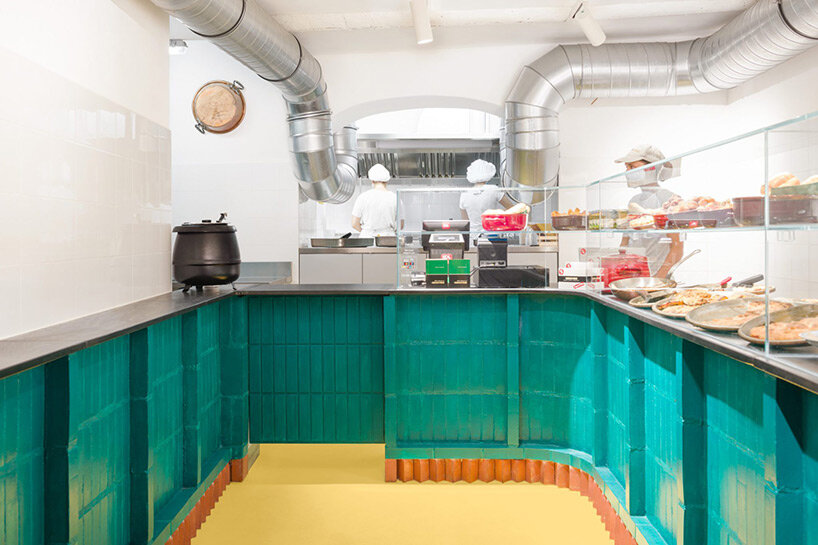 to complete this clear geometrical shape, the irregular solidity of the brick embellishes all the surfaces, enlivening them through vibrant shadow effects. customers to the new eatery in this ancient sea village find a warm and welcoming space to engage with friends over food, or enjoy a ligurian delicacy alone — all taking place around this continuous, colorful brick bar feature.