kéré architecture, the firm led by diébédo francis kéré, has revealed its design for benin's national assembly building in porto-novo, the capital city of the west african country. having outgrown its current location, benin sought a new national assembly to embody the values of democracy as well the cultural identity of its citizens. in response to this brief, kéré's scheme references the palaver tree and the region's tradition of meeting under a tree to make decisions in the community's interest.
all images courtesy of kéré architecture
the building forms part of a larger masterplan, that includes a public park showcasing benin's native flora while providing porto-novo with an extensive recreation space. kéré architecture positioned the assembly hall on the ground floor with a structure that supports the building's other programs above. the crown is comprised of offices and auxiliary functions set back from the deep façade, which filters the strong sunlight.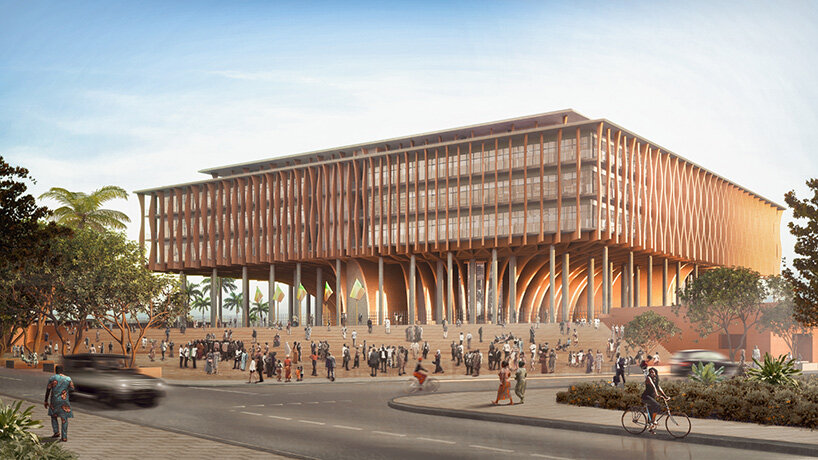 meanwhile, the building's 'trunk' is hollow, resulting a central courtyard that allows circulation spaces to be naturally ventilated and indirect light to penetrate the plan. a spiral staircase at the center of the courtyard connects the assembly hall on the ground floor to the offices above. finally, on the top floor, a roof terrace offers sweeping views over the city and the lagoon in the distance.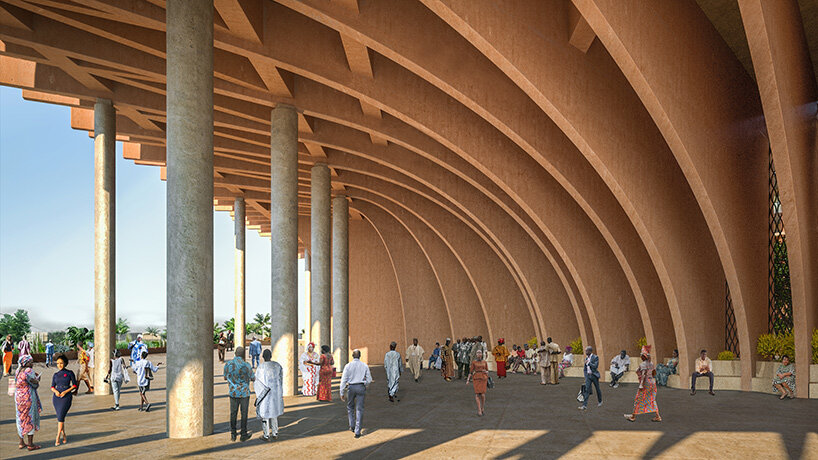 in the southeast corner of the site, a public square marks the civic façade of the building, across from the former national assembly where benin's independence was historically declared. further facilities for government services are integrated into the park's topography with planted roofs, and form a façade along the southern limit of the site. see other projects by kéré architecture on designboom here, including a pavilion located on a working ranch in the US state of montana.