located in wuppertal, germany, and inaugurated in 1901, the wuppertal schwebebahn is the world's oldest suspended monorail. crossing the city at sometimes considerable heights over a distance of 13kms, the monorail now has new cars designed by berlin-based practice büro staubach. 
images by inga masche
currently running only on weekends, the wuppertal suspension railway can carry approximately 80,000 passengers per day. dubbed generation 15, the new unidirectional cars designed by büro staubach are composed of three sections — two long outer ones and a short intermediate one. paying homage to the world-famous landmark, the design of the flat front is reminiscent to its predecessors, with the retained basic dimensions of the previous vehicles. small changes were made, including the inclination of the front window, allowing the driver with a better view.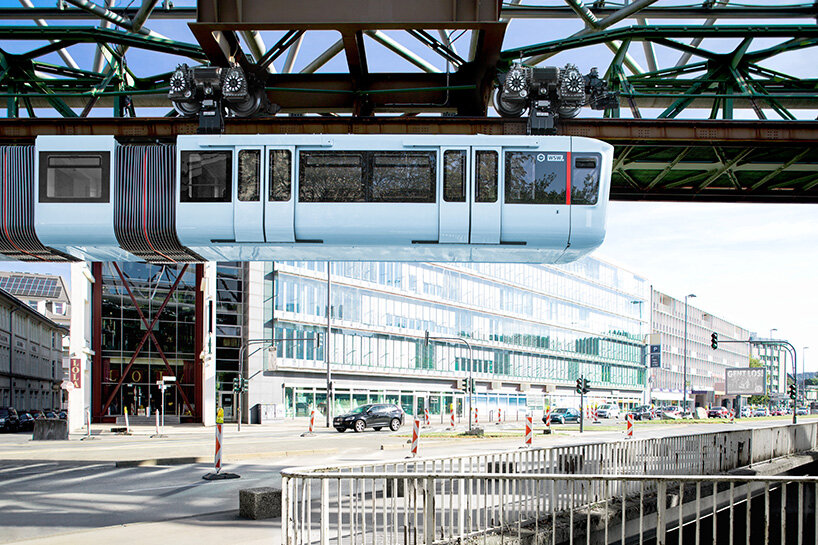 'despite the low ceiling, the interior is spacious and clear,' comments büro staubach. 'vivid flooring colors find their equivalent in the seat upholstery and accentuate the interior. a novelty in public transportation are light, self supporting wooden seats. the asymmetric layout of the vehicle is consistently implemented into the ceiling design. panoramic glazing from floor to ceiling makes the rear end spectacular.'
as for the seat layout, it was also maintained the same with two seats on the left side and the doors on the right. the color scheme features three different variants, equally divided among the cars. while the walls are always white, as well as the gray handrails, the non-slip floor and the seat cushions vary — green, yellow or red. the design team selected noraplan sentica floorings, which appear almost uni-colored, barely show dirt and are easy to clean. ultimately, this project brought a dash of fresh colour as well as important functional properties to a traditional landmark that does not stop at innovations.