ship architecture, a firm led by toshiya nakamura and ai fujii, has built a wooden residential property in japan. the dwelling is located on the outskirts of a town that, over the past decade, has undergone a transformation from rural to residential as a result of a new railway line. when the architects first visited the site, very few houses existed in the field. however, over time, more and more homes were constructed with people moving to the neighborhood in increased numbers. in response, the design team sought to create a house that would comfortably integrate into both a rural or a residential setting.
all images by kenta hasegawa
in realizing the project, titled 'house in field', ship architecture set two guidelines. firstly, it was important that the house fit in within a context of two-story wooden buildings. secondly, the architects wanted the property to convey the sense of openness and inclusivity that the site affords. responding to the conditions of the plot, a long volume running in the east-west direction was designed with a narrow frontage. in turn, this also improved views towards the fields that surround the plot, while maximizing interior space.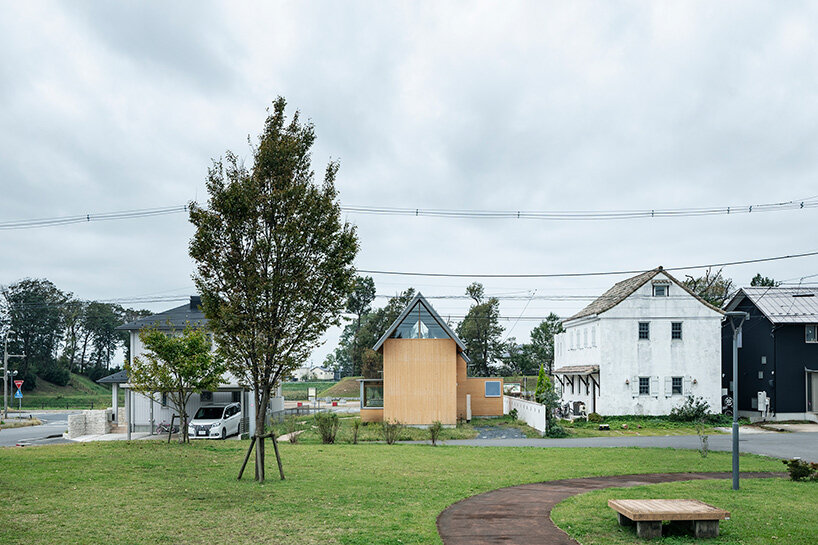 openings on the longitudinal façades correspond with the ground floor's functions. shared living space is found at this level, with a kitchen adjoining a dining area. a staircase leads to the upper levels of the home, which have been divided to relate to the height differences of the fields that surround the site. by shifting the floor levels, the architects were able to create a diverse range of spaces with different ceiling heights and different atmospheres that relate to each other in unusual ways. meanwhile, the fields around the property are visible from the upper level, with triangular windows positioned beneath the gable roof.