the škoda 1203 campervan concept transports its iconic namesake utility vehicle from the 1960s and '70s – first unveiled in 1968 – into the modern day. daniel hájek, a designer at the czech brand, gave the model a pure design that not only references its past but equally looks into the future. it presents a wishful creative camper whilst embodying their core values: practicality, a lot of interior space and simply clever solutions.
'I wanted to be clear from my study that this is the same vehicle, but I didn't want it to be too obviously retro. I designed a modern vehicle that pays homage to the legend,' told the designer. 'I wanted it to be timeless.'
all images courtesy of škoda
the škoda 1203 campervan brings its design into the modern day. the original's radiator grille is now defined by sharp lines and the roof edges slightly protrude as if a double peak. the roof then offers a 'pop top' to maximize space for sleeping. elsewhere on the body, a 'tornado line' sweeps around the car as seen on the brand's models today. up-to-date light signatures brighten up the front and rear facades, referencing the old round lights with subtle hints and curves. its slanting sides and relatively narrow roof pay homage to the slender form of the 1968 model.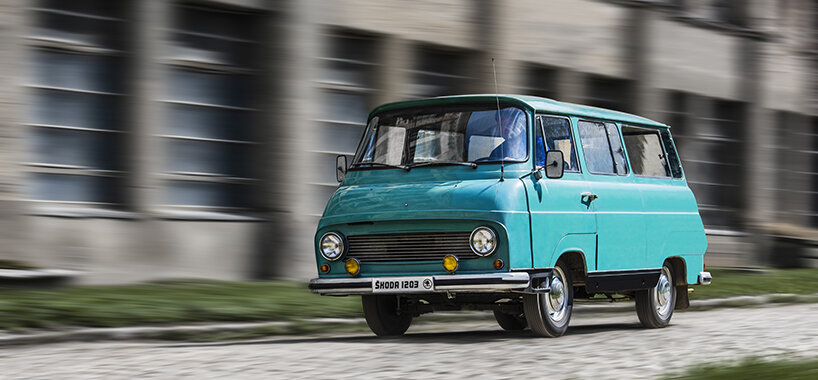 inside, the campervan could offer even more space if it were made as an all-electric model. the minimalist dashboard features distinctive horizontal articulation as well as a sliding, retractable storage shelf that hangs below as if an upside-down wing. only a small infotainment display sits behind the horizontal two-spoke steering wheel as it is intended that the driver will use their own device for all other services, such as entertainment and directions.
concept info:
brand: škoda
design: 1203 campervan concept
designer: daniel hájek