alvisi kirimoto delivers a new academy of music to the picturesque landscape outside the italian city of camerino. realized together with young italian studio harcome, the contemporary work is wrapped in a secondary skin defined by ephemeral, cloud-like perforation. the construction was completed in only 150 working days and marks the third earthquake intervention in central italy — promoted by the andrea bocelli foundation post-2016 to revive the region, one of the most affected by earthquake events. welcoming over 160 students, the completed project returns the local academy of music to camerino.
imgaes © marco cappelletti
alvisi kirimoto introduces its academy of music in camerino together with harcome for the andrea bocelli foundation. with clean and elegant lines, the building's ethereal skin is expressed with white sheet metal panels with perforations of varying size, a patterning designed to recall the dynamism of cloud formations. the volume stands with an inclined posture and overlooks the sloping site through a glass curtain marked by grey pillars. from the north elevation, the building is presented as a box with its panels suspended above the ground plane. the two side elevations reveal the slow inclination and the slope of the hill. from the south, the skin that wraps the volume is interrupted to reveal the glazed ground floor behind which the auditorium is hidden.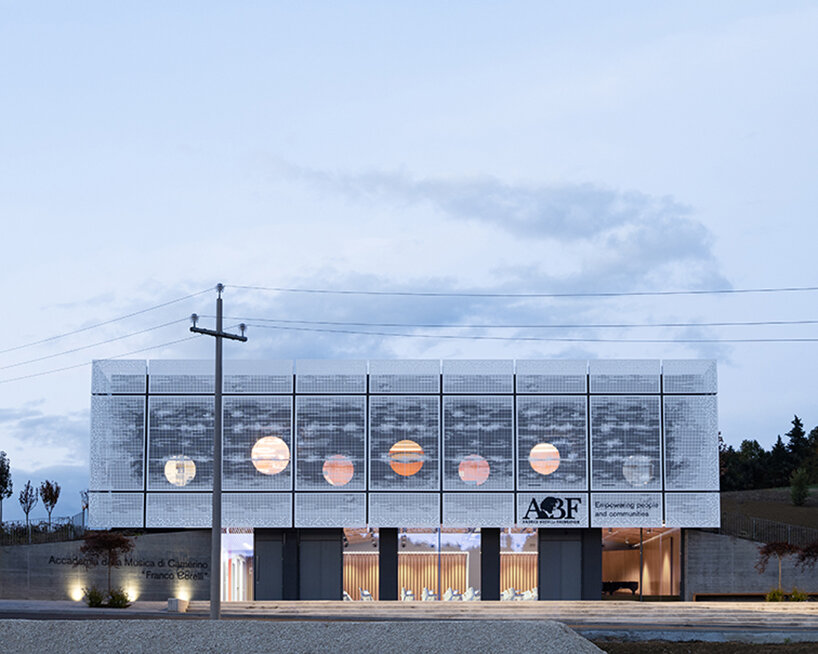 alvisi kirimoto's camerino academy of music houses an auditorium which seeks to enhance its compact space. this auditorium, with its material palette of oak wood and concrete, occupies the basement while the upper floor hosts an office and nine classrooms. the two larger classrooms offer a space for recording studios and electronic music lessons. open year-round and ready to host community events, the newly completed project presents itself as an educational and innovative forge dedicated to music, giving camerino a new cultural significance.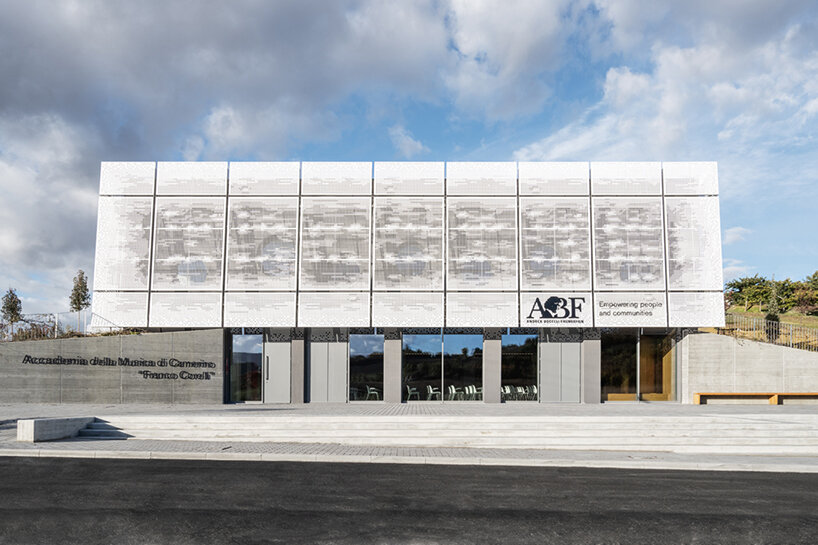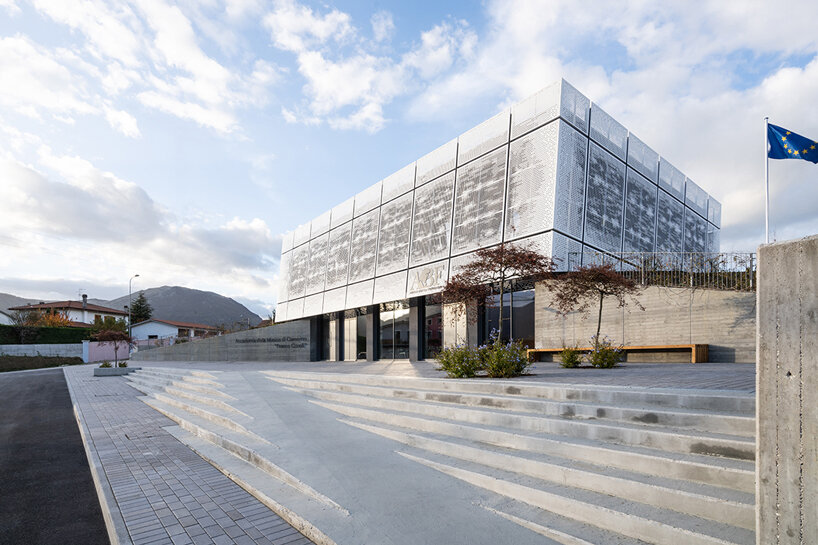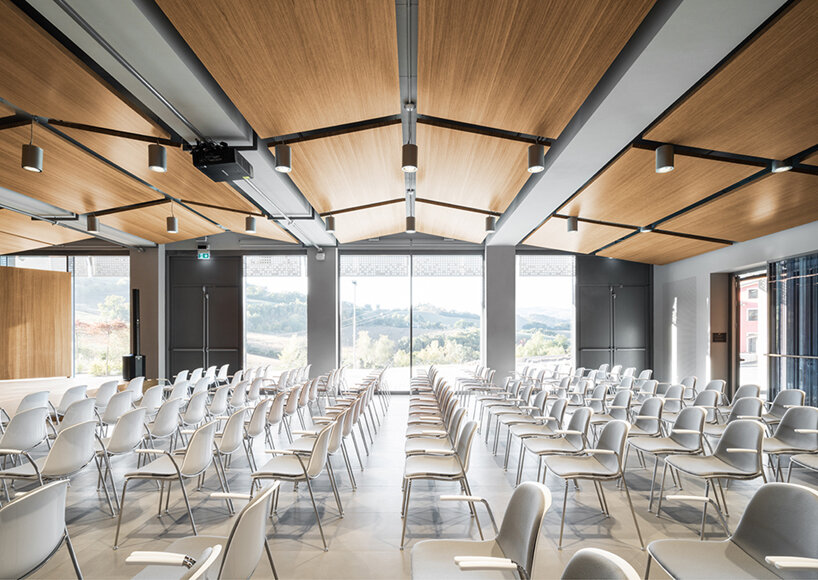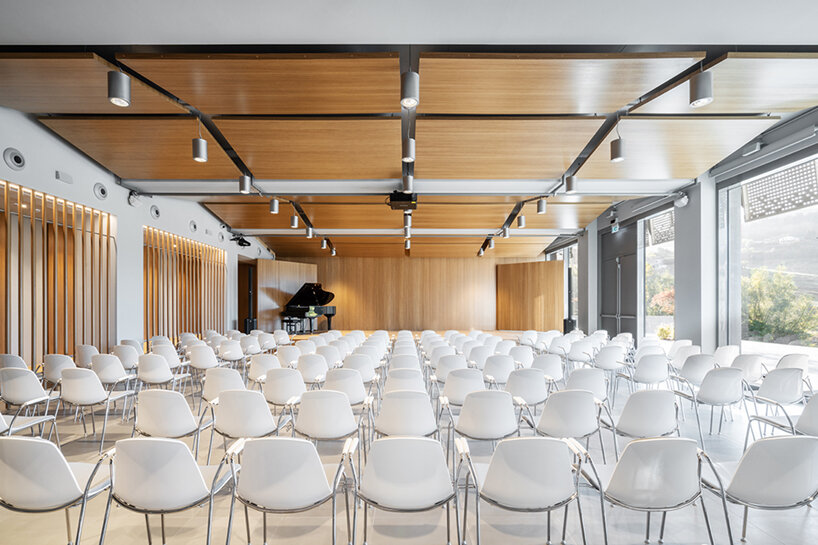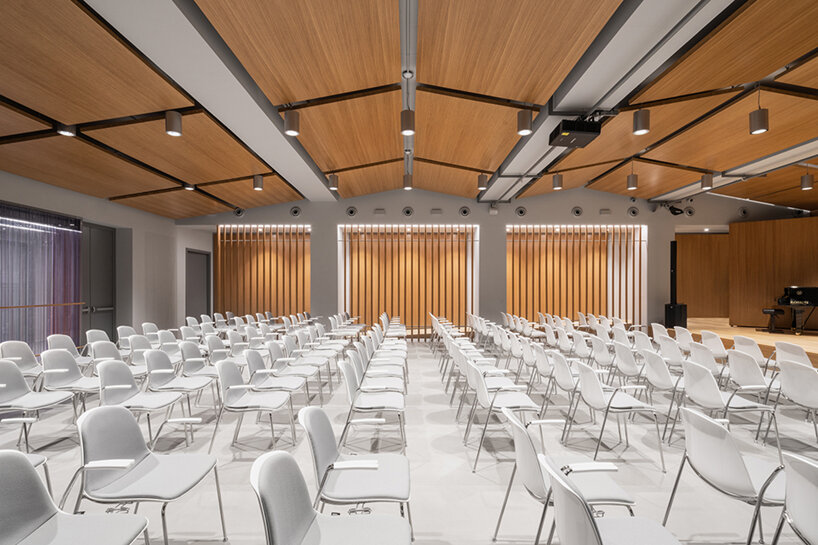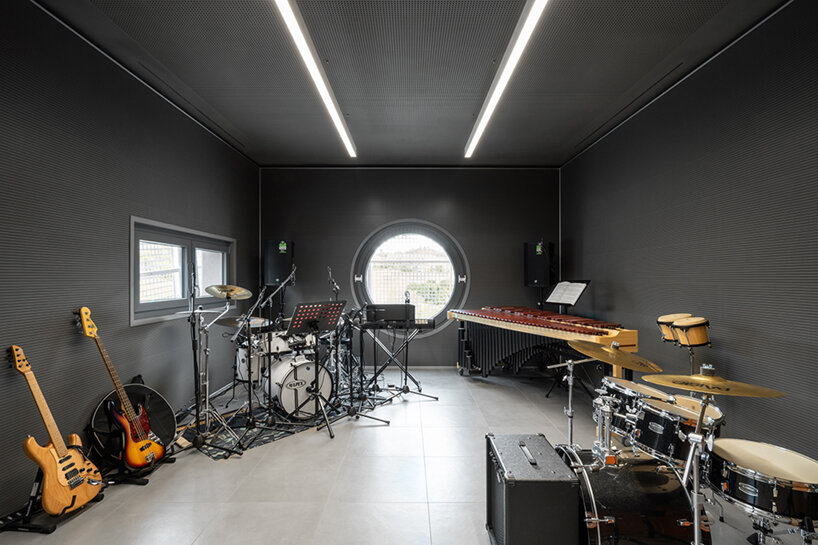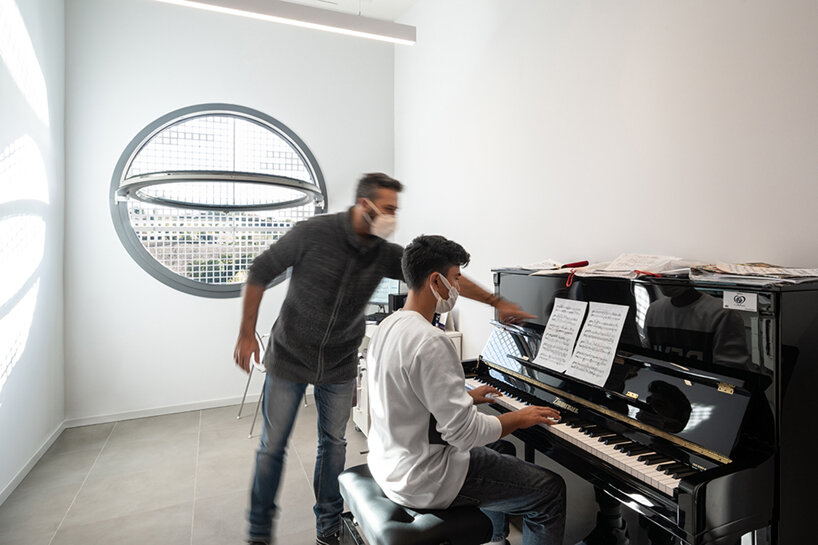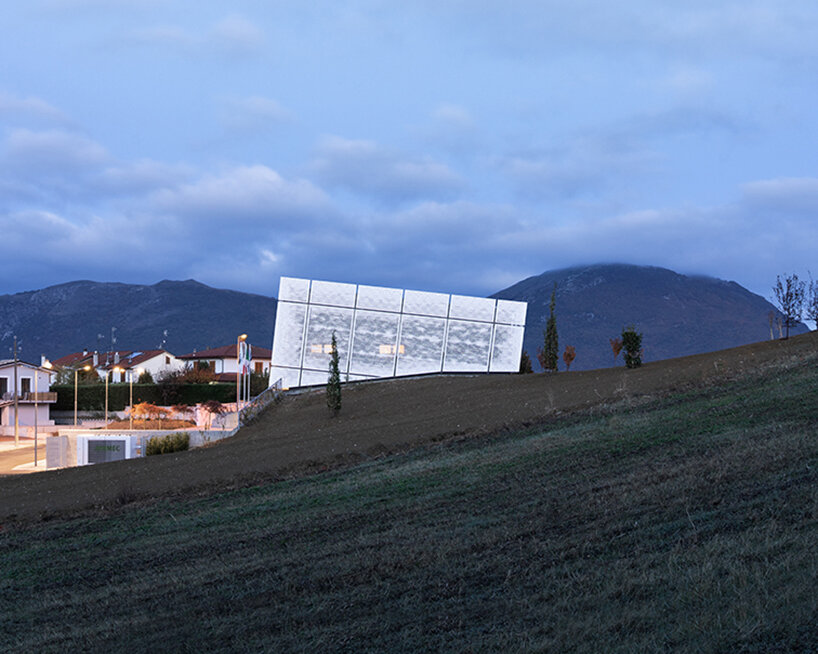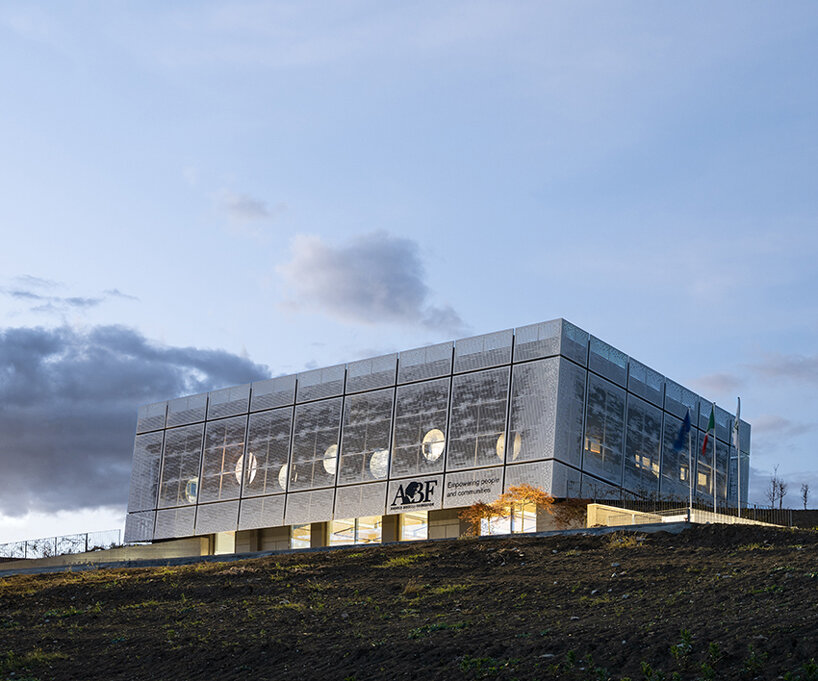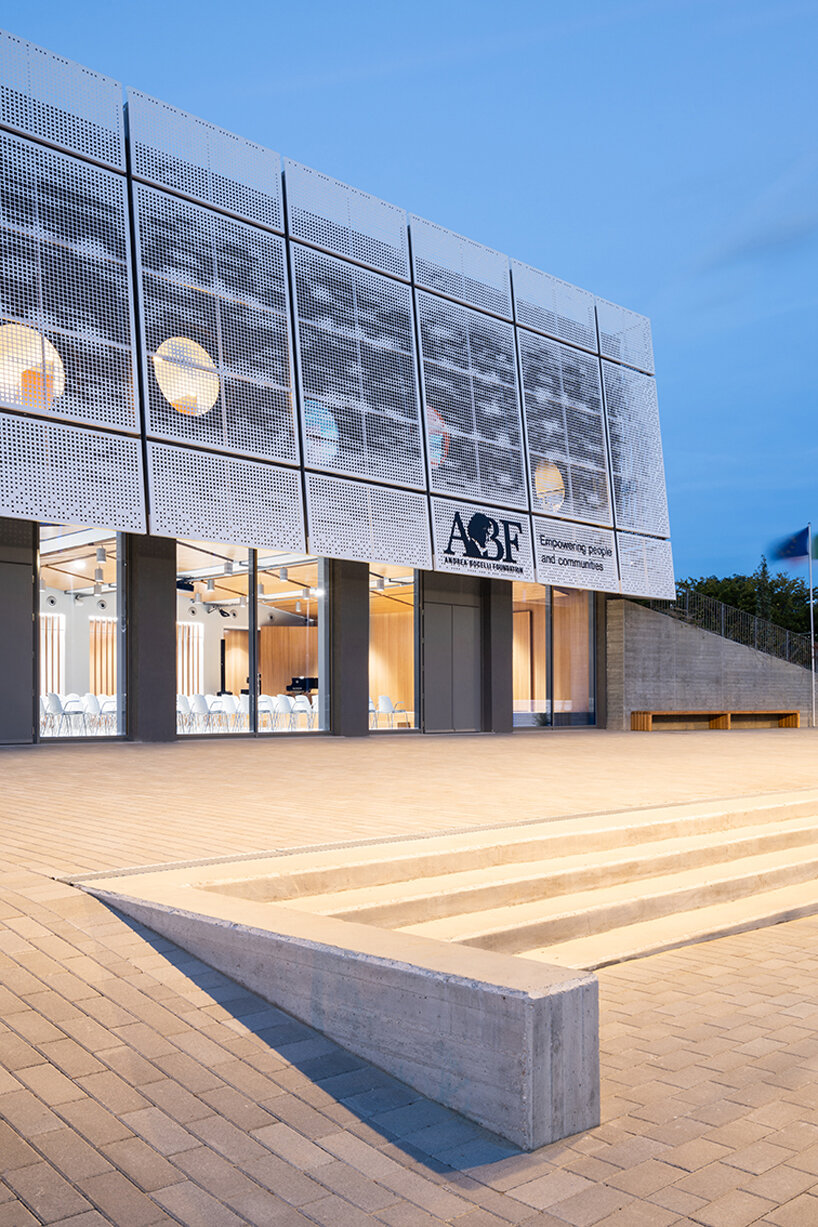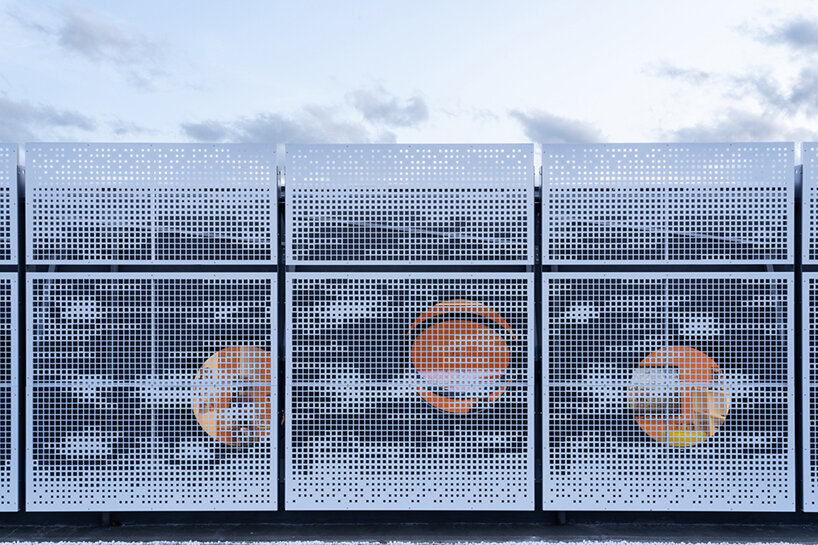 project info:
project title: camerino academy of music
architecture: alvisi kirimoto, harcome
location: camerino, italy
client: andrea bocelli foundation
project team: massimo alvisi, junko kirimoto, silvia rinalduzzi, andra gianfelici (harcome)
construction manager, coordinator: engineer paolo bianchi
general contractor: PSC group
executing contractor: subissati s.r.l.
mechanical and hydraulic installations: bioedil vuesse
electrical systems: elettrosystem
completion: october 2020
photography: © marco cappelletti